The plastic poetics of Augusto Vives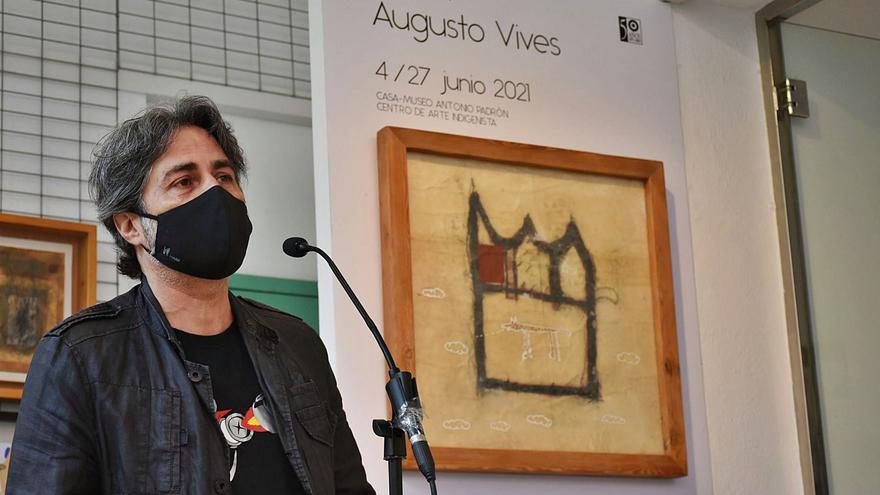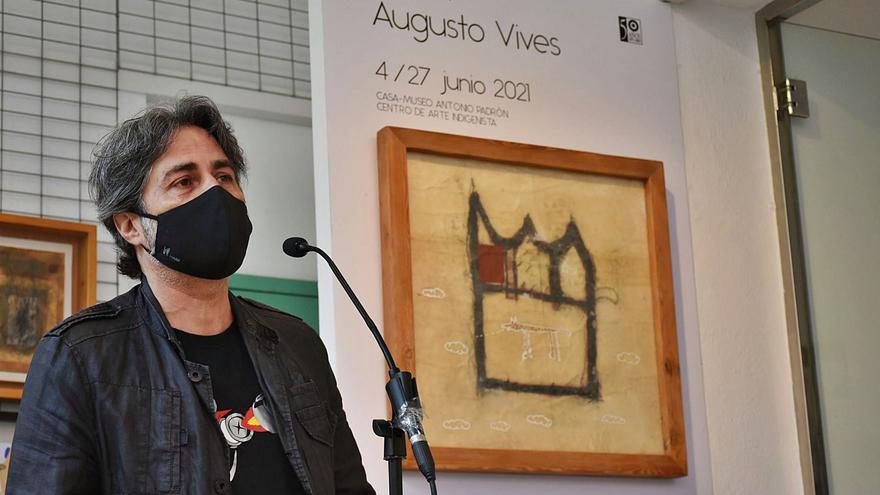 "The search begins with the fascination of contemplating, of contemplation, which houses the word temple, and which designates a sacred place to look at the sky," says the artist. «The augurs squared the sky to study the trajectory of the birds and decide the place where, based on what was contemplated, these temples would be built. And that's where the term in-augur-ar comes from. '
The Gran Canaria artist officiated last Friday the inauguration of his retrospective exhibition, entitled Minimal Anthology, at the Antonio Padrón House-Museum-Centro de Arte Indigenista de Gáldar, which brings together a sample of almost 35 years of artistic production from 1985 to the present.
His multiform plastic spectrum includes paintings, drawings and illustrations, but also objects and installations, always regrouped in series and with a deep literary imprint, which are part of the funds of his private collection built, like a parallel flight, along these three decades.
"The sample is made up of my key pieces, because they open periods of satisfaction that have continued in time, without closing, which is very interesting because there has been that expansion that we need to build things," explains Vives, who argues that his seriation technique is a way of facing the canvas from the multiple search, and of listening to the internal dialogue between the pieces, until the resulting set "holds my gaze."
Between skin and poetry, her extensive artistic work has turned the sky under her feet to "build the house on a cloud / The cloud is the house / the abode of dreams," as the writer Eduvigis Hernández poeticized. A level flight has given wings to murals and walls, to the covers of poetry books, magazines, epics and fables; and over the years he has shortened his entire universe into a box, like a flash of light in the middle of the ocean.
"I consider myself a border painter, in that weak and ephemeral line that separates reality from fiction," says the artist. And although he never ventured into the field of abstraction, Vives plays with dreamlike, mythological and surrealist varnishes to unravel the world around him in the enigmas of the canvas, because "reality has always been the center of my creation." In this sense, human nature, its contradictions, its frailties and its shadows, make up its infinite field of artistic research, the rosebud of the sleigh where innocence begins and ends.
"The human condition has always been for me, throughout these almost 35 years of experience, an inexhaustible source of inspiration," he says. «Hobbes's expression, which says that man is a wolf for man, has always been highly represented in my work because I have always painted the dark side of the human condition, that animal that emerges in very specific circumstances, and that marks the events of the world, "he adds. "However, I have never gone to the great stories, they do not interest me, because I believe that modifying reality begins by changing our surroundings and that, then, is expansive."
Question
For this reason, the meaning of his art lies in questioning (himself): «All my paintings are an interrogation: first, directed towards myself. And then to the viewer. But, mainly, I paint to understand myself ». And this question mark opens its cavities on the threshold between the critical and the poetic. "That is where I am born and die," says Vives. "That is my constant debate, on which I gravitate as in the eternal return of Nietzsche." Circular birds, as one of his works is titled.
In addition, his artistic work reads like a poem in the interlining of its shapes and colors. His poetics of the everyday comes from the roots of visual poetry, the alloy between image and letter as an artistic object, in the wake of Joan Brossa, Daniel Gil or Ángel Sánchez. "I have always wanted to have a poetic demeanor because, in a world that is often too prosaic for me, poetry is a trench; above all, in these times in which we live ", he says. In this dialogue between poetry and painting, he specifies that «I identify myself not with the poet of the word, but with the graphic poet, of stain and color, and although I try to make my form poetic, my union more evident with poetry it is through the titles of my paintings, which function as aphorisms or haikus ». His last favorite poetry says My last unforgettable character was the rain. And it is in this poetic-plastic drift where the boxes emerge, a series of artistic objects in the key of irony and polysemy, "like a magical element that appears at a certain moment."
Precisely, the synthesis exercise required by these creative microcosms corresponds to the simplification process with which Vives faces the encounter with the painting today. «In my beginnings I started from more baroque and ornate budgets, because when you start to paint you have a much heavier backpack, which time frees you. At least, that has been my case, in which I have been simplifying the forms and even the message, because I have realized that I no longer need so much plastic literature, "he says.
And so, every day, Vives re-inaugurates his own world with his constant gaze and the precise word, from the profane temple of art, "to try to say with the minimum the maximum." And this serenity does not obey only time, but silence. «That serenity has to do with reducing visual noise, because I understand that it can only be built from silence. But I am not referring to physical silence, but to inner silence, to that space of contemplation. For me, that is silence ", concludes the bird watcher.