The pilgrim mission of Manuel Rossi | Culture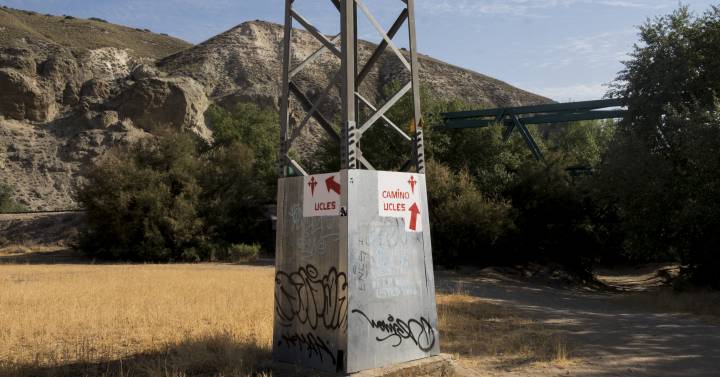 Ten years ago Manuel Rossi, a bricklayer and businessman from Rivas, made a pilgrimage to ask for his health. He was sick of the pancreas, a complicated organ. The destination was Caravaca de la Cruz (Murcia) – where there is a wood relic in which they crucified Christ – but along the way, Rossi found a mission that would save his life.
In Horcajo de Santiago (Cuenca), priest Julián reproached him for not having passed through the nearby Monastery of Uclés, head of the Order of Santiago. "What a review he gave me, I didn't even know it existed," says Rossi, who dedicated the following year to investigate the historical path that would have joined Madrid with this monastery and to draw a modern version that was not dangerous by road traffic. For two more years, he marked the 144 kilometers of the layout with huge formwork crosses of Santiago, 54 building blocks and 10,000 paint marks. Every year he reviews them, spray and stencil in hand, with his wife, a saint. They have spent more than 6,000 euros.
I want Rossi to accompany us from Rivas to Arganda, a short stage of my particular road that coincides with his for kilometers – just two hours, bordering a bucolic lagoon and the Jarama riverbank – but Rossi is on the Camino de Santiago, not for , so I chat with him on the phone and let myself be guided by his milestones. There are them in traffic signs and on rocks; in polygonal roundabouts and in the middle of the field. It is amazing that this man and his lady have placed them all. "It has not been a path of roses," he says, "although we have also had a pipe." Was it cured at the end of the pancreas? "Ten years without problems, although I don't know whether to go on pilgrimage or the illusion of this project."
Rossi, why does a pilgrim start? "In the Middle Ages to cure leprosy or tuberculosis. Now, it is a spiritual way to perform … Athletes, for the challenge of arriving; and others, for fashion. Everything is valid, although it has become a bit commercial. The French Way looks like a pilgrimage. If they shook hands, the human chain would come from one side to another. "
Between Rivas and Arganda, we don't see a pilgrim (in all logic, it's a horrible heat). The closest are uniformed cyclists to do the Tour de France. Deep down, there is a certain parallel between the pilgrim and the athlete: both earn their destiny with effort and sacrifice. Some are improving their times, others sealing their stages. They are overcome. They have goals.
I have no goals, neither spiritual nor physical. Rossi yes, Rossi wants the credential to be sealed at all points of the Uclés Road through which he passes ("one day you will have to finish it, even if you now turn aside"). He insists that I ask for parochial reception in Arganda, "to live the authentic pilgrim experience": "Shower in the priest's house, sleep on the floor … Feel at least one day what it is to live without a bed or Wi-Fi." I pass the number of the priest, but swirling. I take many selfies in one old precious green iron railway bridge.
For Rossi (who at 62 plans a 6,000-kilometer bike trip from Jerusalem), the key moment of the road is when he can no longer – fatigue, blisters – and asks: What am I doing here? "Then I ask the apostle for strength and something always happens, a breeze of air, something that I feel is a wink that makes me… It seems silly, but it pushes me forward. At home you can feel alone, but not on the road, because you are not. "
I prefer to glue the thread with a man who passes by, Juan Fernández Reales, a nice retiree who walks "for the most important reason of all: lower sugar." Together we admonish some kids who go down the old tracks to ride a zip line on the bridge. "Is it that you have not read The Jarama? ", I tell them," that people drown there ". Actually the scene reminds me more of the movie Stand by me and I'm dying to accompany them.
Finally, I admit my destiny and call the priest to warn that I will sleep on the floor. But the priest is on vacation and things get complicated. Long live the beds and the wifi! As I feel a little guilty, before looking for a hostel, I decide to seal the credential as Rossi has asked me in the order of the Franciscan Missionaries of Mary.
What am I doing here? Well, take the rest of the morning chatting with some lovely nuns. In the yard of his house – figs, peach trees – we drink water and talk about the adventure of being a missionary (one hitchhiked in Chile and almost threw himself when a truck driver "started to dare"; another speaks Swahili because he lived decades in the Congo) . Carmen Fernández, Carmen García and Maripaz Velasco, 79, the first one and 84 the other two, the Church changed their name – Marcelina, Alicia, Almudena – but the Second Vatican Council gave them back what their mothers gave them. It also freed them from habit. They are happy: "You have to adapt to the times, and if you are secular, it is cooler!" We talked about walking to the Mercadona, what they see on TV (the 13TV Mass and the News). Above all, we talk about what it is like to retire with seven companions – the shifts to clean, taking care of each other – and that of women out there getting old. They pray and sing together every day, they look happy. "We are a bit of a jipis, yes," they admit. I like the idea of ​​retiring like this, with seven friends in a courtyard with fruit trees, although without praying and with gin and tonics. They trunk.
Sisters, how about the need to suffer along the way? "A bit old. Religion used to talk a lot about penance and sacrifice, but now it is more about love and freedom. "
I take it as a blessing to book a four star hotel. Today I have not reached my goal. I am not tired at all. And yet, when I get to my bed I take a nap that tastes like glory.
(tagsToTranslate) pilgrim (t) pilgrim (t) mission (t) manuel rossi (t) follow (t) milestone (t) path of uclés (t) recover (t) retired (t) rivas (t) destination (t ) move away (t) pilgrimage (t) end (t) hotel (t) four (t) star



Source link