The photo of a Valencian that NASA has shared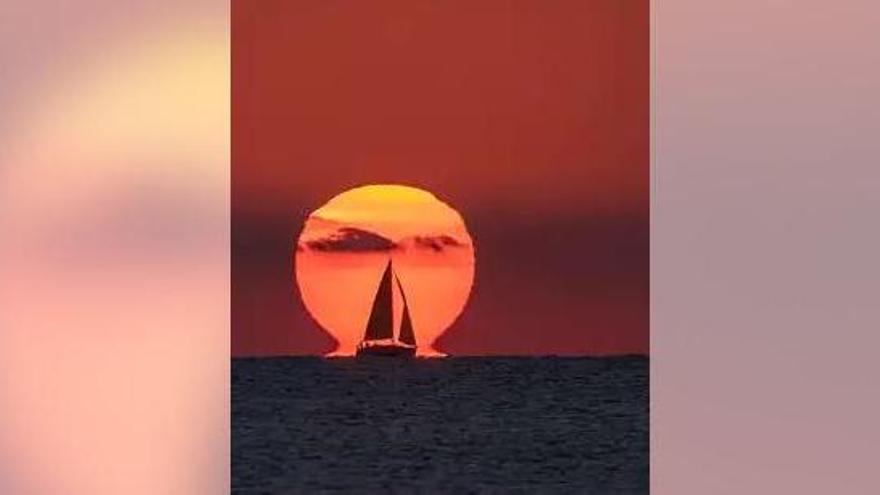 The web APOD (Astronomy Picture of the Day), dependent on the POT, has published this Monday a photograph of the Valencian Toni Sendra in which the sunrise on Cullera beach with the Slainte sailboat right in front of the solar ball.
The United States space agency has been especially interested in this image because the sun has the so-called omega effect, an optical illusion in which it seems that the base of the sun has a base or legs that rest on the sea.
The Facebook page APOD also published the image on Monday and, at 9 am, when it had only been published for two hours, it already had 1,300 'likes' and it had been shared 250 times. The image was already published last week on the Facebook page, Sky, also dependent on NASA, and in a matter of hours this beautiful sunrise was made viral on social media.
Now, the North American space agency has decided to declare it this Monday 'Astronomy Picture of the Day' by publishing it on its website. "It is a milestone that NASA publishes the photograph of our sailboat and that was made by our friend, Toni Sendra, since very few Spanish photographers have managed to publish on this important website ", stated the boss of Slainte, Alejandro Grau.
For his part, the photographer Toni Sendra, author of photographs that have had the full moon as the protagonist, is "excited" about this new achievement. "This is like winning the Oscar. It is one of the highest aspirations for an astronomical photographer due to the worldwide repercussion it has, "he highlighted.
Taking the photograph at sunrise on the beach of Cullera was painstakingly prepared several days before. Sendra studied the area and how he and the sailboat should be located in order to take the image he wanted.
The photographer gave the Slainte's crew the exact coordinates where they should stand and, at 7:41 a.m. on Saturday, September 12, he took the iconic image. During the session, Sendra was in telephone contact at all times with Alejandro Grau so that everything went perfectly.
Thus, while the sailboat was three miles out to sea, in front of San Antonio beach – where the Espacio towers are located – the photographer stayed on the beach to take the image with a telephoto lens. So, he captured the sun with the omega illusion, which created by sunlight refracted through hot air just above the water. The base that makes the sun look like the letter Omega is actually an inverted image of the sun's surface just above the water.