The phone against suicide manages to abort 585 attempts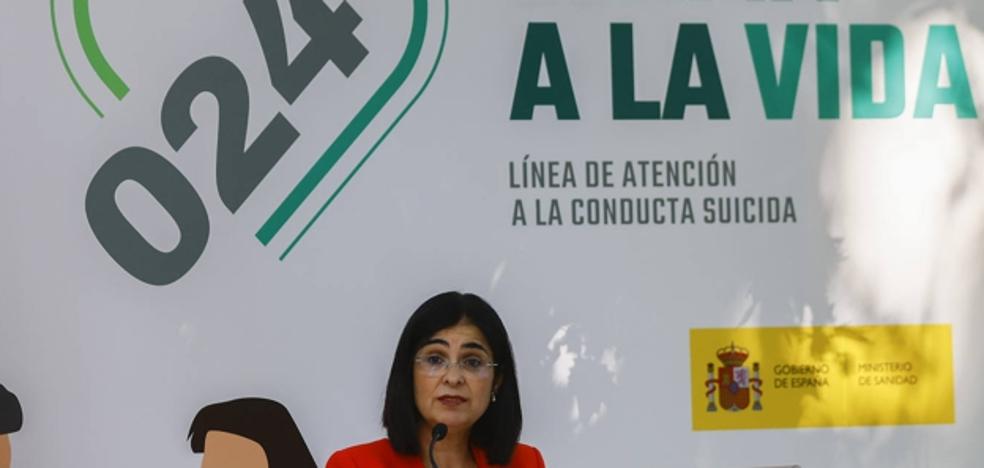 The 24-hour assistance service has received 34,000 calls in the four months it has been in operation
The 024, the 24-hour public telephone to fight against suicidal behavior, has managed to abort with the immediate attention of its experts and the request for help when it has been necessary to emergency teams 585 suicide attempts that were already underway since the last May.
The tool launched four months ago by the Government has received in this time some 34,000 calls from citizens with suicidal thoughts or behavior, from their relatives, colleagues, neighbors or relatives asking for information, advice or help. The management of these contacts, in addition to comforting and helping those who called with psychological and personal problems in still very early stages, have allowed the referral of 1,500 cases that required urgent action to the different 112 emergency services and to identify and prevent the nearly 600 ongoing suicides cited.
The telephone, whose official name is 'suicidal behavior hotline', after months of preparation and delays, was launched by the Ministry of Health on May 10 with the slogan 'Call to life'. The service, after a huge avalanche of calls and cases in the first days and weeks, currently handles a daily figure of around 300 calls.
The data recorded to date "shows the need for this service to deal with a silent and latent threat such as mental health problems and suicidal behavior," says a spokesman for the ministry in the first balance of the initiative.
Line 024 is in operation 24 hours a day, seven days a week, every day of the year. It is free, accessible, immediate, confidential and is attended by experts. Its objective is to support people with suicidal behavior, family members and close friends and intervene with the help of emergency devices, if necessary, in complex and high-risk situations.
First external cause of death

Suicide has been the main cause of unnatural death of Spaniards for 15 years, when in 2007 it surpassed for the first time those killed in traffic accidents, which for decades was the main reason for deaths from external causes, those not derived of diseases
While legal reforms and awareness campaigns have managed to reduce road deaths by half in just a decade, going from figures of around 4,000 deaths to 1,900, suicides have been increasing, from the 3,263 deaths in 2007 to the more than 3,500 registered on average each year since 2012.
It is a serious practice clearly linked to men who are about 75% of those who took their own lives. In fact, in the case of Spanish women, it is not even the first cause of unnatural death, which for them is accidental falls, followed by deaths due to drowning, submersion or suffocation. Traffic accidents have become the third external cause of death in men and the fourth in women.