The Pharmaceutical Colleges of the Canary Islands launch the 'Summer Care' campaign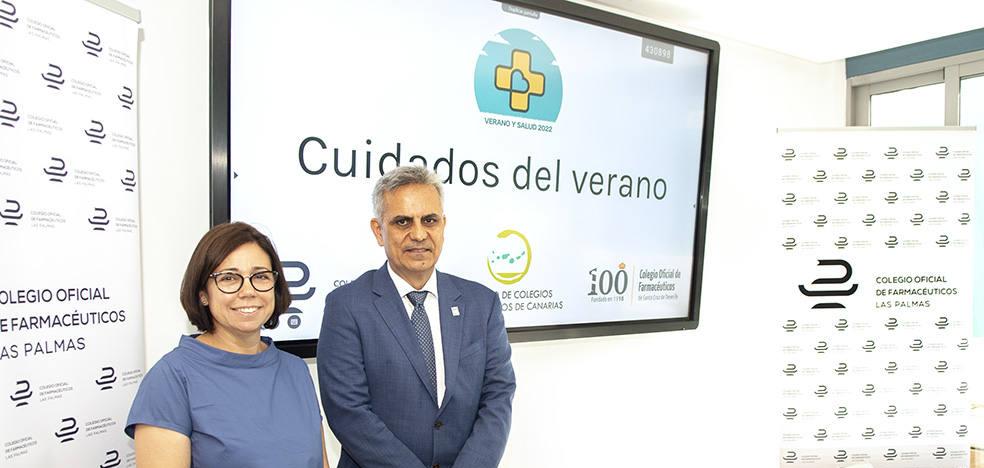 "Enjoying the summer is not at odds with taking care of yourself," they highlighted during the presentation
The
lack of preventive actions during the summer may be the cause of the development of
serious diseases or illnesses which can even cause death. From the most well-known ones that develop due to prolonged exposure to the sun's rays in the long term, such as skin cancer or eye pathologies such as cataracts and macular degeneration (AMD), through acute episodes such as heat stroke, they can be prevented during the summer season. With this intention the
Pharmaceutical Colleges of the Canary Islandsin collaboration with the General Council of Official Pharmaceutical Colleges, have launched the campaign
'summer care'and that in addition to disseminating the most appropriate protection measures, remember that pharmacists are first-line health professionals prepared to advise and advise on specific measures for each citizen, becoming one of the main preventive references for the population.
Loreto Gomez and Manuel Angel Galvanpresidents of the professional associations of pharmacists in Las Palmas and Santa Cruz de Tenerife, respectively, presented the campaign on Monday, which began last Friday, the 1st, with the first publication on social networks.
Loreto Gómez recalled that
"Each year more people die in Spain because of the heat than because of the cold", and pointed out that "enjoying the summer is not at odds with taking care of yourself. The opposite will be to enjoy a lot now and regret more in the future.
He also recalled that "special attention should be given to groups considered to be at risk,
especially children and olderbut that does not mean that the rest of the population is exempt from suffering the consequences of the heat, the sun and the bites of insects or marine animals such as sea urchins or jellyfish».
The bell

For his part, Manuel Ángel Galván explained that "this year's campaign will be based on dissemination through social networks, where two weekly publications will be made from the beginning of July to mid-August. Altogether," he noted, "
there will be 15 publications which will be in line with the campaign that the General Council has launched for all of Spain».
Galván indicated that "publications on networks will include measures referring to
dermatological care, eye care, having good eating habits and maintaining good hydration»and that it seeks to "reach the youngest with their own language", arguing that "it is a segment less concerned about the consequences of the sun and heat and is more exposed to the hoaxes that are told on the networks", highlighting the the need for citizens to "be
aware of the importance of preventionand remember that pharmacists are here to help you enjoy a healthy summer».
Both presidents noted that the
763 existing pharmacies in the Canary Islands They are available to patients and users to advise them on these and other issues related to health, as first-class health professionals. Community pharmacies are located in places close to the population, which can be accessed at any time without an appointment, yes, with a mask.