The Pevolca calls for calm before a possible break in the fajana, which would generate a small wave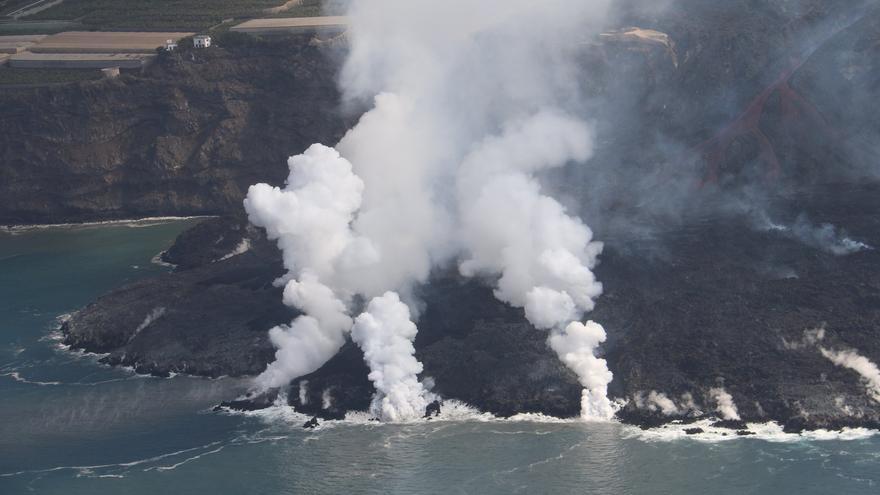 The technical director of the Canary Islands Volcanic Emergency Plan (Pevolca), Miguel Ángel Morcuende, wanted to make a call for calm in the face of a possible break in the fajana of the La Palma volcano because it would only affect an area evacuated from the beginning of the eruption and the wave that would produce –always in case the phenomenon occurs– it would be small and it would decrease rapidly as it progresses.
This was revealed during the press conference after the scientific committee on Saturday that he offered together with the director of the National Geographic Institute (IGN) in the Canary Islands, María José Blanco, with data from different studies carried out.
"The coastal platform of La Palma is small because it is a very young island and immediately after it there is a deep slope towards the seabed", explained the director.
It is on this coastal platform where sediments have been deposited throughout geological time and it is on these sediments that the lava flow is falling. "Therefore," he said, "the wash sits on an area that has no stability – in reference to the small platform."
"It can move at any time. Against it it has the marine movement, which holds the belt. However, the pressure center of the volcano is pushing towards the sea and what can happen is that at a given moment the pressure of the weight of lava exceed the effort made by the sea to retain it, "he explained.
What would take place at that moment at the point where the slope begins – at the end of the coastal platform – would be a rupture, which would be accompanied by small explosions as more water vapor was released, probably also the release of some gases. contained in the fajana and a wave at that particular point.
Morcuende emphasized that this wave would have a dimensions of five meters exclusively at the breaking point and in a radius of 100/150 meters. "It must be made very clear that the intensity of the wave – he continued -, of the wave, is inversely proportional to the distance. That is, as the distance increases, it decreases very quickly."
However, the forecast of the model being studied is that if this phenomenon occurs there will be waves of less than two meters at half a mile and of half a meter at a mile and a half distance.
"I want to call for tranquility again because if there is a small problem it will be 'in situ' in a place of rupture and it will occur in territory already evacuated and excluded from the beginning of the eruption. There will be a picturesque phenomenon in the area and little more, "he said.