The perfect cocktail to invest reinvents itself | Markets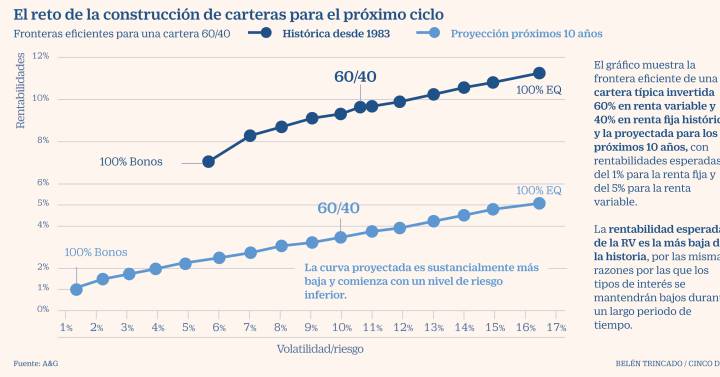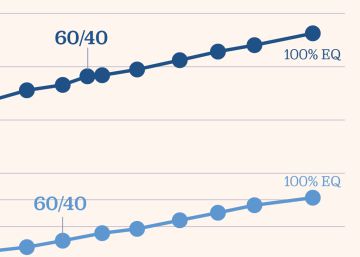 Harry Markowitz, a recent graduate of the University of Chicago, published in 1952 a groundbreaking article in the Journal of Finance on the ideal composition of investment portfolios. To date, the prevailing view was that the key was to maximize long-term investment. Markowitz, introduced the concept of optimal investment portfolio, in which it was not only necessary to think about future profitability, but about the risk assumed. For decades, the perfect combination for a standard investment was considered to be 60% in Stocks and 40% in Bonds. In this way, good returns were achieved, but moderating volatility. However, that classic investment cocktail is now more outdated than daiquiris …
The protracted zero-rate policies put in place by large central banks, first to combat the Great Recession of 2008 and then to combat the effects of Covid-19, have caused most sovereign bonds to offer minimal or even negative returns. "With the forecasts for the yield of the bonds for the coming years, the outlook is not very promising," explains Diego Fernández-Elices, investment director at A&G Banca Privada.
According to calculations made by the US bank JPMorgan, a classic portfolio, 60/40, has had a yield since 1983 close to 9% per year, with a volatility of 10%. Taking into account the return prospects for this combination of assets, in the next ten years the investor could expect to obtain a return of 4% per year, but with the same level of previous risk. Better to abandon the daiquiris and look for other alternatives.
"Most of the public debt has a return close to or less than zero. With these coupons, the investor has to forget about achieving a 5% annual return by investing in bonds. Not even with the classic 60-40 wallet. He will have to take more risk, "says Luis Viceira, professor at Harvard Business School and vice-dean of the faculty.
"The 60-40% portfolios have died. They are a relic of the past, "says Hanneke Smits, CEO of BNY Mellon Investment Management. Okay then. Saving in one of these classic strategies to accumulate money for retirement is out of the question. What can be done accordingly? Is there only the option to increase the level of the stock market in the portfolios, assuming the strong ups and downs that investments will suffer?
The new strategies
"In the fixed income part, what you have to do is start incorporating new things. It is no longer worth having only public debt, since it does not rent anything. Bonds issued by company can be added. They do not have to be from companies with the highest creditworthiness. There are some that are not at that level, but they are still solid companies. You can also incorporate bonds from emerging economies or private fixed income issues, which are not listed in traditional markets, "explains Óscar del Diego, investment director at Ibercaja Gestión.
Del Diego remembers, however, that the profile of the average Spanish investor is more conservative than that of the United States. "Here, that supposed classic portfolio looks more like 70% fixed income and 30% variable income, so there would still be a long way to go to encourage the client to take a little more risk," he says.
According to the experience of this entity, the process is already taking place, although slowly. "The investor who previously only had ultra-conservative funds begins to spend some money to mixed funds, which have some Stock Market. In turn, the one that was more in mixed funds, accepts that a part of the portfolio is invested in high yield bonds [deuda emitida por compañías que no tienen la máxima calificación crediticia]"Says Del Diego.
The rise of alternative assets
The new investor cocktail, in addition to having a bit more punch, has also started to include new ingredients. They are called alternative assets: investments outside of the most classical assets, stocks and bonds.
"The prolonged policy of low interest rates, in addition to causing the need to introduce a higher level of risk into portfolios, has also unleashed a strong interest in alternative assets, whether they are investment funds. venture capital [vehículos que invierten en compañías que no cotizan en Bolsa], funds infrastructures, funds private debt… This type of asset allows the portfolio to be uncorrelated from the evolution of financial markets and, in general, they tend to offer attractive recurring coupons, taking into account the current rates ", reflected Professor Viceira, during his recent participation in a forum organized by Amundi.
"Forgetting the classic 60-40% portfolio will be the great challenge for investment fund managers for the next 10 years", considers Diego Fernández-Elices. "We are concentrating all our efforts on this goal. The investor must accept that it is good to have a part of his money in gold, or in raw materials. As in illiquid assets, such as infrastructure funds, venture capital or private debt ", he points out.
All the major world managers have been developing strategies to fight alternative assets for two years. This type of investment requires higher initial disbursements and requires a longer period to withdraw the investment, which is why traditionally they have not been open to all audiences. "We must succeed in democratizing this type of investment," said Anne Richards, CEO of Fidelity International, during press conferences in London.
In Spain, the fund manager of Santander Bank The main objective of growth has been the increase in the capture of funds for alternative assets, with new signings and the launch of highly specialized products, such as funds that invest in leasing instruments for small and medium-sized European companies.
CaixaBank, for its part, has commercialized in its private banking network the impact fund Huruma, with the objective of renting 7% per year. This vehicle will lend money to entities that grant microcredits in Africa, Asia and Latin America. It is about combining a financial objective with a vocation for social impact. The minimum amount is 125,000 euros and the money cannot be touched in 10 years.
"The investor must get used to the fact that a part of his portfolio is in more illiquid assets, which cannot be withdrawn for a certain time. It may take some getting used to, but the prospects for return and long-term profitability end up improving a lot, "concludes Fernández-Elices.