"The people of that land as wonderful as the Canary Islands fascinate me"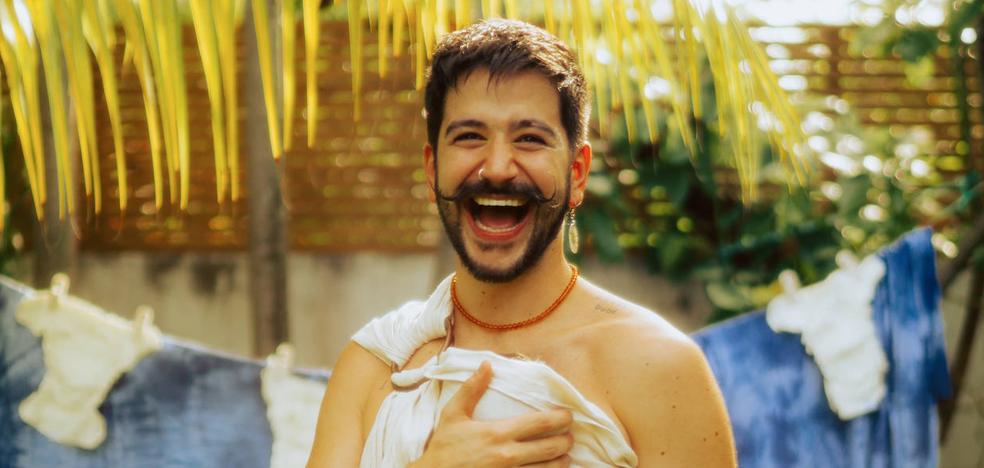 interview with the singer Camilo
The Colombian artist arrives on the island with his show 'De Adentro Pa Afuera Tour' within the Granca Live Fest, on July 8 and 9.
Colombian artist Camilo returns to Gran Canaria, an island that he claims to adore and where, during his last tour, he managed to fill the Gran Canaria Arena twice. Now he is back with his new proposal 'Inside Pa Outside Tour' and within the framework of the Granca Live Fest, an event that will take place next Friday, July 8, and on Saturday, where he will share the poster at the Gran Canaria Stadium with stars of the stature of Marc Anthony, C. Tangana, Residente, Dani Martín or Mike Towers, among others.
-The tour has toured six Spanish cities, reaping outstanding success. What sensations are these first dates transmitting to you?
- Well, thank God it's being wonderful. When last year's tour was coming to an end, we were already dreaming of our return to Spain. I don't know what you have here that makes one want to stay. The generosity of the Spanish public has been transcendental for me.
-What does this tour 'De Adentro Pa Afuera' offer in comparison to the previous 'Mis Manos Tour'??
-First, it is a tour that has, to my surprise and gratitude, dimensions that we did not dare to dream of on the last 'tour'. The reception of the Spanish public has been astronomical and allowed us to dream of carrying out a tour of these proportions. In terms of production and audiovisual experience, it is a 'show' that is far above anything I have ever dreamed of. There are surprises that I prefer to keep to myself and give them to the public at each concert. It's all designed to please the tribe on the other side of the microphone.
-20 dates throughout Spain and with a goal of exceeding 200,000 tickets sold... Are the forecasts being met?
-Last year we were one of the international artists who sold the most tickets and I'm not saying this out of ego, not at all, but out of celebration of the generosity of the Spanish public. There were 80,000 on the first tour of our lives and on our first visit to Spain. It is something too big. Now we are dreaming and living something even bigger, almost triple, and once again I get down on my knees and thank the tribe for its achievement. It is an opportunity to celebrate them, those who are going to see us. We look at the families that come and the smiles they give us.
-Camino's life in a few years has taken a brutal turn. The international success, the love of his wife Evaluna and, now, enjoying together the arrival of little Indigo in your lives... How do you metabolize so many emotions?
-To 100%. The fact of being a father has transformed me in an overwhelming way and seeing my daughter being born brought me emotions that I did not know I was prepared to feel. The immortalization of all of them through songs is a challenge. The only thing greater than doing a 'tour' of wise men where 200,000 people go, is being able to live it next to the people you love. Your family, those you love and then returning to a bed where your wife and baby are waiting for you is the ultimate expression of full happiness.
-Evaluna and you have always radiated love and happiness. Now, with Indigo, how much do those feelings multiply?
Well, thank God I did, brother. Yes to all that you said. I would be wrong to say that our relationship and life is exemplary because the interesting thing about love is that it manifests itself in a unique and different way in the life of each person. What can be a wonderful story in our lives can be a nightmare in someone else's. In our case I tell you that my life is fantastic and I do not complain about anything. I celebrate the blessing of walking next to my accomplice.
-It has filled the venues of most cities... When you are on stage and look straight ahead, what do you see?
-I don't know if I'm naive, but I could tell you that I remember the faces of each of the people who go to my concerts. It's stupid what I'm telling you, I could be, but I keep the faces of those I manage to see. The most fascinating thing, beyond the songs, what they represent, the 'show', the montage... is the treasure of the faces of each one of the people there. The smiles of the families who share something with me. That is the true treasure of my concerts.
-He was here on two dates at the Gran Canaria Arena, even celebrating his father's birthday in the dressing rooms. What memories does coming back and doing it in style bring you, sharing the stage with artists like Marc Anthony, C. Tangana or Residente?
-How nice what you say and what memories you bring me. It is wonderful to share a poster with all those greats and even more so to do it in Gran Canaria, an island that since my arrival in Spain has always been very generous. I even remember the faces of the people waiting for me at the hotel after the concerts on the island. I remember my dad's birthday, of everything we lived together. We are very happy to come to see you, because we are going to see you and not you us, that encounter on both sides of the microphone is fascinating. It is an honor to share the stage with artists I admire at a festival as important as the Granca Live Fest, it is something that fills me with great pride and satisfaction.
-Did you get to know anything about this island?
-It is impressive that you are talking to me and you are not Venezuelan. The people of that land as wonderful as the Canary Islands fascinate me and it has happened to me many times that I speak with you and my jaw drops when I see that we are brothers, the Latinos and the Canarians. I am excited to return to that beautiful Gran Canaria that we were able to get to know a little and soak up that gratitude and hospitality that they gave us. It is a place to get lost and enjoy it.
-As you say, sharing the stage with artists you admire, makes you nervous, is it a greater responsibility or a reason for enjoyment?
-I am, before all things, an enjoyed and an apprentice too. I live with a white belt, as Jorge Drexler says, I am a little sponge and the possibility of being close to them and learning is unique. Of course I concentrate on my concerts, but I always take the opportunity to learn from others. It is a blessing.
-What surprises ahead of us?
-The interesting thing is that they happen at that time. Don't pull my tongue (laughs). The songs are the excuse but the concert is set up for the experience of living it at that moment. I have never been a lover of 'trailers' and when I see something I want it to be without knowing what it is about. I want the people who come to experience it to immerse themselves in what we have been dreaming of for so long.
-They say that Camilo's concerts are not just that, it's not just listening to a musician, they are experiences and emotions. Do you agree with this reflection?
-Uff! What a nice compliment! My songs are reflections of things bigger than them and that are made alive in shows. It is a cocktail of live and real emotions and we experience it in the same way from both sides of the microphone. I do not feel alien to what the public experiences, on the contrary, it is an awakening of a lot of internal things for me and I commune with the tribe.