The Paris Opera, on strike to defend the pensions of Louis XIV | Culture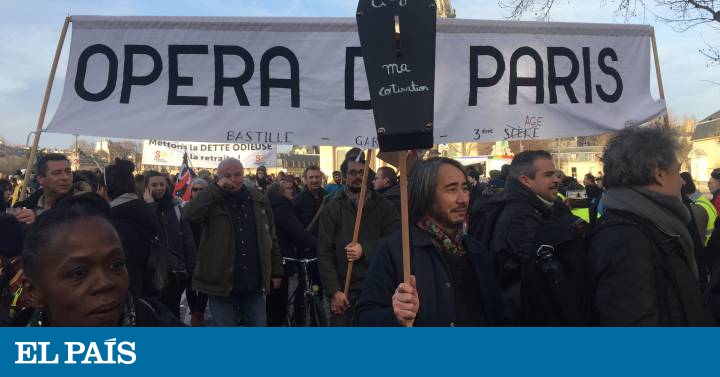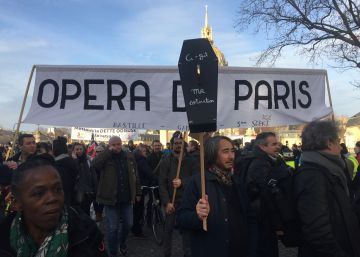 The poster hanging these days in front of the Paris Opera is not "complete" but "closed by strike." A dozen performances have been suspended since the beginning of the national mobilizations, last week, against the pension reform that the Government of Emmanuel Macron unveils this Wednesday. Comédie Française has also had to suspend several of her works. The dancers, musicians and actors of two of the classic cultural institutions of the French capital have jumped from the stage to the streets to also show their rejection of pension changes that will affect them in a very particular way, since these workers They benefit from one of the ten "special retirement regimes" that the executive wants to end.
And it is not any regime. Granted by Louis XIV in 1698, it is one of the privileged retirement systems - with a retirement age much more advanced even than that of the rail sector and public transport that carry the singing voice in the protests of these days - older from France Although very few in number, only about 2,000, they represent, in a way, many of the challenges facing government reform that wants to move to a point system that is the same for everyone, According to the executive. Not all French dancers, in fact, can retire as their companions in Paris at age 42: regional opera workers such as those in Nice, Bordeaux or Toulouse do not have fixed contracts or the guarantee of help when their career ends. In addition, despite the risk of injury, dancers do not play their lives, such as the military or the police, who also have special regimes. But making a more egalitarian system for all should mean losing rights or fighting for others to acquire them? They ask those who accuse them of defending a privilege of only a few.
At 41, Alexandre Carniato says she now understands better the advice that, when she began her career at the Opera, she was given veteran dancers about taking good care of her body. It has been decades of dancing without stopping and the body suffers. In one year, according to the current special regime for the members of the Paris Opera in which he is a dancer and union delegate, he can retire with a pension of about 1,000 euros.
Few options
"I would love to continue dancing. My head says yes, but my body says no. As this is very hard, we end up paying. I started dancing at age six and my body ages faster, "he says. His idea is not to stop working altogether next year. But with a career entirely dedicated to dance, the options are not many and the pay, either. "If I become a dance teacher in a public school, I will earn 1,280 euros. With the opera pension, I can balance my salary, because I have children and a 25-year mortgage. "
The retirement is still far from the head of Eloise and Antonio, dancers of the same company of 23 and 25 years. However, on Tuesday, as on Thursday of last week, They also went on strike and went out to demonstrate in Paris.
"This reform will be dramatic for the Opera and for the company," warns Antonio, who remembers that for performances such as Raymonda, the ballet of the Russian Alexander Glazounov who has now been suspended by the strike, the dancers enter at nine in the morning to work and don't leave until 11 at night. And so since they enter the company, at 16.
"We have no other training, when we go out at 42, not everyone even has a baccalaureate, no training or studies and at 42 they catapult us into a world we don't know. It is a very difficult age to reinvent oneself, "says Eloise. And that, they point out, telling that a dancer can continue dancing throughout his career, because even if the injuries do not interrupt his way ahead of time, few reach 40 years acting in the best ballets in the world.
Nor is it just, they stress, a personal matter. "Without this special pension scheme, we will lose the excellence of the Paris Opera Ballet"Warned the company's star dancer Germain Louvet on Radio Classique, who also seconded the strike.
"People come from all over the world to see us, and that is also thanks to the level of opera dancers," agrees Carniato. "For the best to stay, there has to be an appeal, because if they don't go to other companies that pay much better. You need a balance that allows you to maintain continuity in this prestigious home, "and that balance, he insists, is put into the pension plan that is now threatened.