The pandemic continues the downward trend in infections and new income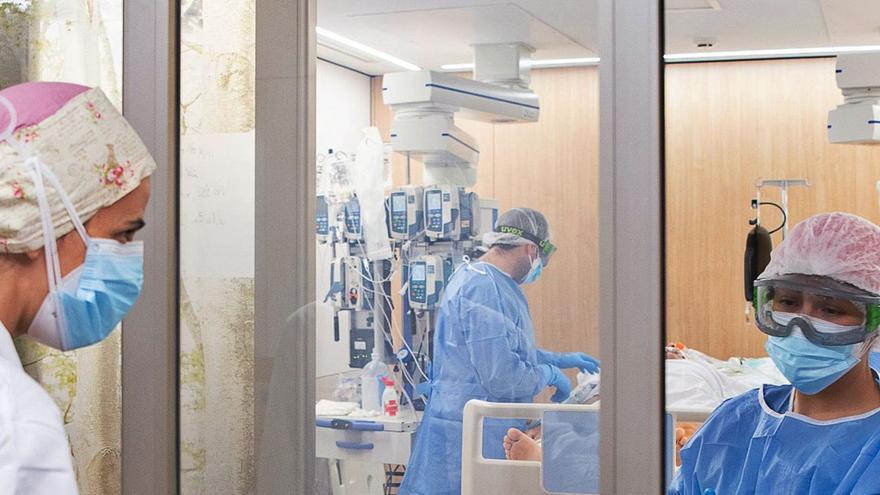 The third wave of the pandemic caused by the coronavirus maintains the downward trend with the number of infections, deaths and hospitalizations, both in the plant and in the ICU, slowing down. The pandemic is still far from being controlled, the latest data show that the number of confirmed cases in Spain since the beginning of the crisis exceeds 3 million and 67,100 deaths. The rate of vaccination is also advancing in all the autonomous communities and more than 3.6 million doses have already been distributed, of which 2.9 million have been administered and almost 1.2 million people have already received the complete schedule.
The data by communities reveal a very irregular evolution, although a downward trend and a slowdown in infections. The Community of Madrid yesterday registered a drop in new infections, 707 compared to the 1,802 reported the day before yesterday, and also deaths, which have gone from 39 to 27, while hospital pressure has risen in the plant, from 2,312 to 2,353, and it has been reduced in ICUs, from 621 to 619, two less than the day before yesterday.
In Catalonia, the number of people with covid-19 in serious condition who are admitted to the ICU fell yesterday for the first time in many days, and there are 593 (13 less than the day before yesterday), although there have been 27 new hospitalizations and 59 people have passed away. Also in Andalusia the number of hospitalized patients has fallen by 244 and stands at 2,333, while those who are admitted to the ICU have fallen by 24 and have broken the 600 barrier, with 581. Yesterday this community added 1,220 new cases and 39 deaths, data that reflect a decrease.
A downward trend that occurs in La Rioja, where the occupancy of beds in ICUs is 41.8 percent, almost two points less than the previous day. The incidence has dropped for the first time in the third wave to 200 cases per 100,000 inhabitants, to stand at 177, on a day in which a death from covid has been registered. The region recovers part of normality with the reopening of shops and catering establishments.
Data from the Basque Country reveal a total of 337 new cases and hospital pressure continues to decline. In Castilla y León, 13 new deaths from covid were registered, and 215 infections. On the other hand, Asturias has added eleven deaths from coronavirus, 139 new infections and 44 new hospital admissions to the plant, and reduces patients in the ucis. And in Murcia 10 deaths have been reported. Improves healthcare pressure in ward and ucis. The number of active cases has fallen by 64% in the last seven days, from 4,635 to 1,678.
The registry of the Spanish Society of Neonatology has so far documented a total of 2,248 newborns of mothers who contracted COVID during pregnancy and only 0.9% of these children were infected, most of whom were asymptomatic. These data come from 120 hospitals