The packed Arc de Triomphe was seen by six million people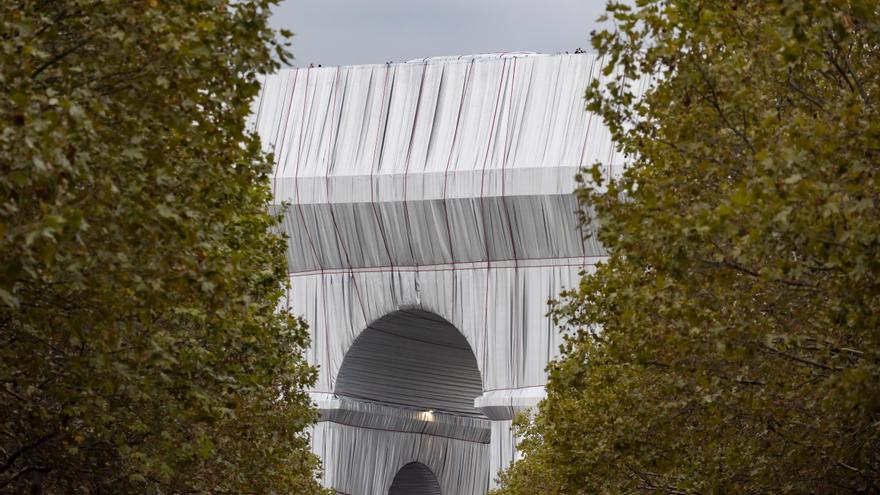 Some six million people saw the last work conceived by Christo, and carried out by his team, the Arch of Triumph packed, which was open to the public for two weeks, as revealed on Tuesday by the report on the impact of the creation directed by the Paris Tourist Office.
This supposes one million more viewers of those who saw the Reichstag packed, in Berlin, in 1995, and two million more than The Gates, made in 2005 in New York.
The work, which consisted of packing with 25,000 square meters of recyclable metallic blue fabric and 3,000 meters of red rope the Arc de Triomphe that crowns the Avenue of the Champs-Elysées, it cost 14 million euros, financed with private funds thanks to the sale of original pieces by the artist.
Christo and Jeanne-Claude's team, the duo formed by the Bulgarian Christo Vladimirov Javacheff (who died in 2020) and Jeanne-Claude Denat (who died in 2009), had to finish the production after the death of the creator, who had left all the plans prepared.
"The success of the Packed Arc de Triomphe has been possible thanks to the dedication and impressive enthusiasm of the team and the partners who have contributed to bring it to life, "said Vladimir Yavachev, director of the project and Christo's nephew, in a statement.
According to the Paris Convention and Tourism Office, of the six million people who visited the monument from September 18 to October 3, 3.2 million were tourists who spent several hours in the surroundings, of which 1.1 million went expressly to visit the Arch, generating about 235 million euros as they passed through the capital. The rest of the spectators, some 2.8 million, were French.
Christo's team will now focus on the last permanent work of art conceived by the Bulgarian creator in 1977, the Abu Dhabi Mastaba, made up of 410,000 multi-colored barrels as mosaics and situated at 160 kilometers from the capital of the United Arab Emirates, in the Liwa desert.