The owners of a cow that fell into a river in Asturias sleep with it to prevent it from suffering attacks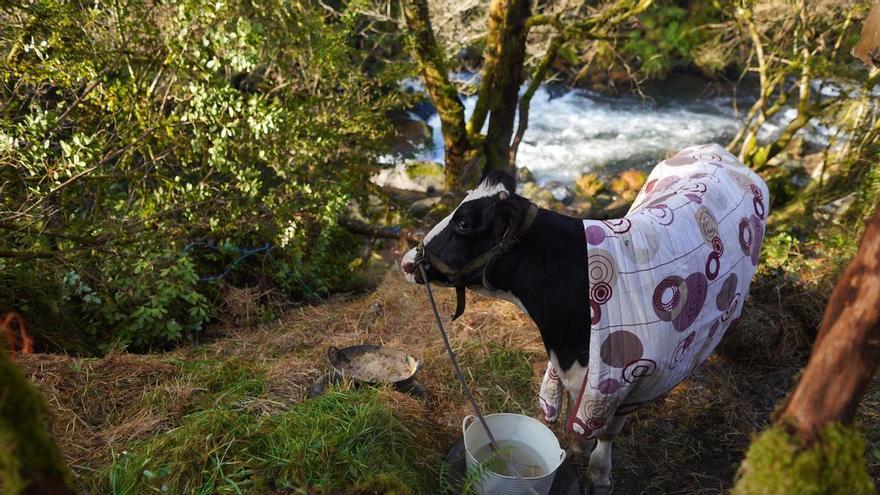 A veal Asturian from just two years and a half and seven months pregnant 'ask for 'help. She has been trapped since last Friday on a shore of the Deza river. He escaped at dawn with two other cows and after 5 kilometers ended up in the riverbed, through which they became dragged. Two of them have already managed to be rescued. But not the other one. And the labors are being so complex that its owners and the neighbors of Vila de Cruces they have launched an appeal for help.
The animals escaped last Thursday morning. After the search, in which neighbors actively participated, they found them in an area of ​​the river, which ended up dragging to a point of very difficult access. However, with the help of the neighbors, they managed to get two of these specimens to be safely on the shore and, after clearing a path, they managed to get them out.
But the other calf is still there. Two shovels mobilized by the municipality They are raiding the area to try to rescue her. Their owners they have even had to spend these nights with her and with the radio on to discourage other animals like the wolf from attacking her. They have also covered her with a blanket. The animal is very scared, according to what they say.
Owners and neighbors are asking for more help so that the cow can be saved. For now, it is expected that until tomorrow, Tuesday or Wednesday, it will not be possible to get the calf to be saved from the area of ​​the river in which it is trapped.
The owners complain that no one came to help them (apart from neighbors and the City Council) and they demand that the Environment, Benestar Animal or any other body that can help them.