"The only pure moment is that of creation"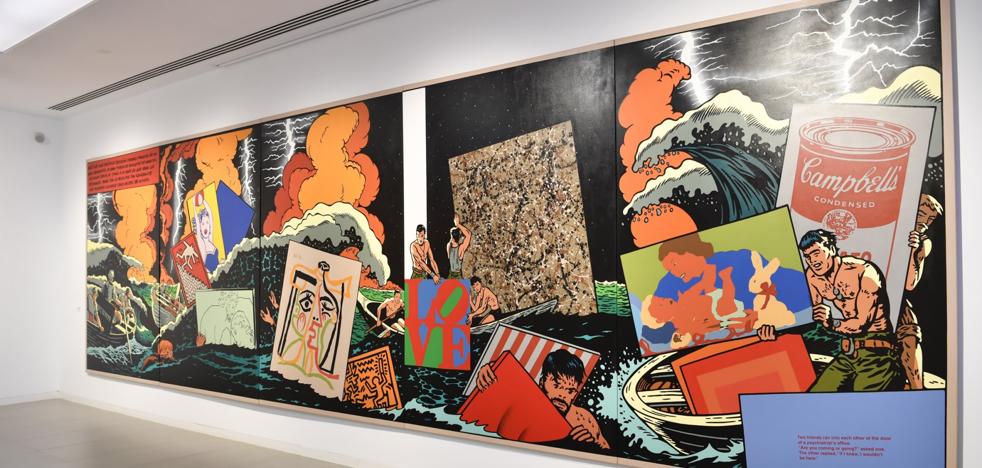 Art. The Colombian painter Álvaro Barrios exhibits 'Illustrated Dreams' at the headquarters of the Canarian Foundation for the Development of Culture, on Domingo J. Navarro street, until December 1
The
passion for comics that accompanies him since he was a child, the
Pop Art, the reflections of
Marcel Duchamp on art, his on the current paths this discipline is following, and the new technologies applied to pictorial creations are some of the determining elements of 'Illustrated Dreams', the exhibition starring the Colombian painter
Álvaro Barrios (Barranquilla, 1945) from last Friday and until next December 1 at the
Canary Foundation for the Development of Painting (FCDP), located at number 32 on Domingo J. Navarro street, in the capital of Gran Canaria.
Specifically, the exhibition is made up of eleven paintings, six made in recent months and exhibited for the first time and
two NFTsthe original works carried out by this Colombian artist who landed last Thursday in Gran Canaria.
Various pieces from the 'Illustrated Dreams' exhibition. /

Juan Carlos Alonso

The origin

The starting point of 'Illustrated Dreams' is in the 80s of the last century. «
They were born in 1980, as a result of some texts I wrote about Marcel Duchamp. These are his own versions as a result of his reflections. Since 1980 I have made about a hundred different texts, which are fantasies about art history, art theory and the art market. They are inspired by surreal situations, in other poetic, literary and philosophical situations", he points out about some texts that are partly reproduced in the FCDP room in the capital of Gran Canaria and that in some cases appear in his own paintings.
Álvaro Barrios was trapped from the beginning by the ideas of Duchamp, more than by the artistic creations of this French creator who died in 1968. «Several years before starting with these texts, a book of interviews had fallen into my hands, where he expressed his theories without any images. First I got to know his theories and then his art.
I was impressed, because it was an ideologue, which proposed a series of texts and reflections that changed contemporary art. His concepts were impressive », he recalls.
First the texts and then his art

First in his texts and later in his paintings, full of irony, Álvaro Barrios contributes his own vision of "the contemporary world". "He is the one I know. Of course, as a result of my career, since I have been working for several decades and I have been in the transition from modern art to contemporary art. I was one of the protagonists of that transformation in Colombia. I took advantage of Duchamp's freedom.
His first works are artistic gestures, more than aesthetic proposals. It worked for me, to carry out approaches that question the diseases of modern art, such as style, technique, originality, a large part of the market, galleries, auctions and biennials », he underlines.
In this sense, he is clear that "the only pure moment in art is that of creation. The rest is infected by different proposals »and pressures, he points out.
The Colombian Alvaro Barrios, along with two of his pieces, in Gran Canaria. /

Juan Carlos Alonso

The presence of these reflections appear in his colorful paintings at the Canarian Foundation for the Development of Painting. For example, in the acrylic on canvas, 120x180 centimeters, entitled
'I dreamed that 5,000 years had passed', the following text can be read: «I dreamed that 5,000 years had passed and art was already a forgotten thing: where the Philadelphia Museum is today there was a car workshop and the Peggy Guggenheim collection in Venice rested at the bottom of the Grand Canal , permanently frozen by a wealthy man who had bought the town."
Greed, unscrupulous marketing and the acquisition of works of art as if they were mere consumer objects are the focus of another of his pieces, always from a playful approach but with substance. Specifically in
'Untitled', an acrylic on canvas, 100x100 centimeters, from 2015, which welcomes the visitor to 'Illustrated Dreams'. It portrays a supposed meeting of five upper-class people, under a red background. One of the ladies says, "One of my clients is looking for an Utrillo that looks like a Mondrian. You have one?" The gentleman with a bow tie and a tuxedo next to her replies: "I only have a Duchamp that looks like a Jeff Koons, do you want it, Francesca?"
traditional technique

He recognizes that the iconography, which alludes to pop art, has another source. "It comes from the comic of my early childhood.
As a child I created my own comics and transferred Allan Poe's stories to the technique of comics», confesses who has painted all the pieces of 'Illustrated Dreams' with a brush. «I have done it as in traditional painting. It is a way of showing that contemporary art can be made with traditional techniques », he points out.
Two NFTs

About the two NFT (Non-Fungible Token) that make up this proposal, the Colombian explains. «He had never ventured into contemporary techniques. I accepted the proposal because it could fit into the principles of my art, without altering them. Seeing the first results, I felt like a film director directing a technological team and I dared to exhibit them at ARCO. I have an NFT exhibition planned in Colombia, in 2023.
It seems to me that it has many creative possibilities if the artist manages the technology. It is not an art in itself, but a technology at the service of art».