The ONCE Cuponazo leaves a pinch in the Canary Islands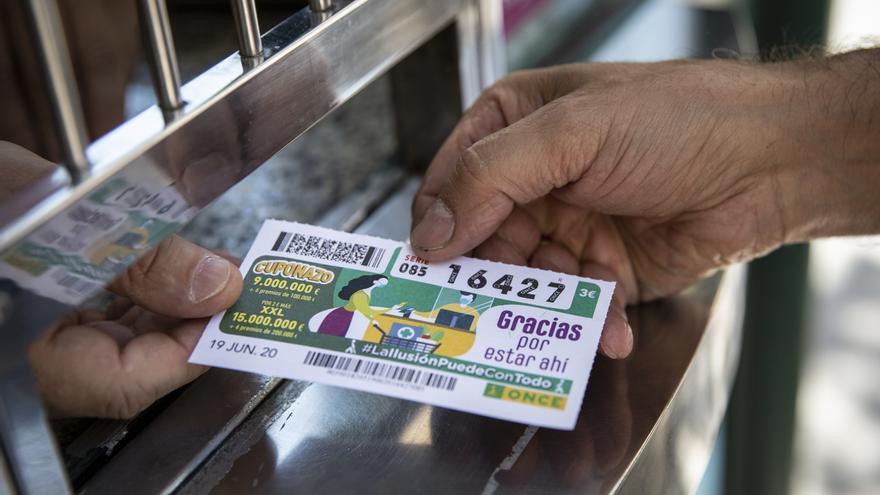 The Coupon of the ELEVEN has distributed in Valencia 9,225,000 euros in ten coupons, one of them awarded with the jackpot of nine million euros, and another nine more coupons, awarded with 25,000 euros each.
The ONCE salesman José García García is the one who has brought the illusion to Valencia, from its point of sale located at Calle Paz, number 23, in the capital of Turia, as explained by ONCE in a statement.
José García, 44, peddles the lotteries responsible for the ONCE for shops, bars and restaurants in his sales area.
The seller was "excited" when he received the news that he had given more than nine million with the Cuponazo. He has claimed not to know who the lucky person is, since his clientele is varied, being a very central area, but he does remember that the winning number was put up for sale "among the first".
A seller of the ONCE for eight years, José García is a resident of the town of Benaguacil, he is married and has two children, 8 and one years old. Those who know him say that he is a simple, hard-working and cheerful person.
Distributed in nine autonomous communities
The Cuponazo on Friday, October 1, has distributed its prizes by locations in nine autonomous communities. Thus, in Catalonia it has left 850,000 euros. 250,000 euros have gone to El Vendrell (Tarragona), in 10 coupons sold by Olga Navarro Alonso.
In Premiá de Mar (Barcelona), this Cuponazo has left another 250,000 euros, thanks to the ONCE saleswoman Juana María Risquez Morales. 250,000 euros have also arrived in Salou (Tarragona), distributed by Salvador Torres Gázquez. And in Cornellá de Llobregat (Barcelona), Adela Campos Gamez has distributed 100,000 euros in four winning coupons.
In the Community of Madrid it has distributed 375,000 euros. Of these, 250,000 have gone to Madrid capital, from the hands of the seller Francisco Abuin Montes, who sold 10 coupons awarded with 25,000 euros each. And 125,000 euros have gone to Mejorada del Campo, where Juan Carlos Pidal Álvarez has sold five winning coupons.
Castilla-La Mancha has also received a prize from this Cuponazo, specifically in Torralba de Calatrava (Ciudad Real), where Manuel González García Motos has distributed 250,000 euros, in 10 winning coupons.
Extremadura, with 250,000 euros in Jerez de los Caballeros, distributed by Emiliano Venegas Venegas, has also received the illusion of the Cuponazo.
In Andalusia, Jerez de la Frontera has received 225,000 euros, in nine coupons marketed by Ana María Gallego Ávalo. Aragon has received 150,000 euros in six coupons that Meili Paola Hernández Ruiz sold in Zaragoza.
In Galicia, Vilagarcía de Arousa (Pontevedra) has received 75,000 euros in three winning coupons, sold by Vanesa García Rey. The Canary Islands have been again touched by the Cuponazo by receiving 125,000 euros in five winning coupons.
100,000 euros have been distributed in four coupons through the authorized establishments that sell the lotteries responsible for the ONCE.
In total, the Coupon on October 1 has distributed 11,575,000 euros.
The ONCE Cuponazo offers on Fridays, for three euros, a prize to the five figures plus series of 9 million euros, and six second prizes of 100,000 euros. If you opt for the XXL Cuponazo, for five euros, the prize goes up to 15 million and 200,000 euros, respectively. ONCE coupons and gambling products are marketed by the 19,000 agents that make up its sales network. They can also be purchased from www.juegosonce.es and at authorized collaborating establishments.