The OFGC records the 'Himno de Artenara', by José Antonio Luján and Ernesto Mateo, at its headquarters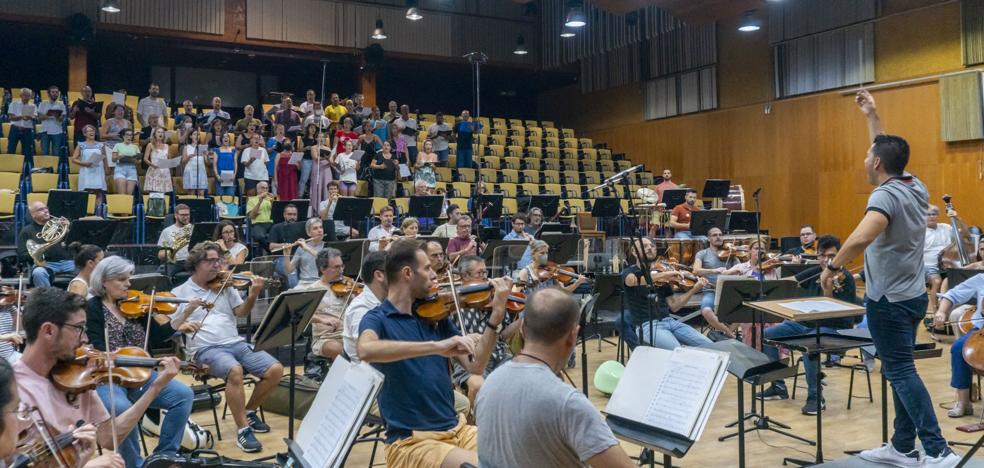 The session took place in the Sala Gabriel Rodó, with Antonio Miranda as sound engineer and Rafael Sánchez Araña as musical director.
The Gabriel Rodó Hall of the Gran Canaria Philharmonic Orchestra (OFGC) has been this week the scene of the recording of the
'Anthem of Artenara', composed on a text
José Antonio Luján, official chronicler of the summit municipality, and with music by Ernesto Mateo from Gran Canaria.
This record constitutes the first step in a project involving the orchestra in the island society that does not rule out the configuration of a sound tour through the different municipalities, with all
the symbolic and legendary charge that defines their identity profiles.
The profound evocation of the hilltop landscapes with which José Antonio Luján evokes the distinctive features of Artenara once again finds the perfect musical correlate in the hands of the composer Ernesto Mateo, with whom Luján has already worked on the cantata
'Sacred Mountains of Gran Canaria'that the Gran Canaria Philharmonic Orchestra and its Choir will premiere in 2019 to celebrate the fiftieth anniversary of the payment of Acusa (Artenara) when it was still walking towards its declaration as a UNESCO World Heritage Site and that was seconded by the Cabildo de Gran Canaria and the City Council of Artenara.
For the recording of 'Himno de Artenara', the
director from Gran Canaria Rafael Sánchez-Áraña has led the Gran Canaria Philharmonic Orchestra and the OFGC Choir, which he directs
Luis Garcia Santana.
The technical team for the recording of 'Himno de Artenara' has been directed by the
sound engineer Antonio Miranda.
It is expected that after the edition of the record, a copy of the Anthem will be made available to the Artenara City Council, the institution that commissioned the piece, premiered in 2018, and that supported the proposal of a group of residents of the municipality for this recording with the orchestra head of the Cabildo of Gran Canaria.