The Ocean Film Tour 7 'falls in love' at the Guiniguada Theater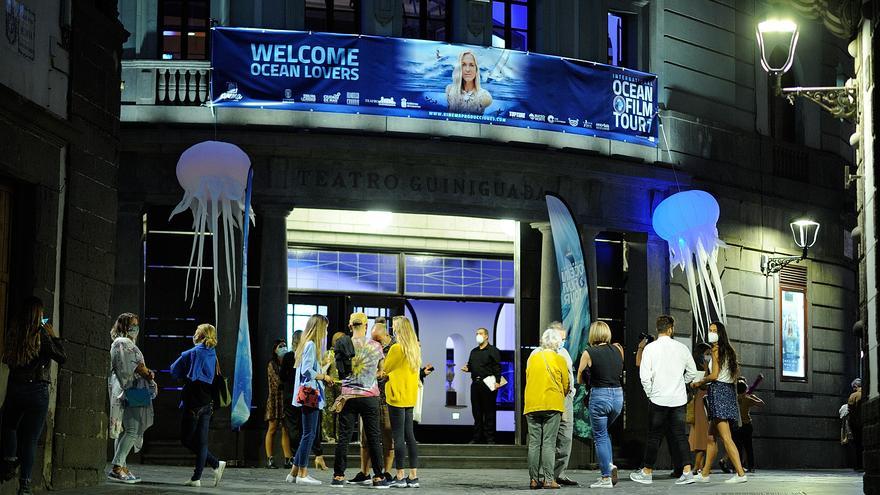 For second consecutive Year, the International Ocean Film Tour 7 He did not leave anyone indifferent in his appointment with the public of Las Palmas de Gran Canaria. In one session, with reduced capacity and all tickets sold, those attending the Guiniguada Theater enjoyed five documentaries related to life in the sea, sustainability, improvement and respect for marine biodiversity.
With the excitement of being reunited in a cultural space, after some very difficult months for the industry, at 8:00 p.m. last night, Friday October 23, the second edition of the Ocean Film Tour began in the capital of Gran Canaria, with more than a hundred of tickets sold, which completed the capacity available at the Guiniguada Theater.
In two blocks, the attendees viewed five international audiovisual projects, especially produced in the original version, with subtitles in Spanish, of the most inspiring stories of the seven seas: Maiden, Unstoppable, The Amrstrongs, Dean Goes Surfing and Diving Deep.
On this occasion, although two exceptional guests, Daniela Coutinho and Gerardo Vangioni, were scheduled to meet at the Guiniguada Theater, the pandemic made it impossible for Coutinho to be in Gran Canaria.
So, Daniela coutinho, which represents Parley for the Oceans, a marine conservation organization, connected with the public present at the Guiniguada Theater to convey his regret at not having been able to attend and hoping to return at another time.
Gerardo VangioniIn an emotional and sensitive speech, he shared with the audience the work he is doing on board the Mercy Ships. "It is a hospital ship manned by surgeons, nurses, teachers, farmers and more, all of them volunteers, traveling to some of the most needy countries in the world to offer free surgeries and invest 10 months in the development of local medical staff and the hospital infrastructure ".
In addition, Vangioni pointed out that for Mercy Ships it is an honor to participate in an event as significant as the Ocean Film Tour and, above all, in Las Palmas de Gran Canaria. "This city is for us a very important port where, often, our hospital ships come to for maintenance and repair on their way to Africa," he said.
So, the International Ocean Film Tour 7 said goodbye to the public, with the intention of being able to repeat in a new location, before the end of 2020, which allows them to gather a greater number of public and respond in this way to all those who this time were left without a ticket.
He contest has once again counted for the second consecutive year with the support and collaboration of the Government of the Canary Islands, through Canarias Cultura en Red SA, the City of Mar council of the Las Palmas de Gran Canaria City Council, the conscious diving center Buceo Norte in Gran Canaria, Top Time Events, Latitude Azul and Cope Canarias.