The obligation ends but not the use of the mask: "We will see it for a long time"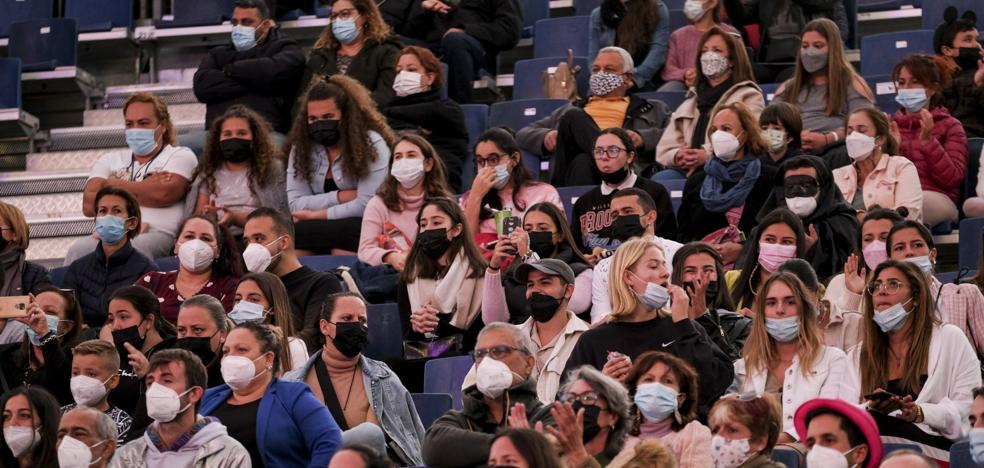 Experts maintain that many people will prefer to continue wearing the mask in closed spaces, especially the most vulnerable.
The
Minister council approve this Tuesday
removal of face masks indoors, except in nursing homes, health centers, pharmacies and means of transport. The new norm will come into force this Wednesday, but the face mask will hardly disappear from public spaces by way of the royal decree because its use has demonstrated its
efficacy in curbing the transmission of any respiratory infectionincluding the flu virus, which barely circulated in 2021.
"Before the pandemic, its use was already recommended when a person had symptoms of respiratory infection, whether it was the flu or a simple cold," explains the specialist in Preventive Medicine and Public Health Eva Elisa Álvarez about a
habit that was never implemented in Europe, while in certain
Asian countries it was common to see people wearing a mask to avoid transmitting a respiratory disease or to protect themselves from seasonal viruses.
Two years of mandatory use

The use of the mask became widespread when it was certain that people
asymptomatic could transmit the coronavirus by aerosols. In fact, since the 20th of
May 2020 The spanish government
declared its mandatory use provided that the interpersonal distance of two meters could not be maintained and in closed public spaces.
Outdoors, the obligation to wear it was lifted on February 9 of this year, but indoors it remains until this Wednesday, when the royal decree comes into force.
"Is a
prevention measure that it would be very good if it stayed in people with symptoms of respiratory infection to prevent its transmission, "says the head of the Preventive Medicine service at the Hospital Insular de Gran Canaria.
Protection barrier for vulnerable people

In fact, Álvarez maintains that the population over 65 years of age or immunosuppressed should continue to use it while we are in a pandemic. "It is recommended to
vulnerable population that put all possible barriers against the virus, starting with vaccination, and that they avoid being in closed places, with little ventilation, in the vicinity of many people and that they always wear a mask, "says the expert who extends these recommendations to the rest of the the citizenship.
Thus, despite the fact that the mandatory use of masks has its hours counted, it is most likely that the population will continue to use them when they consider it appropriate.
«
let's keep watching them. There are people with vulnerability factors who feel insecure. We will have to get used to living with people who prefer to keep their distance, outdoor spaces and wear a mask.
We should not see them as strange people», says the specialist in Preventive Medicine who recalls that there are many people aware of the role of the mask to avoid getting infected and infecting others.
New customs

Her colleague, Professor of Preventive Medicine and Public Health and Rector of the University of Las Palmas de Gran Canaria, Lluís Serra Majem, agrees with her.
«I keep the socks in one drawer and the masks in another.
we will continue to use them at specific times for a long time. When we go to travel, to a concert or at the time of more colds. It will also be used by people with allergies or when we have respiratory symptoms. We have learned that we are capable of
prevent the flu and many diseases that we assumed were inevitable», says the expert about the change in habits that the pandemic has caused.
In fact, he says that the epidemic has also changed our relationship with the
hand hygienebeing aware that many diseases "are not only transmitted through the air but by contact".
As for the people
vulnerable, Serra recommends that they continue to take care of themselves while the virus is in circulation. "In this population it will be convenient to further strengthen protection with
FFP2 masksbut, in any case, this virus will continue to circulate just like hundreds of viruses, "he emphasizes.
social need

The epidemiologist believes that the abolition of the obligation to wear the mask indoors has arrived
in an opportune moment. "It is not a hasty measure and it is not going to be done suddenly. Furthermore, there is always
possibility of going back if necessary, "adds the public health expert about this new step towards normalizing coexistence with the coronavirus.
"It is clear that prevention is important, but so is
see the faces and smile. There are people we have met with a mask and we would not know how to identify them without it, "says the rector.