The nutritionist who did not trust everything to the stomach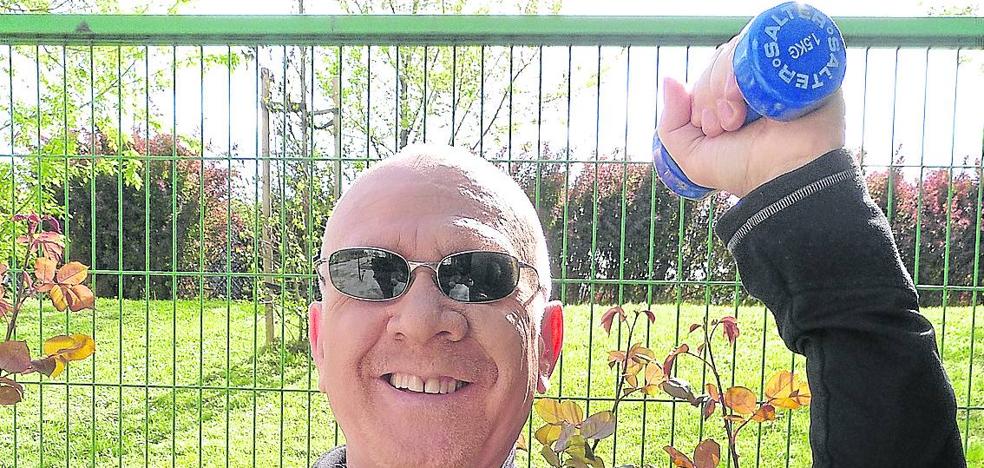 Usual face of La 2, he is captivated by playing sports. He runs around the Casa de Campo, lifts dumbbells, does pilates twice a week... he has even written a book, 'Start to live'. Of course, they will not see him get close to the stove
Icolás Romero (Antequera, 1959) is one of those people who makes one wonder about the turns his life would have experienced if the lottery of knowledge had crossed his path. If his irruption in the classroom had perhaps made those periodic tables less leaden; if his mere presence had been enough to prevent the 8 meters of small intestine from falling off the pages of the textbook, strangling unlikely vocations until they were impossible. Graduated in Medicine and Surgery, and also in Information Sciences, nutritionist, popularizer... Romero perfectly illustrates that knowledge has no place, leaving without arguments those who think that 24 hours a day is too many, that for how many While he is translating the unfathomable into the language of the street from the set of 'La Aventura del Saber' (La 2), he has just published 'Emezca a vive' (Grijalbo), a kind of manual for changing mentality and arming oneself with strength in the face of future crisis.
Monday

6:30 a.m.. I have the alarm clock set at 7, but I can't stand it that long. I take a shower, shave and immediately after breakfast. A toast of wholemeal bread with olive oil, grated tomato and protein: one day smoked salmon, another tuna, maybe ham. And don't miss out on dairy products, yogurt or a coffee with milk; nor the fruit, two tangerines, strawberries, a pear... Well, that, that life is two days and one is working.
7:30 a.m.. I start work. I am with a project, still without title or date of emission. It is a format that aims to bring out the talent of young people, so important now that unemployment in this age group is close to 30%. The idea is simple: I identify that talent and then I put the boys in contact with those who have already taken their steps. With the pandemic we have often seen it, kids who don't know what to do with their lives, how to reorganize it. I talk to specialists who give me a hand, I document myself at home... I'm drawing up a scheme that fits on television.
11:30 a.m.. As I live near the Casa de Campo I like to go running. Two hours driving around, no idea how many kilometers.
Tuesday

11:00 a.m.. Today it's time to record at the TVE studios in Prado del Rey, so I got up earlier to review the current situation, the data from the National Health Commission and decide how to project them. We are also going to talk about the confinement in Shanghai as a result of the latest outbreak, if the radioactivity in Chernobyl has exploded, now that it is surrounded by troops. Make-up, costumes... if I bring a guest, I take the opportunity to review with them the mechanics of the program and the food props that we are going to put on the table.
2:30 p.m.. I always try to eat at home, but when it's time to record we usually do it at 'La Manzana', which is a stone's throw away. It's sunny and we sit on the terrace. There are salads and some peas with ham that take away the meaning.
10:00 p.m.. In a world like the current one, where we trust things more and more to the mobile and less to memory, we have to return to the habit of subjecting the brain to efforts. Every day we should learn something new, have a goal, because meeting it implies a reward, even if it is small. If there is not, there is no stimulus, and that is the same for people as for unicellular beings.
Wednesday

12 noon. The director of 'The Adventure of Knowledge', Salva Gómez Valdés, and I started an eating plan in February to eliminate those 5 kilos we gained at Christmas, a kind of 'docu-reality' that has its horizon set in June. In each program we get on the scale, we have to practice by example.
3:00 p.m.. I'm not a cook at all, you take me out of the weekend paella and I'm pretty useless. What I do do is buy and choose the food that comes into the house. Olga, my wife, cooks richer, where are you going, especially the potatoes with cod. We made the menus between the two of us and discussed them fiercely. Meat, for example, has always been present in the human diet, but that doesn't mean you have to eat it every day. As for wine, we must demystify that it is heart-healthy..
10:00 p.m.. The two great revolutions that we should face are, on the one hand, the nutritional one, with all that obesity; and another that affects the prefrontal cortex, where decision-making is located. There are so many that we fail to focus on the things that really matter. More psychotropic drugs are being sold than ever, and yet mental illnesses are on the rise. The solution does not lie in medicalizing social problems.
Thursday

1:31 p.m.. We are what we eat, at least in part, but above all we are our habits. The scientific community has discovered that everything that enters the mouth helps the immune system. And attention, the nerves, the anxiety, to which we are so exposed, make the defenses go down. That is why emotional intelligence is so fashionable, which is nothing more than solving problems with minimal stress.
7:30 p.m.. When I switch off I go for a walk to get a cardiovascular benefit, always at a brisk pace, which is not the same as window shopping. Or I do weights with some dumbbells that I have at home. Twice a week, I go with my wife to a pilates academy. It is fabulous to correct the postural vices of working in front of a computer. It provides muscle strength and ends back pain.
Friday

2:45 p.m.. I watch the news, but it doesn't take long for me to fall asleep on the couch. We have reached a point of saturation, more typical of sports information than politics. It's all 'minute and results'. So much detail, so much repetition... I admit it's beyond me. When I wake up I drink a red tea, rich in antioxidants and with just the right amount of caffeine. Moisturizes and wakes up.
9:00 p.m.. Olga and I have just talked to our son. He is 28 years old, he is doing his doctorate in Ghent and he has been recruited as a virologist at Harvard Medical School. We couldn't be more proud.
Saturday

1:00 p.m.. Madrid is the capital of tap vermouth, but we are more into having an aperitif at home, a wheel and some anchovies, for example.
8:00 p.m.. We go to the theater a lot tonight to see a reenactment of Lorca's 'Doña Rosita la soltera' by an amateur group. A very special montage with a touch of fantasy, like Tim Burton's films.