The number of people served by Cáritas in the Canary Islands increases by more than 17%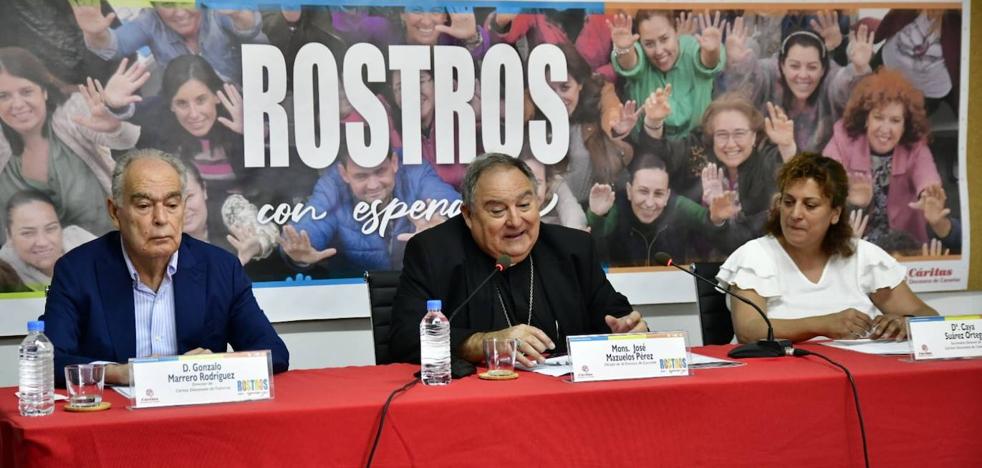 poverty
The institution supported more than 53,000 people in 2021, most of them from single-mother households with minors in their care
«
The pandemic has wreaked havoc on our society. We are returning to normal, but in the number of people in need we are not returning to normal", the Bishop of the Canary Islands, José Mazuelos, lamented today at the presentation of the 2021 Memory of Cáritas in Las Palmas.
Last year the institution served 14,774 households, which represents more than 53,000 people, many of them single mothers headed by women and with dependent minors.
"The return to normality and recovery has not been an advantage for the most vulnerable people», added Caya Suárez, secretary of Cáritas.
83% more in 2020 and 17.32 in 2021

The number of people served by Caritas has not stopped growing in recent years. In 2020, as a direct result of the pandemic,
people in a situation of social exclusion and poverty served by Cáritas was 45,331 belonging to 14,623 households, 83% more than the previous year. And the trend is that "last year it also increased, in this case 17.32% compared to 2020."
72.5% of these people do not have a job, 58.6% are of Spanish nationality and 63% are women.
57.4% do not receive any income and 8.2% are working poor. As a result of this situation, 13% have abandoned treatments and medication as they cannot afford them. In addition, Cáritas Las Palmas helped 250 families last year so that they did not lose their homes or be evicted and have detected an increase in people with "mental health situations", which have "multiplied by four", said Caya Suárez.
structural poverty

In the Canary Islands and in particular in Las Palmas "the economic consequences of the pandemic and the migration crisis have aggravated the situation of poverty, which is a structural reality.
When we talk about the Canary Islands, we must bear in mind that a structural element is poverty, any social, economic or citizen policy must take into account the impact of poverty in our province", warned the director of the institution, Manuel Marrero.
"The return to normality has not favored the most disadvantaged people," added Marrero. "As the Foessa report pointed out, the social system of the Canary Islands is a weak system, with very little protection for the most vulnerable individuals and households,
reveals a situation of growing severe exclusion in the Canary Islands that affects social cohesion, economic development and the social development of the community", he added.