The Notre-Dame works have already removed all the scaffolding burned in the fire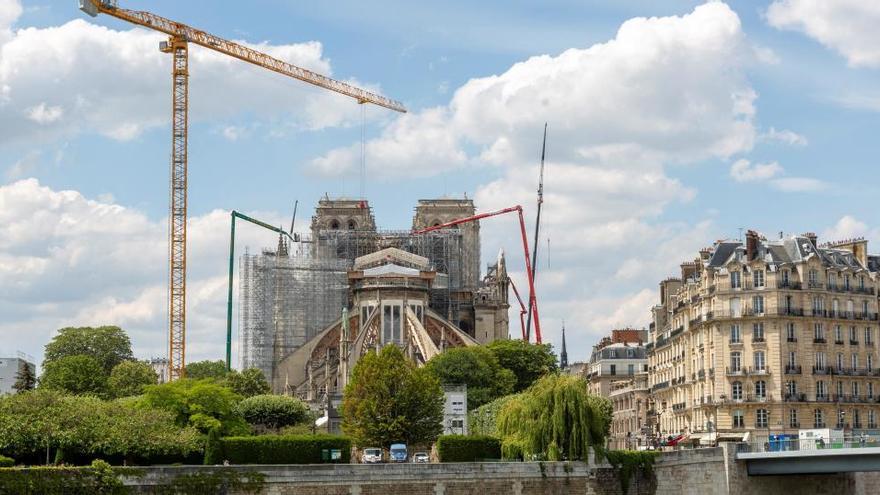 The works started at Notre-Dame to ensure the security of the Parisian cathedral after the fire of April 2019 they managed to remove this Tuesday all the burned scaffolding, which posed a threat to the stability of the temple.
In total there were 40,000 pieces with a total weight of 200 tons, half of which were more than 40 meters high, as specified in a statement by the public body in charge of the conservation and restoration of the building. Those scaffolds had been installed to restore needle of the cathedral, which was under construction when the fire broke out, and although that day they resisted its fall, they were deformed by the heat of the fire.
In all this time, the scaffolding "posed a threat to the cathedral"The agency explained in a statement, according to which the operation to remove them, "unprecedented and particularly complex, was meticulously prepared" and began on June 8. The protocol established that the most accessible parts were dismantled with the help of a crane and that specialists who work hanging from ropes were in charge of cutting with saws the metal tubes that had been melted one on top of the other.
The mission of those experts ended in mid-August and the raised platforms took over afterwards. The operation concluded this Tuesday in the presence of, among others, the French Minister of Culture, Roselyne Bachelot, and the president of the public body in charge of the works, General Jean-Louis Georgelin.
The removal of that scaffolding now allows continue the works to guarantee the safety of the structure from the cathedral, which will begin with the installation of a temporary "umbrella" to protect the transept from the rains. Cleaning and vacuuming the four adjacent vaults will be the last step and will make it easier for the architects in charge of conservation to "refine their diagnosis" before actually beginning the restoration of the Parisian temple.
The work carried out so far has been hampered by the lead contamination detached from the melting of the lead plates of the roof, severe storms in autumn and winter and finally the pandemic of coronavirus.