The new wash that devastated the Las Manchas cemetery destroys more homes and a solar park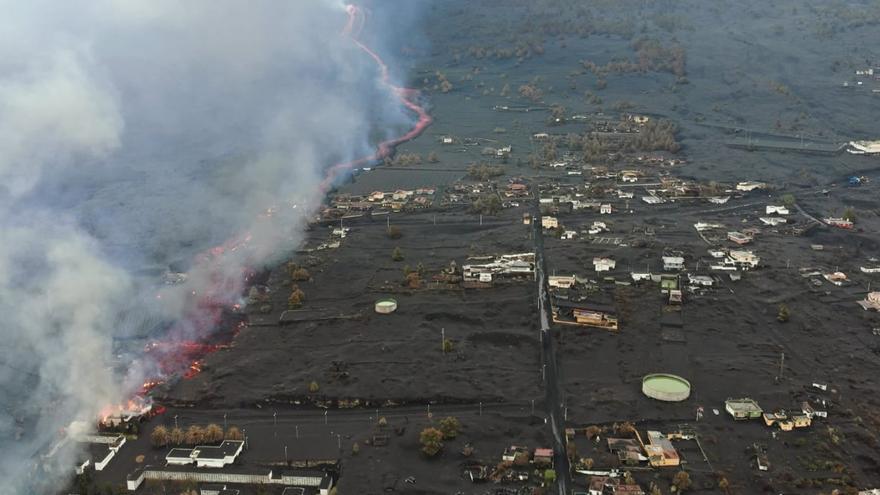 The technical director of Pevolca, Miguel Ángel Morcuende, reported at a press conference that the rest of the lava advances over previous streams, forking into two areas: one towards streams 4, 5 and 7, located between the mountains of Todoque and La Laguna, and the other toward stream 9, that could overflow towards the south and affect other locations, although at the moment it is "quite stopped".
Refering to seismicity, the technical director indicated that it is located in the same areas, deep seismicity continues to register low values ​​and there is a marked decrease in the medium term of the intermediate. Likewise, the breadth of the tremor it remains at low values, although with rises in high values.
In this regard, the National Geographic Institute (IGN) has located since last midnight a total of 11 earthquakes on the island of La Palma, the largest of magnitude 3.9, intensity IV, at a depth of 11 kilometers and at 07.53 hours.
The emision of sulfur dioxide (SO2) continues to register high values ​​but the downward trend has been maintained since last September 23, when the maximum levels were registered. Furthermore, the deformations are "absolutely stabilized" in all seasons and Tomorrow, Saturday, it is expected to have a favorable scenario for aeronautical operations.
Regarding the number of housed, there are 513 people in hotel centers. Of the total, 412 are staying at the Fuencaliente hotel, 31 in Breña Baja and 70 in Los Llanos de Aridane. In addition, there are 43 dependent people cared for in insular health centers.
The Minister of Social Security, Inclusion and Migration, José Luis Escrivá, who visited La Palma this Friday, has guaranteed that the specific ERTE and aid for the self-employed affected by volcano eruption they will be extended "as long as necessary."