The new scenarios of special education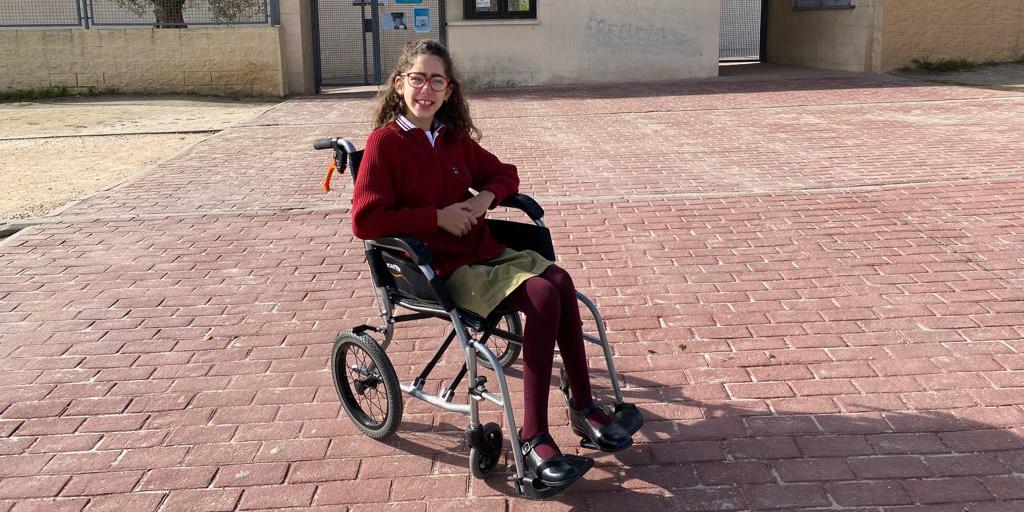 Updated:
Keep

María Morais has lived with cerebral palsy since birth, which especially affects the motor part. Portuguesa, 12, joined the Spanish educational system two years ago, when she moved to Madrid with her family. He started at the public school in Mexico and a year later he moved to the special education center Colegio Gaudem. There he shares class with other children who, like María, have some kind of special needs. After trying both options, his mother, Teresa Coutinho, now sees her daughter much more integrated with her classmates and much more motivated. "In the public school she had a speech therapist and physiotherapist, but the support and reinforcement was given outside of class and she felt less integrated," says the mother. In the special education center, she is more in contact with other classmates who do not have the same learning problems "and it is a very important stimulus for her, she learns more."
One of the most controversial points of the "Celáa Law" is precisely the one referring to special education. The Government would aim to improve inclusive education by preparing ordinary centers for a future transfer of students with disabilities. For this, in ten years it wants to provide ordinary centers with the necessary resources to attend to students with special educational needs and that special education centers perform the function of reference and support centers. "The problem is that the environment has a lot of weight for these students. They have the ability to realize their differences, they compare themselves and there are emotional repercussions ", he begins by explaining Julian Ruiz, president of Ancee (National Association of Special Education Centers).
Several models
Julián Ruiz recalls that a mistake is made in making them believe that these children are removed from the educational system: «It is not true, we are fortunate that the system includes several models: the Ordinary, the combined, which is rarely used, and the special education». The president of Ancee defends "to be practical and that each child is cared for at all times in the most appropriate place, nothing happens to change." When the problems are not very pronounced, "it is very common for children to be left in ordinary schools, especially in the first years of Infant and Primary, but as the difference increases they feel further apart," says Julián Ruiz. Speaking of integration, he believes that in many cases the process should be reversed once students with disabilities, if they receive special education as soon as possible, "can later switch to the mainstream system." And he stresses that seeking inclusion "will be possible when they have the appropriate strength."
The president of Ancee has no doubts that in an ordinary school students are well cared for, that is not at issue, «but there are certain problems such as motor and sensory problems that need very specialized attention». When such care is offered, parents immediately notice their children "much happier and more involved. It is very important to be successful in the schooling of these children ", he points out.
An innovative proposal
The Gaudem school in Madrid has opted for an innovative and at the same time highly inclusive model. Within the center there are two schools, one ordinary and the other for special education. However, both share spaces such as patio or dining room, that is, the students of both centers live together in their day to day. "In our educational project we understand that the support of these students must be within the classrooms, sharing the learning with their peers," explains the director of the center, Marta de la Torre. It is regretted that when talking about the law, the severe difficulties faced by these students are not taken into account, "disabilities that need personalized attention with specialized professionals and a small number of students. The law focuses a lot on curricular aspects ".
Judit Fernandez, Head of Special Education Studies at Gaudem believes that the reality of these students is not taken into account when talking about their integration in ordinary schools. "Each family arrives with a very different backpack on their backs, with their life experience," he says. Ines Nogales, Head of the Guidance department. In the center they also remember that the move to secondary school is a new starting point. "Everything they live is mixed up and work has to be carried out in a different way", highlights the counselor. Hence the importance of working closely with the families of these students.
Since her arrival in Madrid, María has felt supported by her new friends, very aware of her and always wanting to help, especially when pushing her wheelchair. In both schools, as in Portugal, her mother has been able to see everything she brings to her classmates. «There is a mutual learning relationship. Their friends understand what the difference is and that will make them better people as adults, "says Teresa Coutinho. For the director of the Gaudem, it is essential to ensure that children understand what diversity is, "this is how a real society is achieved. There is a social learning, we see tenderness and sensitivity, "he adds.