The new runoff from the La Palma volcano affects new constructions and threatens an industrial estate in El Paso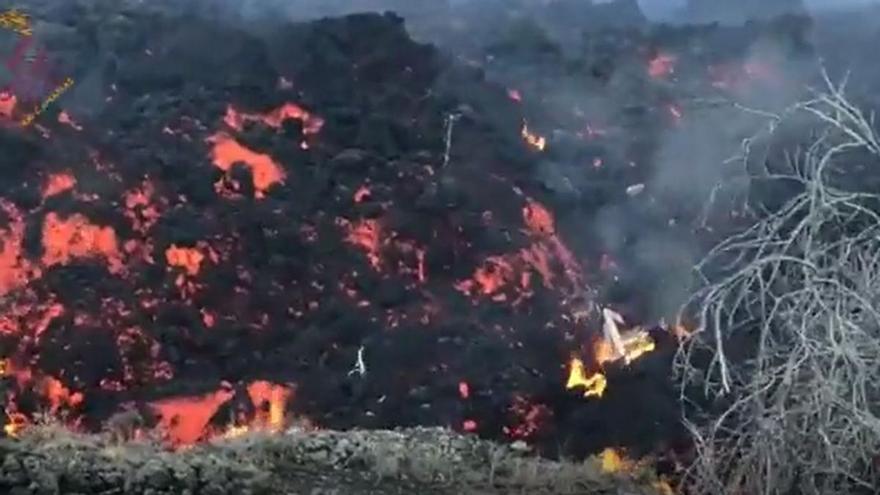 The new lava flow of the La Palma volcano It is generating great destruction in its wake and hindering the movement of scientists in the area, has warned this Saturday the Canary Islands Volcanological Institute (Involcan), which indicates that their teams in the area are hindering their work due to the action of the lava. This laundry has razed new constructions and threatens an industrial estate in the municipality of El Paso.
The north face of the cone of the eruption of the new volcano of La Palma collapsed during the early hours of this Saturday, which has led to the emission of castings in several directions. "There is a new leak in the northern part of the cone of the volcano that last night gave us a scare, especially because of the type of fluid lava that is emitting," explained this morning the mayor of El Paso, Sergio Rodríguez, who states that "It is a stream that runs over another, that fills in ravines and that, in the end, is overflowing and affecting new constructions."
In addition, the municipal councilor has shown his concern about the direction of this new laundry, as it is already very close to the Industrial estate of Callejón de La Gata and it has already affected some industrial buildings in the area. However, for the moment, the authorities consider that the march of this new lava will not affect other population centers, so no new evictions have been decreed.
This volcano has been erupting since last September 19 in the municipality of El Paso, and nine days later the wash reached the sea in Tazacorte