The new life of Piqué and Jordi Alba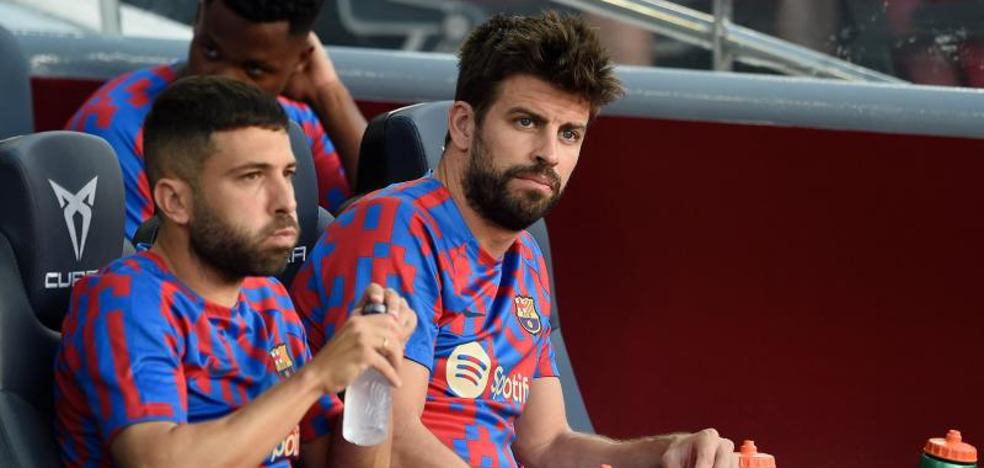 Analysis
The two Barça footballers have gone from indisputable to substitutes at the start of the season
Gerard Piqué and Jordi Alba are going through difficult times at Barcelona. The two players, aged 35 and 33, respectively, have seen how their role in the culé team has changed radically at the start of the season. From being indisputable in the eleven and heavyweights in the preparation of the squad, they have become regulars on the bench and even not adding a single minute in the first three days in the case of the center-back.
"I spoke to him just before we went on vacation. I was very clear and told him that we would strengthen ourselves and that it would not be easy. He is a player who can help us in another type of role, it depends on his feelings and mine. There is competition for everyone and I try to choose the best to win the games », assured Xavi Hernández when asked about Piqué after his team's friendly match against Manchester City. That day, the Tarrasa coach gave the opportunity to less usual footballers and among them was the center-back, unprecedented in the league start.
And it is that Piqué has passed in just a few months from one extreme to the other in the Barça ladder. He was the true kaiser behind Barça, an untouchable in defense who saw how everyone around him changed except him. Last season, without going any further, he was forced to force in the last stretch despite having discomfort because there was no guarantee substitute in the center of defense. He finished the course with 40 games and more than 3,000 minutes, inappropriate figures for a 35-year-old footballer. Despite this, Xavi surprised before the market by relegating him to the background while waiting for reinforcements like Christensen or the long-awaited Koundé to arrive.
Those signings arrived, joined in defense by Eric García and Ronald Araujo, and have relegated Piqué to ostracism. In the first three days he has not played a single minute, despite the fact that Koundé could not be registered until this weekend as Araujo had to act as a right-back due to Xavi's lack of confidence in Sergiño Dest. With all these troops already ready, the presence of the central defender seems even more complicated and only the possibility of a line of three, which Barça has already used this course on occasion, and the lack of a right-handed lane of guarantees can make that it has more participation than it currently has.
The future of Jordi Alba is not as flattering as that of Hospitalet would like. He started with an advantage in the dispute with Balde at the start of the season, waiting for the signing of Marcos Alonso to close, but he has seen how the youth squad has earned a place in the eleven at the first change and is taking advantage of the perfection Xavi's minutes. Balde has been a starter against Real Sociedad and Valladolid, the two games that the Catalans have won, and has shown himself to be a constant alternative in attack to widen the Barça pitch. So much so that his coach did not hesitate to praise him last weekend. «He plays because he is playing very well, he deserves it. There will also be moments for Jordi and Gerard, there will be games and opportunities for everyone. The competition makes them better and Balde is showing a great personality, he has great offensive capacity », affirmed Xavi.
The duties of the market

Barça faces the last hours of the market with several tasks still to be resolved. With Koundé already registered, the culé team is now mainly focused on releasing players who do not count for Xavi. That is the great task for a sports management that has not managed for more than two months that Martin Braithwaite and Sergiño Dest pack their bags. The Danish soccer player clings to his contract, while the American awaits a proposal that will seduce him and that could come from Manchester. United have set their eyes on him and are evaluating the possibility of making an offer to Barça in which Wan-Bissaka could enter as a bargaining chip.
Other footballers who live on the phone in this market are Miralem Pjanic, Pierre-Emerick Aubameyang and Memphis Depay. All three count for Xavi, but their high salaries make the club look favorably on a possible last-minute sale to lighten the wage bill. The Gabonese has a proposal from Chelsea, an option that could facilitate Marcos Alonso landing at the Camp Nou. A player that Barça has wanted for months as a replacement for Jordi Alba and that could slow down Balde's progression.