The new life of Ernesto Valverde, the photographer who became a coach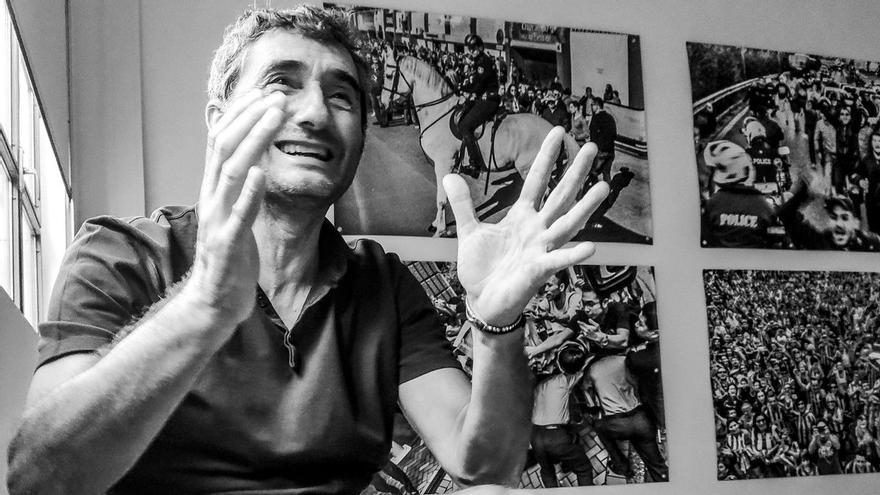 Okay, let's accept octopus as a pet. The truth is that Valverde, fast footballer, rogue, assistant, extremely complete and useful extremity like few others (so few that there are almost no footballers like him anymore), He went from being a soccer player to a successful coach, tremendously educated in everything he does and how he does it and, of course, already very disappointed in what Javier Tebas, the president of LaLiga, calls the soccer industry.
The luck of knowing (a little) Ernesto Valverde allows you chat with him knowing, already in advance, that football is (almost) forbidden. That is, he will not tell me what happened to him (at the end) in the Barça because it would end up falling, believe me, more of a myth (and fat). And secondly, because, as he says, no one is interested anymore. Lie! It still interests a lot of people (for example, me), but, I insist, let's respect that world where dog does not bite dog.
A stronger hobby than soccer
What you do not know although, perhaps, you suspect, because you are very, very, smart, is that Valverde liked photography more than football. What's more, he was going to (is) a photographer, what happens is that the people of that entertainment industry entangled him and they took him away from art, although he, as he does not tire of admitting, always carries a compact, small, sufficient camera to be your third eye, in your pocket, since He began to study photography at the Institut d'Estudis Fotogràfics de Catalunya, in Barcelona, ​​at the Industrial School, back in 86 when he signed for RCD Espanyol and long before founding, in Bilbao, the Center for Contemporary Photography.
"I like photos that punch you in the face"
That Valverde who, like everything in his life, did not tell many that he wanted to be a photographer and earn a living as a portraitist (it never occurred to him to go to war chasing a Pulitzer), has been able (that's another of its secret virtues) to agree, go, Athletic and Real Sociedad, to expose a collection of fascinating photos in Bilbao and San Sebastián.
It is an exquisite exhibition, not without its toughness and impact. It's about photographing those who chase you. He is the photographer who portrays furtive photographers. That is why the title of his latest book, which they must buy (website of the publishing house Fracaso Books, 35 euros, cheap for what photo books usually cost, I tell him), is entitled 'Frontera', because the images are they ask who are the inhabitants on the other side of the border, that line that separates the bus from the team on duty arriving at the stadium of their fans.
Valverde, who started, like everyone else, with analog photography and even having his own laboratory ("Ugh, that smell, geez! Those brown spots on your nails because of the developer, that darkness so much like a photographic laboratory" ), now it is handled with the printer and all the digital tricks: "Even so, I still prefer, above all else, black and white ". Of course, when he sees an image in color, but in angry, shocking color, he snorts and says: "Wow, how did that guy take that photo and how did he treat it to make it so precious."
"I don't hide or show my camera. The problem is that people immediately recognize you and that creates a certain distance"
Returning to the border, when Valverde took those photographs in all the clubs and countries in which he has trained and / or played, he always had an idea in mind: "I could be any of the people portrayed, I identify with all of them. That is to say , that passion shown by the people who go behind a team, who live the life of their club with intensity, who idolize those footballers, they can be from a judge to a miner, from a doctor to a telephone operator, they are not crazy, no – and I am not going to talk about the ultras, the troublemakers, no – they are simply passionate about the soccer, your team, your club, your favorite footballers. And, yes, I could be there, of course, with the camera or the mobile, but I see myself perfectly reflected in them ".
It is evident that Valverde has not spent his life taking photos, but he has spent, he does, his life with the camera in his pocket. A small camera, with a lens that is identical to the human eye, that is, a 35mm, at most, a small 35-75mm zoom, capable, simply, of capturing the same image or frame that the human eye captures, in identical format. He likes to surprise when he takes photos, although, if necessary, he asks permission to take them, lest it be inappropriate, something that the Valverde of a lifetime would never accept and would consider a lack of education, of civility.
Has done and does all kinds of Photography. "I have even photographed animals! ", he says, as if it were the greatest outrage he has ever done. Speaking of outrages, lately he's been driving in here I'll catch you, here I'll kill you. He's more or less a sneaky photographer."I always carry the camera and neither show nor hide it. My problem is that people immediately, or usually, discover who I am and that creates a certain distance. In this sense, there is something that is very surprising and that is that people freak out, even doubting the authorship, when a professional from any other sector, such as architects, actors, there are many great actors, photographers!, Surgeons, writers or lawyers have as entertainment or second profession photography. Obviously none of us make a living from photography, but when you see photos of these people, you think, 'Wow, I could make a living out of this!' I, who originally wanted to do it, stopped thinking about it very early because it quickly went well for me on the pitch and, then, I had continuity on the benches ".
"I like black and white. I have been brought up in black and white, although I admit that color is very impressive"

I tell him that Dad said that "life is in color, but photos have to be in black and white". Valverde shares that sentence, although not completely, so he does not allow me to use it as a starter. "I see things in color that are incredible, although I still prefer black and white, of course. Black and white is something that is out of the ordinary. It is still curious that life, indeed, is in color, which is how images enter our mind, but we have been educated with black and white photography. Black and white is reality, yes, but different. I repeat: my eye is educated in black and white, but there are photographers who have made an authentic art of color and that also seems very commendable ".
Always photographer
What Valverde hates most – and that happens too often – is being considered an intruder, when he was always a photographer. "I don't know, it is possible that someone when looking at my photos thinks: 'Okay, yes, they're fine, but do your thing.' . Txingurri has never liked to bother, or even bother, perhaps that is why it has refused, for a long time, to talk (seriously) about football, so let's continue with the photography, which is what interests you.
"I could be any of the fans that I photograph from the bus of my team, of course I do. I identify with all of them"
And that's where we find ourselves, to say something outside of the politically correct, to a much tougher Valverde. I ask him what kind of photography he likes or does. "I don't like complacent photos, too nice. A beautiful landscape, okay, great, but seen one, seen all. I like photos that punch you in the face, that hit you. I prefer hard images than soft. I love that people are surprised by a photo of me and tell me: 'Damn, man! This photo is shocking, different, surprising.' They just didn't expect that harshness in me, in someone who is a footballer and / or coach he becomes a photographer, but I like photos that make you tense, on your guard. "
This is Ernesto Valverde, the photographer. The other, the footballer, the coach, is already in the football history books, on Google.
And remember, life is in color, but photos have to be black and white.