The new letter of the Insular Theater Hall puts its tickets on sale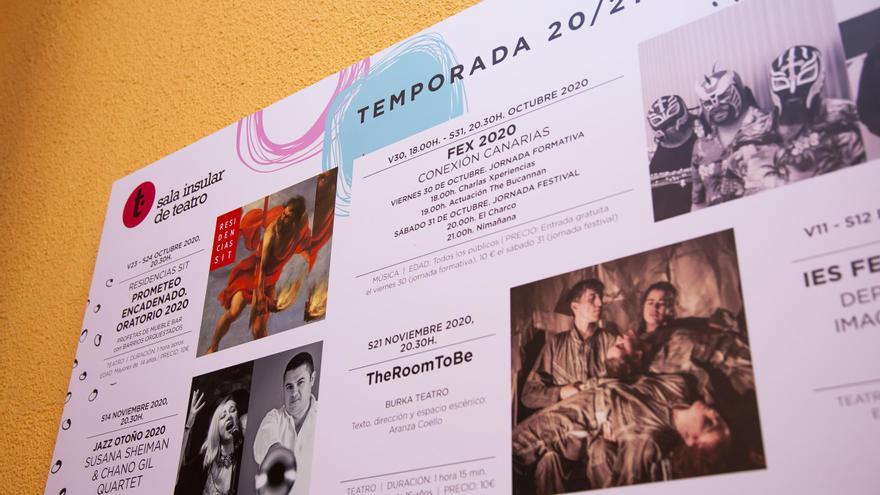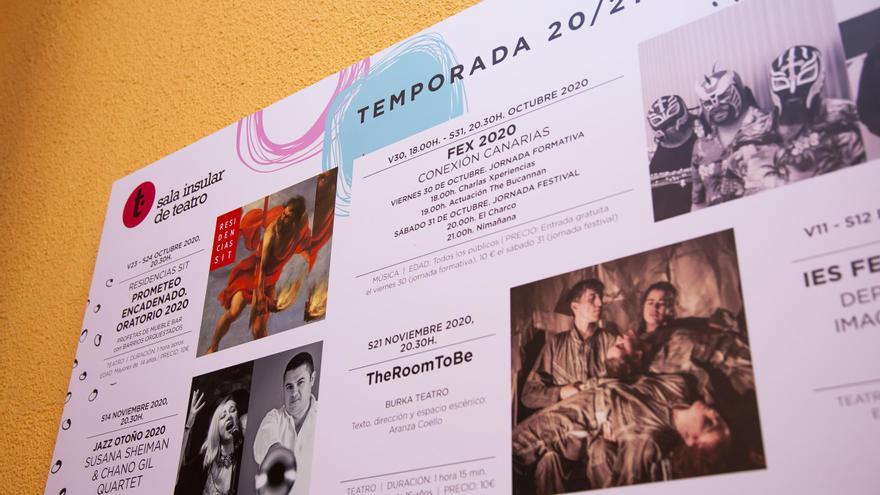 The Insular Theater Hall (SIT) puts on sale from this Friday the tickets for its new shows, a score of proposals planned between the months of October and June with which, according to the Culture Minister of the Cabildo de Gran Canaria, Guacimara Medina, will contribute to the recovery of the cultural sector on the Island, one of the most affected by Covid-19.
At a maximum of 10 euros, the tickets are already available on the web www.salainsulardeteatro.com and at the Cuyás Theater box office (prior appointment can be requested by calling 928 432 181 or on the web www.teatrocuyas.com). In addition, an hour and a half before the performances, they will also be at the SIT box office (Avenida Primero de Mayo, s / n, Las Palmas de Gran Canaria).
Presented this week, the new program will start on October 23 and 24 with the 'Prometheus' devised on its 40th anniversary by Prophets of Furniture Bar. In addition, classics of its programming will return to the May Day venue, such as FEX, Jazz Autumn, Not Only Author, the artistic residencies, the collaboration with Grupo Antígona de la Once, the Popular Theater Show, the Classical Theater Workshop of the School of Actors of the Canary Islands or the Festival of Monologues.
Along with them, shows like 'The Room To Be', in which Burka Teatro delves into memory; 'Moria', by Unahoramenos Producciones, which reflects on the situation of refugees; 'Nada de nada', which is born from the anguish over confinement, or 'Anónimas', by Delirium Teatro. Also the family members 'The imaginary of Gonzalo Albiñala' and 'My path', programmed, with all the prevention measures against Covid-19, for the Christmas holidays.
In total, more than twenty proposals for theater, music, dance and family shows to which, throughout the year, a series of training actions will be added, including workshops for students of the Image and Sound cycles of the IES Felo Monzón from Las Palmas de Gran Canaria.
Chained Prometheus. Oratory 2020 '. October 23 and 24. 20.30 hours. Prophets of Bar Furniture and Orchestrated Neighborhoods with this work, the first link in a tetralogy, approach the oldest dramatic piece. In it, Prometheus, who created humanity and gave it fire, suffers the punishment of Zeus. That is the trigger for the action of this montage in "oratorio" format and that its creators will be able to perfect thanks to a period of artistic residency at the SIT itself. An original composition and a cast of first actors (Juan Ramón Pérez, Carmelo Alcántara, Fernando Navas, Yanara Moreno, Abián de la Cruz, Begoña Viera and Iván Alamo) that bring the myth closer and invite us to reflect on power and justice.
FEX 2020: Canary Islands connection. October 30, 6:00 p.m.- October 31, 8:30 p.m. He comes back to the Hall with the aim of promoting creativity and experiences through music. For yet another year, it will include a training session (Friday 30: Xperiences talks by professionals from the creative industries and performance by The Bucannan) and concerts (Saturday 31: El Charco and Nimañana).
Jazz Autumn. November 14th. 20.30 hours. Susana Sheiman and Chano Gil Quartet will offer a concert within the proposal of the Cabildo and the Foundation of Performing Arts and Music of Gran Canaria for Autumn 2020 Jazz, to which a second flamenco jazz performance will be added, on December 7 in the Cuyás Theater, with Gerardo Núñez, Carmen Cortés and the Big Band of the Canary Islands.
Thus, the spectacular voice of Sheiman will join, in an innovative proposal, the warm sound of the Canarian trumpeter Chano Gil, also director of the Gran Canaria Big Band, and his companions Augusto Báez (piano), Carlos Meneses (double bass) and Osvaldo Hernández (drums).
Sheiman (Madrid, 1973), who at the age of 16 began his professional career as a vocalist soul of countless groups, he moved to Barcelona bursting into the city's jazz scene in a meteoric way. She confesses her admiration for the greatest (Ella Fitzgerald, Sarah Vaughan, Billie Holiday, Anita O'Day, Judy Garland, Kay Starr, Aretha Franklin, Nancy Wilson, Rachelle Ferrell …), who have inspired her to create a Very personal style marked by the warmth of its timbre and the variety of nuances, its wide range, the strength of its staging and the intense expressiveness of its performances.
'The Room To Be'. November 21. 20.30. Burka Teatro puts on stage this proposal with which its author and director Aranza Coello continues to deepen, after 'The battle', in memory, its traps and constructions. The work, selected by the SGAE for its Author Express 2019 Theater Collection, masterfully mixes dance and word.
Christmas Program: 'The imaginary of Gonzalo Albiñala' (December 19, 6:00 p.m.-December 20, 12:30 p.m.) and 'My way' (December 27, 29 and 30, 6:00 p.m.). Both shows make up the SIT program for this Christmas. The first, conceived, directed and performed by Gonzalo Albiñana, constitutes a journey, "a modest tribute to the madmen and the absurdists, to dreamers like Verne or Borges, Cortázar or Magritte, a compilation of magical insanities, somewhat labyrinthine, in the that you will lose yourself ", according to its author, who last year obtained the title of National Champion of Salon Magic at the 36th National Magical Congress.
As for 'Mi camino', it is a show based on the illustrated album written by Cristina Martín and illustrated by Álex Falcón. It includes music by Óliver Curbelo (piano) and Yeray González (trumpet) and performances by Raquel García (actress) and Cristina Martín (narration, voice). In short, it is a musical show to ask questions and find an answer, but, above all, to enjoy the adventures of Yalán, a macaque like no other.
'Not Only Author'. January 9, 16 and 23, 8.30 p.m. Dácil Santana, Ual-La and El Jose are the artists and groups that in 2021 will open the annual program of the SIT within the cycle 'No Solo Autor'. His performances are scheduled for January 9, 16 and 23. Always at 8.30 pm.
'Moria'. January 29 and 30, 6:00 p.m. and 9:00 p.m. January 31, 5:00 p.m. and 8:00 p.m. Unahoramenos Producciones exhibits this production directed by Mario Vega and starring two great promises from the local scene: Marta Viera and Ruth Sánchez. It also has the advice of the journalist specialized in migration Nicolás Castellano. In the Moria refugee camp, "designed for 3,000 people", more than 20,000 have been crowded. For that reason, the NGOs have decided to leave the walled area. Thanks to the interpretation of its actresses and audiovisual content filmed in 360º, the audience who attends will be part of a documentary and immersive theatrical experience, in a tent similar to those in refugee camps where they will feel hope, celebration , shame, fear and the proximity of death.
'Singing'. February 12-13. 20.30 hours. The Italian choreographer Erika Zueneli and the canary based in Paris and Brussels Juan Benítez direct this piece created and performed by Benítez himself, an artistic project that, with the help of Dante's 'La Divina Comedia', explores the center of the individual, trying to understand it from its surface. Before its exhibition, there will be a period of residence.
'Masadanza-Arnau Pérez'. March 5 and 6. 20.30 hours. The Canary Islands International Dance Festival (Masdanza), directed by Natalia Medina, maintains its collaboration with the Insular Hall, allowing Arnau Pérez, a participant in a previous edition of the contest, to prepare and exhibit his choreographic project at the May Day venue.
'Galdosianas. Galdós' secret loves. March 12 and 13. 20.30 hours. The actress Blanca Rodríguez once again directs the Grupo Antígona de la ONCE, this time with a project on the love relationships that marked the life and work of Benito Pérez Galdós, and which, in one way or another, were reflected in some of his literary jewels: Doña Perfecta, Misericordia, Fortunata and Jacinta, Marianela, Tristana, Cassandra, Tormento …
'Wave eyes'. March 26-27. 20.30 hours. After a period of residency, Guacimara Correa, Alejandro Narajno, Guaxara Baldasarre and Marta Fernández will star in this work written by Javier Estévez and directed by Rafael Rodríguez, which was selected within the framework of Canarias Escrib Teatro 2019, a project to promote authorship Island theater promoted by 2RC Teatro Compañía de Repertorio, the SGAE Foundation, the Government of the Canary Islands and the Cabildo through the Foundation for the Performing Arts and Music of Gran Canaria. In 'Ojos de ola', Celia, a young playwright, begins to write a play that begins with the chance meeting of a couple in the summer of 1968. As she writes, she will have to face the conflict that has arisen between her fiction. and reality.
'What the crickets sing'. April 23-24. 20.30 hours A languid and sad man named Donny fiddles with a loaded gun ready to commit suicide on a blue and yellow night (blue from puddles, yellow from streetlight), but the city and the night are capricious and will make the protagonist of this work by Abián Cruz directed by Ruth Sánchez changes plans. The exhibition will be preceded by a period of artistic residency.
'Nothing at all'. April 30 and May 1. 20.30 hours. Devised during confinement to fight against the feeling of loss and emptiness caused by Covid-19, the show fuses the electronic music of Nacho Martín with the meta-theater of one of the most awarded and represented playwrights in contemporary Spanish theater: José Sanchis Sinesterra. It is directed by Luis O'malley, the aforementioned Nacho Martín and Rosa Escrig, who also stars in it.
'Anonymous'. May 8. 20.30 hours. "It is the story of many told by a few." Severiano García Noda directs Carmen Hernández (lead actress), Marta Solís (voice) and Mon Cabrera (guitar) in this piece that takes place through several linked monologues and in which the music catalyzes the emotions. Thus, two languages ​​converge to express the same reality: songs that tell and words that narrate. Words of three women interpreted by Hernández who will expose their story on a stage devoid of almost everything, weaving a plot based on connected experiences in the background.
VI Sample of popular theater. May 20-22 (8.30pm) and May 23 (7pm). Blanca Rodríguez is once again at the forefront of this project in which members of different amateur theater groups on the island meet annually.
EAC Classical Theater Workshop. June 3-6. 20.30 hours. Students from the Gran Canaria headquarters of the Canary Actors School will once again say goodbye to their training with a workshop on Don Quixote in which they will put into practice everything they have learned during the previous four years. This time they will prepare 'Don Quixote. The legend ', a selection of episodes from the first book of Cervantes by Jorge Reyes and that will be comically dramatized in three acts and an epilogue.
VIII Festival of Monologues. June 12-19. 20.30 hours. The season will conclude well into the month of June with a new installment of the Festival directed by Carlos Alonso Callero, where, on this occasion, selected texts will be interpreted through a public call by Miguel Ángel Martínez, Bárbara Melisa Posesorki, Silvia Padrón, Jerónimo Falcón, Mónica Landolfi and Javier Estévez.