The new lava overflow from the La Palma volcano feeds the lava flows that end up on the coast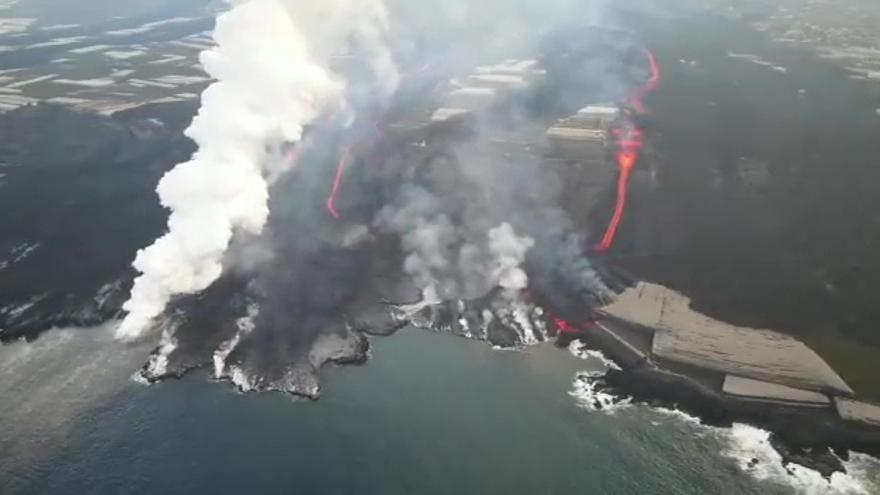 Likewise, episodes of high turbidity in the water column at distances of up to one kilometer from the lava front caused by the invasion of lava material in the ocean in the lava deltas d1 and d2. Such episodes of high turbidity could cause dead fish to reappear on the surfaceWhite reported. These deaths of pelagic organisms (living in the water column) could be due to the massive ingestion of hyaloclastites / ash that saturate their gill systems and not to a significant variation in the physicochemical parameters of the ocean.
At 2:00 p.m. yesterday there was a short-lived overflow of the lava lake of the western sector of the main cone. Currently several issuing centers with variable activity are still active (both pyroclasts and lava) as the configuration of the eruptive zone is modified. The appearance of new emission centers around the main cone, within the exclusion zone, is not ruled out.
The overflow of lava from the volcanic cone registered last day began to feed the streams that flow into the coast, "which is positive because most of the energy is finding its natural outlet towards the sea," they point out from the Cabildo of La Palma.
All the pouring zones are stable, except for 1 and 9, which continue to receive magma input and "very slightly" pouring 2, which joined the 1. It is not known what possibility there is that the laundry 9 reaches the sea, but it is "clear" that it "receives a minimum contribution," explained the spokesman for the Pevolca Technical Committee, Miguel Angel Morcuende, who added that "the desirable thing" is that it reaches the sea soon in order to avoid "swellings" that cause more damage to properties. However, he admitted that "it is not known what possibility there is of reaching the sea."
The lava has already covered 1,009 hectares of land, 3.63 hectares more in the last hours.