The new curricula "increase the Canarian content by 40%"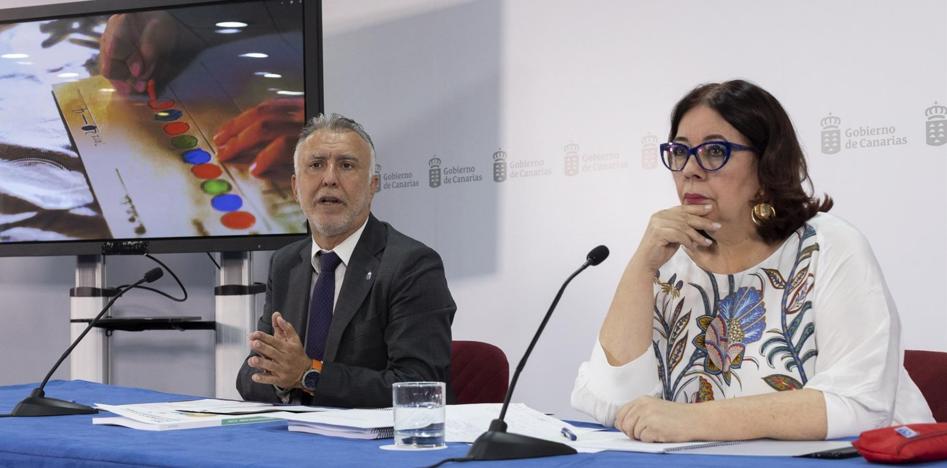 education
The Government defends that the students know their land in a contextualized way from childhood to high school and in all subjects. He believes that the controversy over History and Geography is the result of a "misunderstanding"
The President of the Canarian Government and the Minister of Education defended this Monday that
With the new curricula, the students of the islands will have access to "40% more" of Canarian content in all subjectsfrom History to Literature or Knowledge of the Environment, at the end of the compulsory stage.
"That content is going to stay," said Ángel Víctor Torres, who, together with Manuela Armas, referred at the presentation of the Canarian plan from 0 to 3 years to the controversy over the subject of
History and Geography of the Canary Islands, which will finally continue to be compulsory in ESO after rectifying the Executive in its intention to offer it as an elective together with Economy and Entrepreneurship in third.
The decision was made after a
controversy in which the majority of political groups demanded that Education back down. Torres stressed that it was Armas, during her previous stage as Deputy Minister of Education, who introduced the subject of History and Geography of the Canary Islands in the classrooms of the archipelago and stressed that the new curricula are one more step to strengthen these contents. "We have reinforced them, with the new curriculum and with the subject of History and Geography of the Canary Islands as well", she affirmed.
The Minister of Education attributed the controversy to "a misunderstanding" for which she took responsibility in part "perhaps for not having explained it well." And she insisted that
Students will be able to have "an exhaustive knowledge" of the Canary Islands with the new curricula in a contextualized way«because to get to know the Canary Islands it is not about giving a subject in isolation, it is studied every day in all subjects».
Armas reiterated that the document presented by his department was a "draft" without "empowerments", and that is why they have rectified it.
The Ministry will decide how to adjust the curriculum by following the subject as compulsory and if it will be taught in the third or fourth year of ESO when the School Council submits its report.