The new Barça opens with victory against the champion CSKA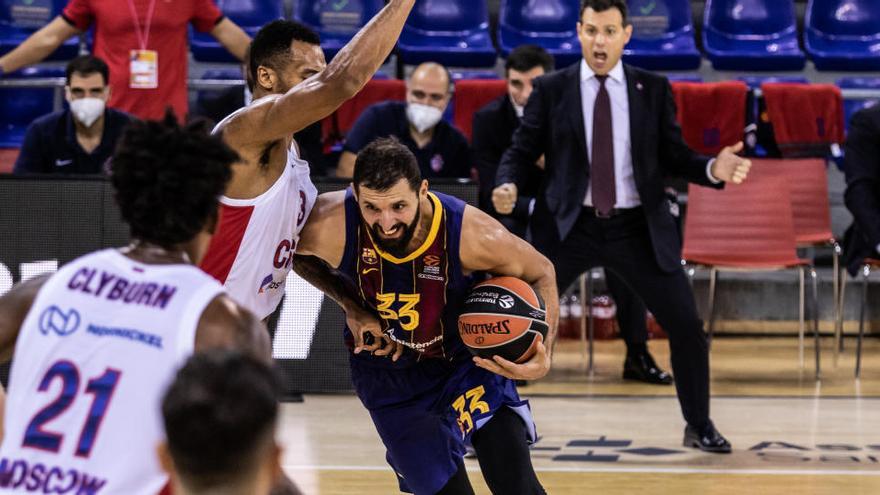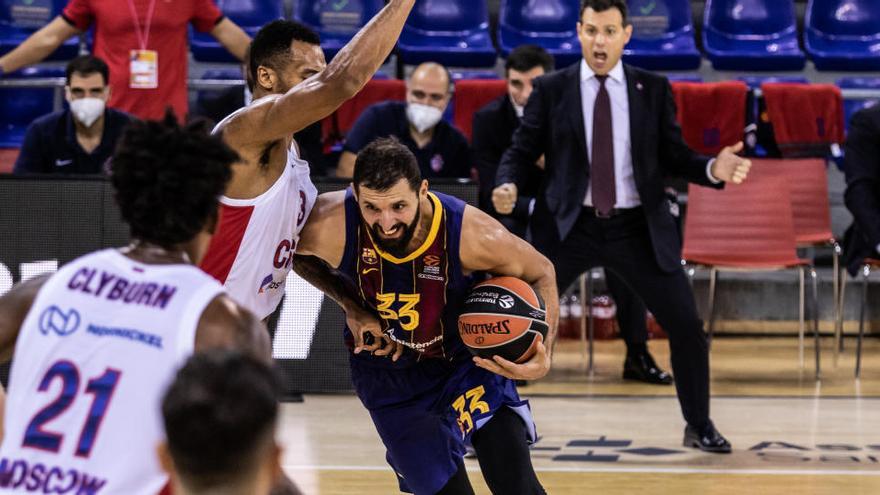 He Barça has won this Thursday at CSKA Moscow (76-66) at the Palau Blaugrana, on the first day of a Euroleague who returned with an even duel between two applicants, with a new Barça that this time defeated the current champion and he did so, in part, thanks to the fresh air of Nick Calathes and the resurgence of Álex Abrines.
He was not the best, the Greek point guard. But he did provide passes, up to 7 assists, to take note. With him, the game will be different, as best seems to be a Alex Abrines (13 points, 8 rebounds and 3 assists) unleashed with Sarunas Jasikevicius.
The Lithuanian coach did not stop still and was more intense than his players. It also improves with it Brandon davies, who reached 1,100 points in the Euroleague and was already at his command at Zalgiris. Good first note from a Barça that last year he was beaten by CSKA at the Palau (67-96) and that, in his new version, he was able to win with some ease.
The duel had several phases. In the first, Barça fell in love. He ran with and without the ball, was intractable and generous in defense and, in attack, Calathes and Mirotic began their idyll on a first date that promises eternal love. But, as soon as CSKA pulled caste and pushed back, the match was equalized.
CSKA came within 2 points in a last quarter of lights and shadows at the Palau. The Blaugranas were handcuffed, undecided, at times but, finally, they regained their initial tone and an 8-0 run catapulted them. Despite the 'CSKA de Vitoria', with the former Baskonians Shengelia, James or Hilliard being one of the best on the track, Barça no longer let up.
The 8-point cushion that Barça had at half-time (41-33) it was not enough to avoid suffering. In the third quarter, CSKA Moscow hardened the defense, clenched their fists and doubts and nerves appeared in a Barça that, even so, continued well behind and only gave up one point in that third set.
The last ten minutes began with a tight 55-48, given that Barça had won up to 14 points (33-19) in the first half. In addition, the partial 2-11 and the favorable 'feeling' of the reigning champion tightened things even more.
Nothing came to Barça, to the same team that all smiled until the second end of the first part. Nick Calathes came in again, to provide his light as a beacon, and with him Nikola Mirotic tried to re-engage in a game from which he was removed by contact.
It worked. Mirotic was not the spearhead of the Blaugrana final offensive, but a recovered Álex Abrines which ended up being decivisve. A triple and a mate from which he took an additional shot gave Barça air again, which took advantage of it to close with victory this first day and give a warning to the current champion.
Data sheet
Outcome: Barça, 76 – CSKA Moscow, 66 (41-33, at halftime).
Teams.
Barça: Calathes (7), Higgins (8), Abrines (13), Mirotic (17) and Oriola (-) -starting five-; Davies (18), Hanga (7), Smits (2), Heurtel (4), Claver (-).
CSKA Moscow: James (13), Ukhov (3), Kurbanov (-), Shengelia (15) and Voigtmann (2) -starting five-; Bolomboy (6), Hilliard (8), Hackett (11), Clyburn (8).
Partial: 24-14, 17-19, 14-15 and 21-18.
Referees: Christodoulou, Javor and Rossi. Hilliard was eliminated from CSKA Moscow.
Pavilion: Palau Blaugrana.