The Netflix series "Welcome to Eden" shoots its second season in Lanzarote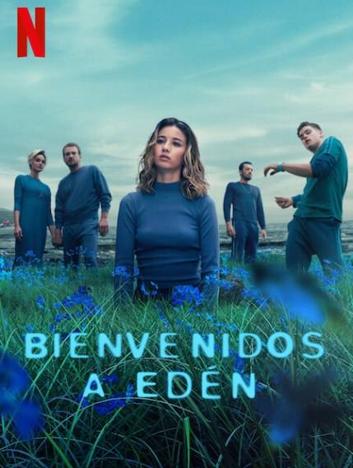 In this new season, the mystery and danger on the island continue to grow and the Edén Foundation welcomes new characters played by Carlos Torres (La Reina del Flow) and Nona Sobo (Entrevías) who join the cast of the series
Continue the journey of your life: Netflix today confirmed the second season of
welcome to eden, after the success of the series in its first weeks. For the third week in a row, the first season of Welcome to Eden continues to rank among the top spots on
l Global TV Top 10(non-English speaking) on ​​Netflix, accumulating 116,970,000 hours of viewing since its premiere and is currently in the Top 10 of 68 countries including Spain, France, Germany, Turkey, Argentina, Mexico and Brazil.
In this new season, the mystery and danger on the island continue to grow and the Edén Foundation welcomes new characters played by Carlos Torres (La Reina del Flow) and Nona Sobo (Entrevías) who join the cast of the series. Their characters resume Amaia Aberasturi (Akelarre), Amaia Salamanca (Despite everything), Belinda Peregrín, Berta Castañé, Lola Rodríguez (Poison), Sergio Momo (Elite), Begoña Vargas (High seas), Tomy Aguilera (SKAM Spain), Guillermo Pfening (Foodie Love), Diego Garisa, Lucía Guerrero (Group 7), Carlos Soroa, Dariam Coco and Irene Dev among others.
Joaquín Górriz (Disappeared) and Guillermo López (Trapped) write all the episodes of this second season, directed by Denis Rovira (The influence) and Juanma Pachón (Wounds) and produced by Brutal Media.
Welcome to Eden is being shot in LanzaroteBarcelona and Teruel.
Brutal Average

Brutal Media is an innovative and creative producer of television and film content. Recognized for its production quality and narrative audacity
from emotions, he has created a unique way of telling stories. His resume includes original formats, factual content, documentaries, television series and feature films.
Recently, he has produced the original series Welcome to Eden (Netflix); the feature-length documentaries El Caso Wanninkhof-Carabantes (Netflix) and The End of the Storm (Sky TV, Liverpool FC, Discovery, Rakuten); the series This is Football (Amazon Prime Video) and Las del Hockey (TV3, Netflix), as well as the feature films La Vampira de Barcelona (winner of 5 Gaudí Awards, including "Best Film" and the Audience Award at the Festival de Fantastic Cinema of Catalonia - Sitges 2020 and at the Manchester Grimmfest) and I love you, imbecile (TVE, Netflix, TV3). Its catalog also includes original formats such as This is Opera (Beta Films, TVE) and This is Art (Movistar, TV3, TVE) broadcast in more than 70 territories, El Paisano (TVE, 4 seasons), El Foraster (TV3, 9 seasons ), This is Philosophy (TVE), Òpera en texans (TV3) and fictions for television such as Laia (TV3), Felipe and Letizia (Mediaset), Tita Cervera (Mediaset) and Volveremos (TVE, TV3), among others. Currently, Brutal prepares the development and production of factual content and fiction projects, including the horror film The Criminal Readers Club (Netflix).