The NBA and the Euroleague threaten the continuity of Khalifa in Granca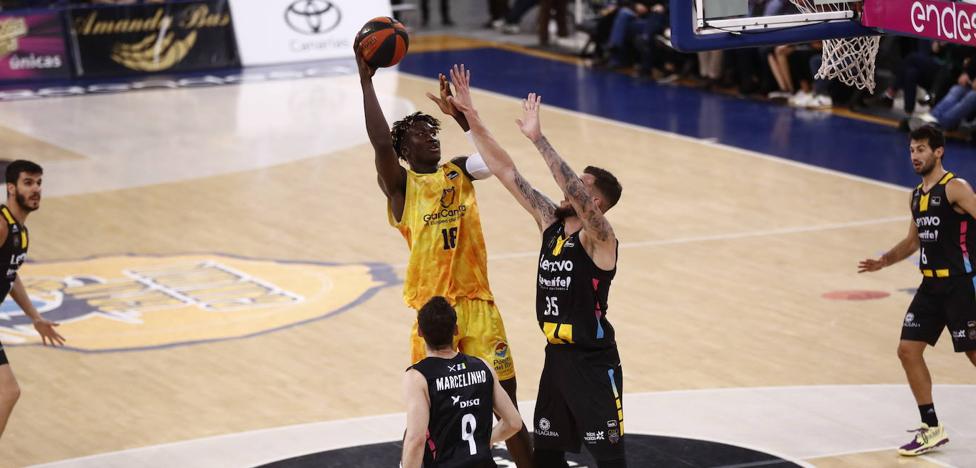 endesa league
The Claretian youth squad, with a contract until 2025, has an exit clause for these competitions. On June 23 will be the Draft heading to the best league in the world in New York
The tower of Senegal is present, but, above all, future. A
meteoric growth to take over the painting in the Gran Canaria Basketball Club and wake up
the interest of the NBA franchises and many teams that take part in the Euroleague. The name of Khalifa Diop, 20 years old and who landed on the island in 2017, is on everyone's lips and it is not for less. Work, effort, intensity, intimidation and forcefulness. Pride of the yellow nursery.
The player from Guediawaye, chosen as the best young player in the current edition of the EuroCup and a member of the best young quintet in the ACB, averaged 7.2 points -64.2% from two-shots-, 4.3 rebounds and 8.1 PIR credits in the 17 minutes on average who played in 34 games in the domestic competition and 5.7 points -60% shooting from two-, 3.9 rebounds and a PIR of 7.4 in the average 15 minutes played in 20 commitments in the continental tournament.
«
It has been one of my best seasons since I arrived at Granca. I am taking advantage of the minutes that the coach gives me and trying to do what he always asks of me in attack and defense », he assessed in a
interview to this newspaper on May 24, prior to the Playoff pulse against Barça.
His ceiling is the sky because he does not stop believing and growing day by day. The Gran Canaria Basketball Club intends that
Khalifa Diop,
with contract until 2025be the cornerstone in the painting of his next project, but the NBA and the Euroleague – he has an exit clause for both competitions and would leave close to 500,000 euros in the coffers of the island club – threaten the continuity of the African center on the island.
The best league in the world is his dream and he may be very close to fulfilling it, specifically in days, since he is enrolled in the Draft this summer -
will be held on the 23rd of this month at the Barclays Center in Brooklyn, New York- and his representation agency has been working for some time on a plan that shortens the deadlines and immediately travels to a franchise that is firmly committed to him from day one.
"Depends on how everything goes, if I get a good position in the Draft...
There we will see if I stay here until next year or if I go there», Khalifa Diop highlighted in the aforementioned interview when questioned about his future in the NBA.
Precisely, his recital against Barça in the series for the Endesa League was a showcase, observing his enormous qualities that, how could it be otherwise, did not go unnoticed by everyone.