The naval sector in the Canary Islands is doing well but it still cannot find qualified labor on the islands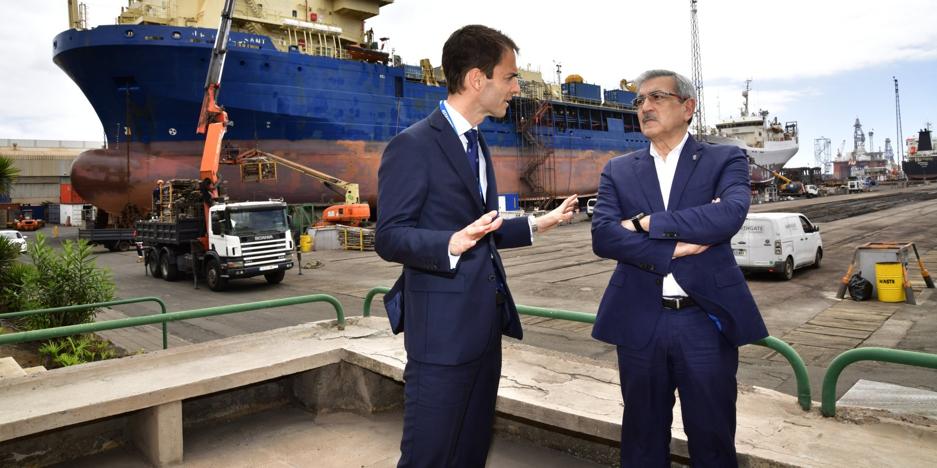 The president of Astican advocates, during a visit by Román Rodríguez to the shipyards, to go to the schools and explain to the children the possibilities for the future that exist on the islands with the different activities
The Canarian naval industry faces the medium and long term with
good business prospects thanks to the deployment of floating offshore wind energy and decarbonization measures in maritime transport.
He
Vice President of the Canary Islands and Minister of Finance, Budgets and European Affairs, Román Rodríguezverified yesterday with the president of
Astican, German Suarez, thes opportunities that are opening up in the sector, reinforced by the recent approval of a PERTE that provides for an investment of 220 million euros at the state level.
Rodríguez made a visit to the shipyards in which he verified "the high added value" of Astican. Its president, Germán Suárez, for his part, appreciated the fact that the Administration is aware of the economic importance of the naval sector, which is the one that generates the greatest distribution of wealth in the port of Las Palmas. «
For every euro invoiced by the naval sector, three euros are generated in the local economy», accurate. This redistribution obeys the Astican organizational model, in which up to 400 people from some 60 different companies can work in a single shift. Suárez assured that the policies for the decarbonization of the economy and, specifically, of maritime transport will open up direct and indirect possibilities.
In the same way, the president of the company referred to the opportunity that the Canary Islands have for the development of floating offshore wind power and to have what could be the largest park in Europe by capacity. This activity would also position the shipyard for future maintenance of the wind farms themselves. In any case, Suárez pointed out that "in the Canary Islands, Spain and Europe
there is a lack of job profiles for these specialized jobs» and that «although VT is getting closer to the real needs of companies, something more still needs to be done». In this sense, he indicated that "we would still have to go down one more step and
go to schools to explain the possibilities of the future of the activities we provide in the Canary Islands".