The mythological passions of Titian | Babelia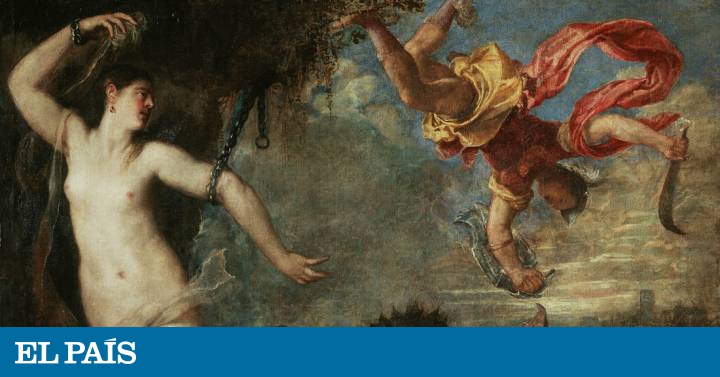 Rare is the artistic season in which the great museums forget about Titian (Pieve di Cadore, Veneto, around 1490 – Venice, 1576). His immense work, the product of intense dedication throughout his long life, goes a long way. Summit of the Renaissance and considered the greatest exponent of the Venetian school, this time, the discovery for the general public are what he called his poetry, a series of great mythological paintings inspired by the Metamorphosis from Ovid. Made by order of Philip II, they have been reunited after 400 years at the National Gallery in London under the title of Titian: love, desire, death. The exhibition opened on March 16 and closed a week later. Carried out in co-production with three other museums (the National Gallery of Scotland, the Prado and the Isabella Stewart Gardner Museum in Boston), the original calendar envisaged its exhibition in Madrid between October 20 and January 10. At the moment, everything is in the air.
Curated by Matthias Wivel, curator of 16th-century Italian paintings in the National Gallery, the exhibition brings together in the main rooms of the gallery the pictorial poems made by the artist between 1551 and 1562. Wivel highlighted in the presentation of the exhibition that "in these works, Titian expertly manipulates color and paint with a dazzling effect; Capturing luminous meat, sumptuous fabrics, water and reflections, as well as almost enchanted atmospheric landscapes. His characters show very human and easy to relate emotions: euphoria, worry, guilt, surprise, shame, despair, anguish and terror. "
At some point, Felipe II harbored the idea of ​​hanging the entire series together in a large space, a project that was never carried out. It is also known that he gave the artist all the freedom to choose the themes and compositions; quite a challenge before which Titian resorted to Greek and Roman mythology to narrate stories in which the gods wreak havoc on mortals. The paintings are populated with figures charged with sensuality. The female figures are resounding nudes that Titian was able to recreate from models of prostitutes who worked in the streets of his beloved Venice, something that surely would not have excited a monarch who in those years imposed the most radical religiosity in the territories under his extensive domain.
The collected canvases are: Danaë (around 1551–3, The Wellington Collection, Apsley House), Venus and Adonis (1554, Prado, Madrid), Diana and Actaeon (1556–9) and Diana and Callisto'(1556–9), Rape of Europe (1559–62), Perseus and Andromeda (around 1554–6), Actaeon's death (around 1559-75). In the Prado Museum, the exhibition will change the title – it will be called Mythological passions– but the content will be identical to that of London. It remains to wait for the readjustment of the calendars with exceptional loans.