The mystical nun who ended up walled | Babelia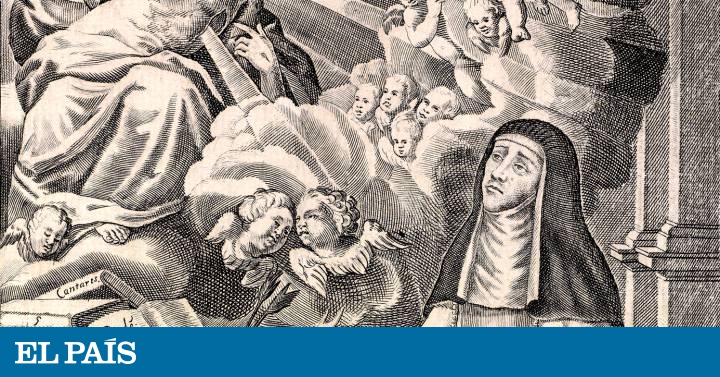 Until very recently, the history of feminine spirituality was about to be written. Everything seemed to revolve around the charismatic but isolated figure of Teresa de Jesús: the bibliography on it is immense, endless. Slowly we are realizing that his work developed in a collective context where a seedbed of attempts at self-realization can be seen. The contributions are of very different depth, but all of them contribute to drawing a much more enriching panorama and also closer to that extraordinary reality. Why extraordinary? Because although tradition, religion and daily life imbued women with a deep sense of intellectual inferiority and were forced, by force of fact, to admit it as natural while coming from the divine mandate, one must ask how some of them, in the severe times of Tridentism, managed to overcome the crushing of the being they suffered, granting themselves permission to think, moving away from the misogyny instilled by patristic teaching.
In the outlined context, the study of the historian Rosa Alabrús is very illuminating, Female reasons and emotions. Hipólita de Rocabertí and the Catalan nuns of the Baroque, for two substantial reasons, although the paths explored by its author would give much more. First of all, it gathers exceptional documentation and also successfully traces the main lines of that still pending history of spirituality, based on a specific and little-known case, that of the Catalan Dominican Hipólita Rocabertí and the circle of Catalan Baroque nuns .
She has been compared to Teresa de Jesús for her cultivation of mysticism and her ability to spread it through writing, but her times and destinies were disparate
As historian Gerda Lerner has shown (The creation of feminist consciousness. From the Middle Ages until 1870), mysticism was an exceptionally fruitful avenue of intellectual penetration for women. Insofar as it was based on the importance of transcendent knowledge, that is, it was not the product of rational thought (inaccessible from the formation of the first medieval universities) but the fruit of a way of life, of genuine inspiration and an understanding generated by revelation. The mystical way was therefore a practicable alternative to the spirituality of women, insofar as it allowed perceiving God as an entity accessible through unconditional love and maximum dedication. To achieve this intimate communion, blessed and nuns used any material that the experience of life could provide, and in this sense they were under the direct influence of an imaginary that they saw represented in images, in churches and in sacred texts that they could to access. This explains the nature of his visions. Without a doubt Teresa de Jesús was surprisingly original in her mystical journey, reaching a coherent theological system. And to his figure Rosa Alabrús dedicated an earlier book, written in collaboration with the historian Ricardo García Cárcel, an essential reference for the study of the Modern Age in Spain. The book was titled Teresa of Jesus. The construction of feminine holiness (Cátedra, 2015) and contrasted the blazing posterity of the Avila nun (she was canonized 40 years after her death, very little time for a process that could last centuries) to the ecclesiastical stopper with which the postulation of other nuns was stopped. they deserved it due to the explosion of religious fervor at the time, the case of Hipólita de Rocabertí, the central object of the book that is now being discussed, being pointed out then.
The Dominican was a natural daughter, a cousin of the Carmelite Estefanía de Rocabertí, founder of the Catalan barefoot Carmel (along with Catalina de Cristo and Leonor de la Misericordia) and steeped in the Ignatian devotion that characterized the women of the Rocabertí saga. Ignacio de Loyola's stays in Manresa and Barcelona had concentrated around him a nucleus of noble women who supported him unconditionally. Among all of them, Isabel Roser stood out: when she became a widow, she went to Rome with the idea of ​​opening a female section of the newly founded Society of Jesus (1540). He had made enormous financial contributions (Ignatius will write: "I owe you more than how many people in this life I know"). But this trip to Rome met with Loyola's own sharp refusal to feminine Jesuitism (1543-1546). After a certain moment, he stopped receiving it. Roser would return to Barcelona and maintain his fidelity to the founder of the Company as a spiritual guide until his death.
Hipólita de Rocabertí (1549-1624) has been compared to Teresa de Jesús for her cultivation of mysticism and her ability to spread it through writing, but her times and destinies were disparate. To the Teresian foundational activism, Mother Hippolyta will oppose the life of recollection and contemplation advocated by Tridentism, forcing herself over the years to a true annihilation of the self. Lost in God, her life seems exposed to a terrifying debauchery of punishment and mortification, denying herself the most basic comforts, such as sleeping on a mat. That is why in his writings he delves into the biblical figures of Marta (action) and María (contemplation). She identifies with the latter and in her work The mercies received from God develops the idea that her communion with him is achieved in exchange for always being sick (an idea that recalls that expressed by Teresa de Cartagena in her Grove of the sick). The body prostration at first filled her with melancholy and despair until divine mercy took pity on her by sending her the gift of contemplation and thanks to him, wisdom. In recent years he asked for the empadamiento, a radical form of female enclosure that Gonzalo de Berceo already defended in the 13th century in his Life of Santa Oria. How many times does the flow of the spirit touch the inexplicable!
Female reasons and emotions. Hipólita de Rocabertí and the Catalan nuns of the Baroque. Rosa M. Alabrús Iglesias. Chair, 2020, 270 pp.