The Mural of gender equality shines in the IES Isabel de España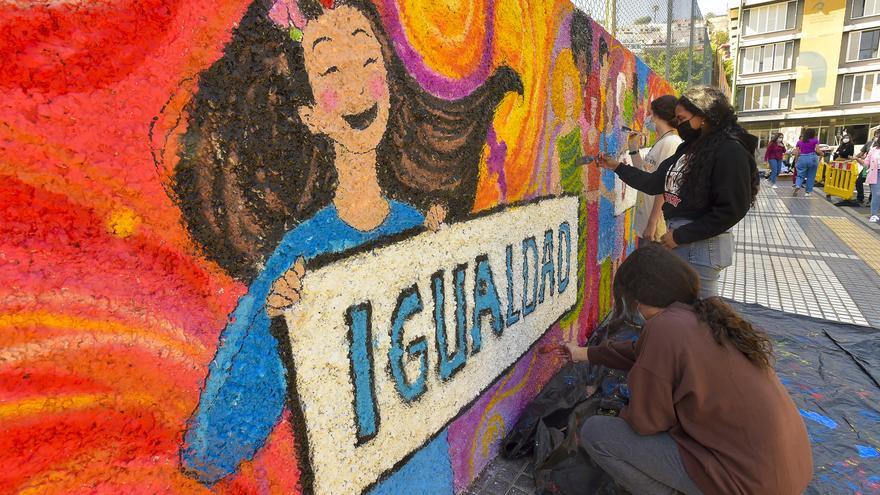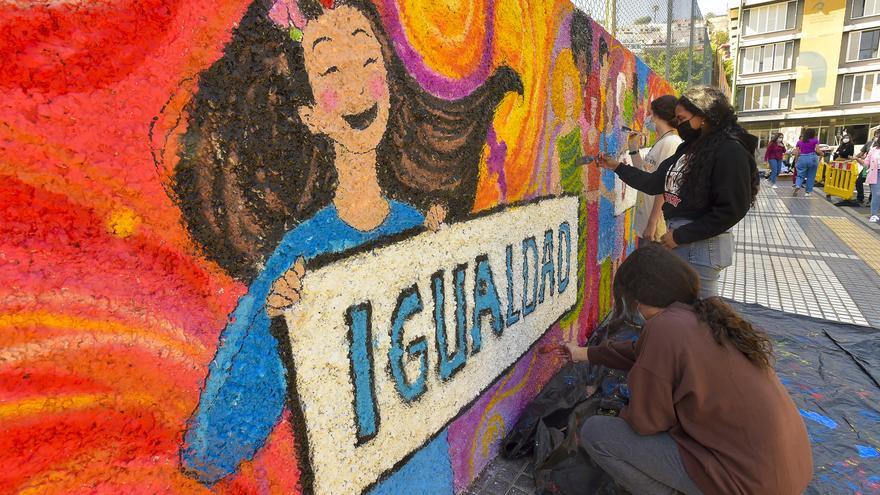 ANDl Mural of the gender equality lights in the IES Isabel of Spain. The satisfaction of hard work and well done can be seen on the faces of all of them. A 40 meter wall, full of soot, after many years of neglect and now full of colors, spring figures and messages in favor of equality and in commemoration of 8-M, is the very visible result of the students of the Isabel de España Secondary Education Institute, in the heart of the downtown district of Las Palmas de Gran Canaria.
"We started in the month of November," says Natalí, a thirteen-year-old student, a member of the center's Equality Committee, "fixing the wall that was white but was all dirty and full of car smoke," she explains.
Elisa Ardoy, the coordinator for Equality at Isabel de España, oversees the process, proud of her students as she listens as Fátima, Natalí's partner, explains that "we must instill that we all have the same rights and that no type of discrimination can be allowed. discrimination between men and women.
In a small opening ceremony attended by the councilor of Equality and Diversity the City Council of Las Palmas de Gran Canaria, Mari Carmen Reyes, next to the mural on the wall next to the institute, the students, mostly women, without forgetting Jaime, who was also there and actively participated in the work, the second and third ESO students, thanked the presence of the municipal manager and she, in turn, highlighted the importance "of sowing the seed of training in this facet of equality so that later they and they are a transmission belt of essential values ​​for our society".
At the initiative of the secondary school, the design of the mural was carried out by a teacher and later, with paintings that were also financed by the institute, "we began the work", explain the students, "which included more than one weekend", nuances the director of IES Isabel of SpainTeresa González, «which shows how much the students have been involved in this initiative and I am referring to both girls and boys, and I even remember immigrant students who recently arrived at the center have also wanted to join this voluntary work in defense of equality
Sofía, Marina and Patricia, "and I, who is also called Sofía", students in the third year of ESO and veterans in the Equality Committee, have already come a long way and express themselves as true professionals.
"We started working during breaks," explains Sofia, "on issues such as aggression and gender violence, not only physically but also emotionally and, above all, toxic relationships."
"As adolescents that we are," says Marina, "one of the issues that most concerns us is the establishment of toxic relationships between us, there is still a lot of ignorance and many of our colleagues are not very trained in this area and that leads them to establish and maintain relationships in which the most elemental values ​​of equality are lacking".
These students advocate "living in practice the actions that they teach us as correct because if you don't put them into practice, you never learn and equality is a value that must be worked on day by day," Patricia argues.
Unafraid to expose what they think, the student volunteers who have finished painting these 40 meters this week proudly display their months of work and hope that "this exhibition of what we think and feel will be a sign that today's young people We defend another way of moving in a much more educated society and, therefore, more supportive and equal for all", explains the third-year student.
All those responsible for this presentation act, both teachers, including the director of the Giner de los Ríos School, "many of them are former students of mine", Javier Luna confesses with a smile, were firmly convinced that these adolescents "are our best future They perfectly understand concepts such as training, equality, against violence of all kinds because they already differentiate between physical and emotional, because they are convinced feminists knowing what it is, "says the institute's Equality coordinator, Elisa Ardoy.
"We know that we are on the right track and that the next generations are going to fight with many more instruments than those that previous generations have had," says the teacher.