«The most radical political documents that have circulated in Cuba are my novels»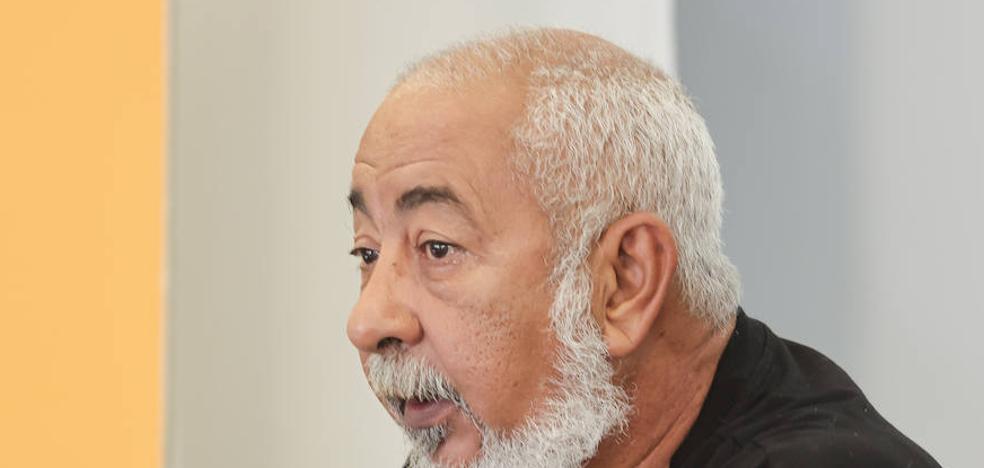 The writer Leonardo Padura participates this week in the course 'Literature from the islands', at the 30th Maspalomas Summer University
"To write, I not only need to live in Cuba, I need Cuba." This confession by Leonardo Padura, the active Cuban author with the greatest international significance, does not imply in his case either that he lowers his head before the regime that sets the pace with an iron hand in his native country or that he avoids speaking with a critical sense of the
complicated situation" that their compatriots go through. The winner of the 2015 Princess of Asturias Award for Letters does so in his celebrated novels and in public, as he demonstrated this Tuesday in Gran Canaria, where he is taking part in the course
'Literature from the islands', within the framework of the 30th edition of the Maspalomas Summer University.
«
My novels are permanently objectionable. I don't escape censorship, I look for it", admits who makes it clear that "the most radical political documents that have circulated in Cuba are my novels. I have touched on very deep and complex issues of Cuban society.
The Cuban dictatorship lets me write. But Leonardo Padura does not escape from the long tentacles that extend throughout the country's geography. «
Cuba is the only country of our language where you go to a bookstore and you cannot find my books», he points. And it is that on the figure of him there is a "policy of non-promotion, of invisibility" of his work.
"I am not politically persecuted, but there is a policy of non-promotion, of making my work invisible"

"There are material problems that have to do with the economic situation.
A novel can be waiting four years due to the scarcity of paper. The novels circulate little and poorly, without any promotion. There is no book fair and people find out about books in an alternative way », he points out. He explains that at a book fair held years ago in his country, one of his volumes was presented, but only in a braille version. "I said that we had already reached perfection, because I am writing for the blind," he recalled with a laugh, after which he made an important clarification. «I am not a political persecuted. I work and if I'm invisible... I'm invisible. The last novel I published two years ago in Spain with Tusquets, at the end of August as will happen with the next one, at the beginning of September there were already pirated pdf editions circulating in Cuba and people read it on computers or telephones.
One way or another, people have contact with my literature. It is not a natural way », he points out.
Cuban chronicler

The author of titles like
'The novel of my life', 'The man who loved dogs' or 'Like dust in the wind', among others, acknowledges that both in the police novels of the series starring Mario Conde and in the rest, what he has tried to do is make "a kind of chronicle of contemporary Cuban life", which have as a complement
"a historical vision" of his country and a universal vocation.
Not only the best but the only way to carry out that role of chronicler, according to Leonardo Padura, is to continue living in his country, despite having the Spanish nationality that he obtained by naturalization certificate. «
I am a Cuban writer who always leaves Cuba and returns to Cuba. Technology allows us to work anywhere in the world », but he recognizes that he needs to be surrounded by his natural environment to capture the essence that he longs to capture in his books. «
I need to hear people speak in Cuba to write how they speak and express their misfortunes and frustrations. For me it is a process that is always going on. There is always the view that things change little in Cuba, because the sociopolitical structure has been the same for a long time. But Cuban society has evolved, because the world has also evolved. Following the processes of transformation of society is very important to me. And the best place to do it is my neighborhood in Havana. I'm still the same person I've always been. There, many people don't even care if I'm a writer or they don't know. It is my way of being in contact with a changing and permanent relationship. I live in the same house where I was born. AND
In three months I will have lived in the same house for 67 years», explains about his residence in the
Mantilla neighborhood.
The situation in your country

When, during his meeting with the media held this Tuesday morning at the rectorate of the University of Las Palmas de Gran Canaria (ULPGC), he was questioned about the situation his country was going through, he responded with the critical view that has always characterized him. «
The economic situation is very tense and socially very complicated.. To the effects that the pandemic could bring, since Cuba depends fundamentally on tourism, other economic deficiencies that have been dragging on for years are added. It must be added that for more than four years there has been a very aggressive policy of the American administrations.
Trump and Biden have let it run and the arrival of any remittance from the United States has become impossible. This is also essential for countries like El Salvador or Mexico, whose Gross Domestic Product feeds largely on that remittance, "he explains.
Hence, he underlines that day-to-day life in his native country is marked by "energy and fuel supply problems." «
There are many blackouts and a desperate situation is being created. We have been living through a long period of crisis for many years, where there are times when it seems that we are going to surface and then hit rock bottom again. It's all very complicated. Last year there were some very severe trials with which they wanted to give a lesson.
I believe that it was not necessary to reach those judicial extremes, with such high sentences that were given to some people. It is my personal opinion. The Government had the opportunity to be more humanistic and productive with these convictions », he says bluntly. "People lack many products and every day is a fight for survival," she concludes.
Cuban writer Leonardo Padura. /

cover

write daily

Faced with this crude panorama, Leonardo Padura clings to his profession and explains some of the keys on which his figure as a writer stands. «
My literary strategy is to work every day. I am not the most talented of my generation, but I am convinced that I am the hardest worker. Writing is putting one word after another, to present an idea and give it meaning. Then you have to organize them in the way that they sound best to my ear.
It is a craft process, which must be started word by word. It influences the rhythm, the cadence that you give it, the intensity and the decision with the adjectives. An adjective can save or kill a paragraph", defends the author of
'Autumn Landscape' and 'Goodbye, Hemingway'.
It is clear to him that style can only be perfected by "working" and assuming that "haste and literature have nothing to do with it." He points out that he perceives it in some books, whose reading transcends that they have been written in just "six months."
"When I write
I pay great attention to the rhythm that phrases and sentences have. Even the paragraphs, because I like that they end with ascending expressions », something that, he clarifies, disappears with the translations. «A reader of my own language is going to see it and assimilate it in the way in which I proposed that creative act.
Translations are processes that always alter books. They are very necessary, because none of us would have read the Bible without the translations, because we do not know Aramaic. We wouldn't have been able to read Homer either. It is a fundamental act in the development of Western culture, but it always involves mediation », he explains.
Connection with the Canary Islands

He recognizes that the Canarian-Cuban ties are evident and generate a natural connection between his books and the readers. "There are particularities that are more intense between Canarians and Cubans. I could also say it about the Asturians and Galicians, because at the beginning of the 20th century the immigration that arrived in Cuba came largely from there. Together with Puerto Rico, they are the identities that we share the most », he assures.
At the press conference held at the rectory, he was accompanied by Jin Taira, vice-rector for Internationalization, Mobility and International Projection, and by Germán Santana, director of the Maspalomas Summer University. The first asked him about the future of literature. «The end of the novel was predicted and here it continues. Also ten years ago he feared the arrival of the digital book. Literature and the novel maintain their conditions according to the times, but the essence is the same, adapted to the present.
It would be unfortunate a future in which literature had no space, because there are revelations, interventions and knowledge of reality that can only be achieved from literature. There are aspects of life that can only be explained from literature, because it reaches the soul of things from another way, "he says.
'Decent people', again with Mario Conde, at the end of August

Leonardo Padura has worked as a journalist and that is why he anticipates the foreseeable questions from the media about his next novel, of which he barely gives the title as indicated by the press officers of the Tusquets publishing house.
"It's called 'Decent People' and it comes out at the end of August. It is a new installment of the series starring Mario Conde. They won't let me say more until the promotion starts », he points out with a laugh.
The editorial, on its website, does reveal some more details: "Havana, 2016. A historic event shakes Cuba: the visit of Barack Obama in what has been called the "Cuban Thaw" —the first official visit of a president American since 1928—, accompanied by events such as a Rolling Stones concert and a Chanel parade, turn the rhythm of the island upside down. For this reason, when a former leader of the Cuban government is found murdered in his apartment, the police, overwhelmed by the presidential visit, turn to Mario Conde to lend a hand in the investigation. Count will discover that the dead man had many enemies, because in the past he had acted as a censor so that the artists did not deviate from the slogans of the Revolution, and that he had been a despotic and cruel man who had ended the careers of many artists who they had not wanted to bow to his extortions. When a second body is found, killed by the same method a few days later, Conde must find out if the two deaths are related and what is behind these murders. And he adds that "a story written by the protagonist is added, set a century earlier, when Havana was the Nice of the Caribbean and people lived thinking about the imminent change that Halley's Comet would produce."