The most emotional moment of the Dakar: Javi Vega proposes to Sara García on the podium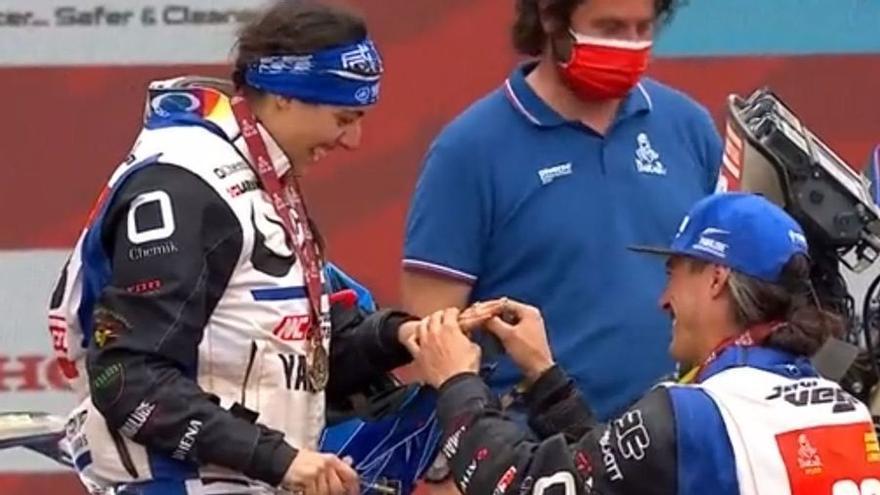 Javier Vega, sentimental partner of Sarah Garcia for several years, knelt today before the Zamorana on the podium of the Dakar where García appeared as the third woman in the motorcycle competition, after the last stage of the test that has been held over the last two weeks in Saudi Arabia.
The pilot from Zamora, visibly moved and surprised, received the engagement ring from her boyfriend, kneeling on his knees, and they both hugged each other before the applause of all those attending the trophy ceremony of the race in which they have competed in the four latest editions forming a team.
the zamorana Sarah Garcia today completed its third edition of the Dakar Rally when crossing the finish line Jeddah in the last stage of this edition of the most demanding raid on the planet. A race that presented many difficulties to the pilot of Pont Group Yamaha but that she surpassed to finally finish among the best one hundred bikers on the tour.
In a last short stage between bisha and Jeddah, Sara García closed a new and brilliant performance with the 79th fastest time of the day, 2 hours 24 minutes and 41 seconds. A time that, added to the accumulated of the previous eleven stages, left the Zamoran in 75th place in a general classification that crowned the British as champion sam sunderland.
García, furthermore, this time he was able to celebrate the conclusion of a new Dakar at the finish line together with Javier Vega. The brave rider from Pont Grup Yamaha finished the day in 85th place, recovering even more positions in the general classification where he finished in 83rd place.