The most combative voice of Carmen Conde is rescued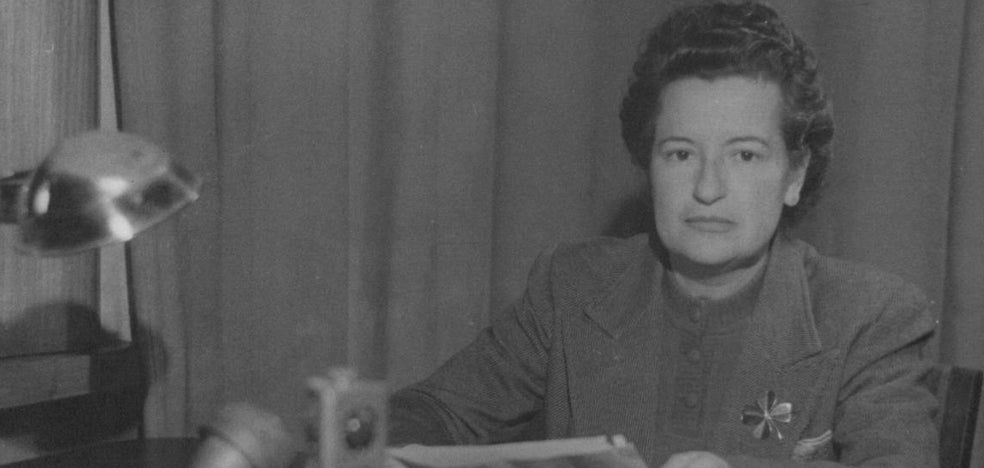 foreigners in 1948 / . Santander Foundation
The first writer with a chair in the RAE was also a pioneer in the defense of freedoms and feminism in the program 'Con voz de mujer' on RNE between 1967 and 1972
«It was a very combative voice and cried out against injustices. He stayed in Spain after the war, but he never shut up or submitted. He never published with the Falange. He is one of those voices of 'insilio', internal exile, who paid a high price in the Franco regime ». This is how the expert Fran Garcerá refers to Carmen Conde (1907-1996). She was the first writer to enter the Royal Spanish Academy (RAE), in which she occupied chair K, and also a pioneer in claiming women's rights in a Spain that was still dictatorial.
The Santander Foundation's Obra Fundamental collection now publishes 'I raise my voice. Radiofonías (1967-1972)', a volume that collects and analyzes the unpublished texts with the interventions of Carmen Conde in Radio Nacional de España (RNE) between 1967 and 1972 of which Fran Garcerá is an anthologist and prologue writer, one of the great specialists in to Count's work. It includes 12 'podcasts' with the dramatized reading of a selection of writings, all with free access on the foundation's website.
There are more than a hundred reflections that reveal "that lyrical, ironic and vindictive look of Conde on the everyday and the transcendent, passing through literary creation or the role of women in culture", highlights Garcerá, Doctor in Hispanic Studies by the University of Valencia and an authority on Silver Age and post-war authors.
pioneer poetry

Born in Cartagena, Carmen Conde lived through the Civil War, the difficult post-war years, the Transition and the return to democracy in our country. In addition to being the first full academician of the RAE, she was the first winner of the National Poetry Prize in 1967. Her vast production also includes prose, theater, essays, scripts, and translations. She alternated her work as a teacher and writer with collaborations with the press and, of course, the radio. She already collaborated with Radio Cartagena in 1934 and began broadcasting it on Radio Nacional de España on November 9, 1967, after winning the National Poetry Prize and she also collaborated with Televisión Española.
Carmen Conde on the roof of her house on Calle Ferraz in Madrid in 1955. /

sanatnder foundation

'En voz de mujer' entertained the mornings of thousands of listeners until 1969. The tapes of her program are not preserved, but the neatness with which the writer and academic kept her writings has made it possible to rescue the texts and have the complete testimony of what that was issued. "They show Carmen Conde's concerns in social and literary matters, although her relationship with the radio began practically from the beginning of her literary career after the war," Fran Garcerá points out. «This has been possible thanks to the care and perseverance of a writer with a clear mind, who knew how to preserve her cultural legacy through her archive and, in this case, radiate her time and her memory towards the future".
«We are facing a Carmen Conde who raised her voice loud and clear, especially appealing to the freedom of women to create their lives in a crucial historical context. From her radio space, she became a spokesperson for many women who could not raise their own, and only now have we begun to fully unearth her influence and her legacy »highlights Javier Expósito, the Foundation's head of literature.
A meticulous guardian of her papers, the personal archive kept by the Carmen Conde – Antonio Oliver Board of Trustees contains all her texts and the more than 36,000 letters that the writer received throughout her life, together with more than 10,000 books and thousands of Photos. Some documents that offer "a very deep knowledge of one of the most important intellectuals of the 20th century," according to Garcerá. «One of the most relevant voices of the Generation of 27». in the opinion of Borja Baselga, director of Fundación Banco Santander.
«For Carmen Conde, creating is believing and this inalienable faith in 'Poetry' and 'Action', with capital letters, was like a sacred flame that she kept with loving care. Her fidelity has allowed her legacy to be a living and ardent torch that is given to each one of us, but above all to us », assures Ana Rosetti, poet and ardent defender of the topicality of texts of Count. «You have to believe. You have to create. No one can, nor should, live without Faith »wrote Conde.