The Mossos take out the girl who was at the Uruguayan consulate to deliver her to the father | Society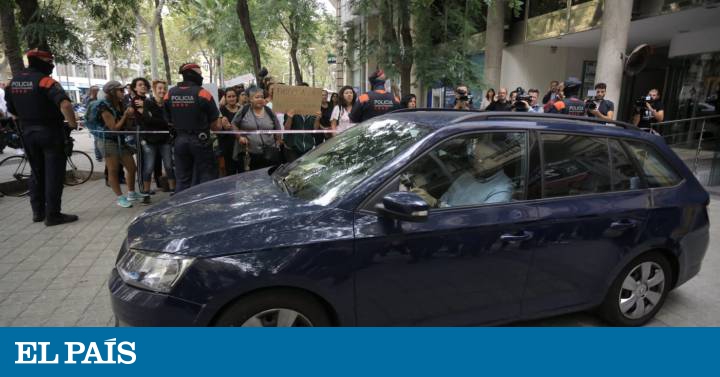 The Mossos d'Esquadra have taken the seven-year-old girl from the Uruguayan consulate in Barcelona to deliver her to the father, and thus comply with the order of the judge of first instance of Vielha e Mijaran (Lleida), who had ordered the delivery of the minor to the police before 2:00 pm on October 11. The girl was with her mother since last Friday at said consulate in Barcelona. Agents now transfer the child to the point where they have agreed to deliver with their parent. Meanwhile, an ambulance has gone to the consulate and health personnel have entered the building.
The regional police remained before the Uruguayan consulate since last Monday waiting to be able to hand over the child to her biological father, who has judicial custody, after the mother was entrenched in diplomatic headquarters to avoid doing so and that the consul also He refused to collaborate.
The mother refuses to give her daughter to the father after having taken her to Uruguay, her native country, and that a complaint was filed for ill-treatment and child abuse allegedly committed by the parent.
About twenty people, mostly Uruguayan compatriots, have come this Friday to the doors of the consulate to support the mother under the slogan "Maria is not alone."
The delivery was initially scheduled for last Friday, day 4, when it had been established that the girl was transferred to the Consulate of Uruguay for being an ideal space, since she knows the consul and would not be "a hostile person." However, although both parents showed up at the headquarters, the consul refused to comply with the order, after which the Ministry of Foreign Affairs of Uruguay issued a statement in which he stressed that they are exempt from complying with it.
In fact, Uruguayan Foreign Minister Rodolfo Nin assured the press on Wednesday that they did not intend to "throw" the mother of the consulate and that they were waiting for the magistrate "to pave the way for a delivery according to the rights of the child, that that is what you have to keep in mind. "
After the consul's refusal, the judge urged the mossos to guard the building and deliver the child along with a team of psychologists at the time when the mother or another person on his behalf left the building, so two provisions of the police – one at the door of the farm and another on the landing – awaited sine die.
However, and in order not to delay the process, Judge Marrero has issued a ruling today that puts time "non-extendable" for delivery since, as she has warned in various cars, the child is "supporting" an "unsustainable situation" tensile".
. (tagsToTranslate) mossos (t) take (t) child (t) be (t) consulate (t) uruguay (t) deliver (t) father (t) mother (t) have (t) entrench (t) son ( t) make (t) week (t) avoid (t) be (t) parent



Source link