The Ministry of Labor places the table of the social dialogue with great anger of CEOE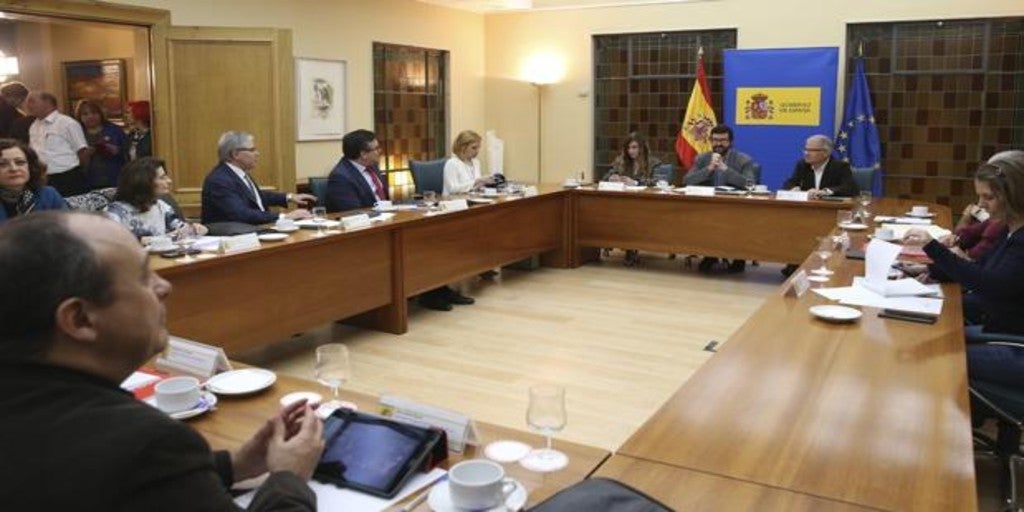 Madrid
Updated:
save

The new meeting of the table of social dialogue that has been sitting today in the Ministry of Labor representatives of this department, employers and unions has had a large dose of sperpento, since when they were negotiating the repeal of the labor reforms, both the Secretary of State for Labor, Joaquín Pérez, and the head of the Minister's Cabinet, Amparo Ballester, decided to be absent from it.
The reason they put forward is that they had to attend the meeting that their headline, Yolanda Díaz, and Vice President Pablo Iglesias, with representatives of CC.OO., UGT and SAT (Andalusian Trade Union of Workers) kept a few meters away in the same ministry to facilitate access to the peonads of PER.
The march of Joaquín Pérez and Amparo Ballester It greatly bothered the employers' representatives, in particular, Rosa Santos, CEOE's labor officer, and Cepyme's secretary general, Pedro Fernández. Sources from these organizations called the facts a "disrespectful".
This anger made these people decide to terminate the meeting, a decision accepted by union representatives.
Further, "It rained on wet", since the employer had attended this meeting of the social dialogue very annoying because on the previous night Asaja, COAG and UPA had been called off from the meeting with Pablo Iglesias, Yolanda Díaz, CC.OO. and UGT to deal with peonadas.
This move occurs after less than a month ago the minister Yolanda Díaz said publicly that "this ministry is going to make social dialogue with capital letters great".
However, the version offered by the unions is not as tense as that of the employers. UGT General Secretary of Trade Union Action, Gonzalo Pino, present at the meeting, explained to ABC that "what has happened is that As we were not evolving at the desired pace in the meeting, we all decided to terminate it and meet again for next Friday ». Pino believes the situation has been due to "the great accumulation of work that this ministry has" and, on the anger of the employer, has said that "they must have more sights and sufficient stamina."
For his part, the representative of CC.OO., Carlos Bravo, secretary of Public Policies and Social Protection of that organization, clarifies that "there has been no proposal in the meeting of social dialogue with the Ministry of Labor. After several hours of meeting and after the Secretary of State was absent, it was decided to terminate the meeting and follow next week with the planned calendar».