The miniseries 'Midas's Favorites', by Mateo Gil, lands on Netflix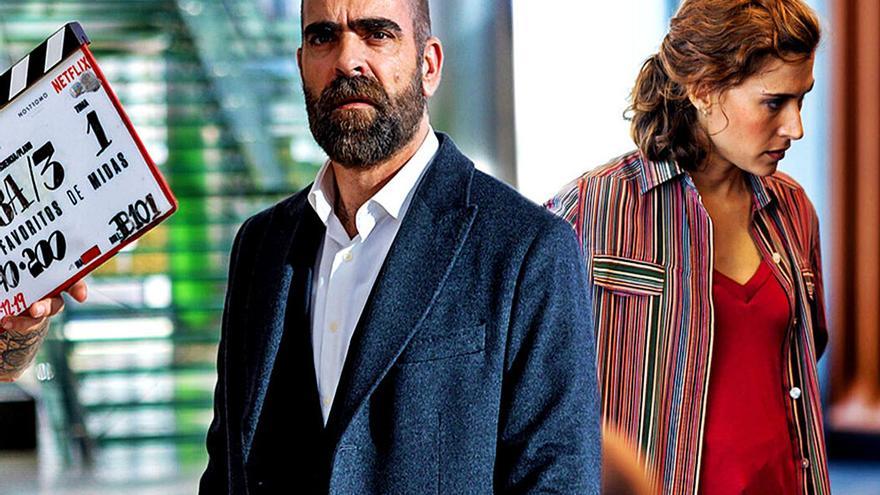 The Gran Canaria filmmaker Mateo Gil (Las Palmas de Gran Canaria, 1972) signs Netflix's latest television bet, Los Favorites de Midas, starring Luis Tosar, Willy Toledo and Marta Belmonte, which premiered yesterday on the aforementioned international platform. Produced by Adrián Guerra (Nostromo Pictures), also from Gran Canaria, it is a six-episode miniseries inspired by the homonymous story The Minions of Midas, by Jack London, published in 1901, but which, in the opinion of the director and the cast, covers an enormous validity in the context of the current world crisis.
The plot of this social, emotional and ethical thriller is unleashed from the dilemma of businessman Víctor Genovés (Luis Tosar), who receives an anonymous letter announcing that, if he does not deliver a sum of 50 million euros, the so-called " Favorites of Midas "will perpetrate a random murder every week until it yields to blackmail, with the consequent moral weight that falls on the shoulders of the protagonist.
During the extortion process, the case is investigated by the inspector Alfredo Conde (Willy Toledo) and, in parallel, Genovés develops a relationship with the journalist Mónica Báez (Marta Belmonte), of the newspaper El Observador Nacional, erected years ago on a ship insignia of the conglomerate that presides over the former due to an unexpected inheritance.
This free and contemporary adaptation of London's tale began to be designed almost two decades ago by the hand of Miguel Barros, co-creator of the series, but the project suffered numerous vicissitudes, from its structure marked by the time limitation to the blow of the crisis of 2008, until he finally got the green light.
The Gran Canaria producer Adrián Guerra produces this project located in Madrid
In addition, the narrative is located in Madrid as the modern epicenter of a social, political and economic system subjected to a strong crisis of values, which Los Favorites de Midas reflects through fiction in a unique historical moment for Spain and the rest of the world. under the impact of the pandemic. On the other hand, another of the elements of the plot, which Gil also spins as a denunciation key, gives a prominent place to journalism and its fundamental role in the social network, and that is an aspect that was not foreseen in the first drafts of the script.
However, another of the characteristics mentioned in this new project corresponds to the rest of the cast, which makes up a list of actors who, like Toledo, have remained away from the small and big screen for years, such as Adolfo Fernández, Álex Casanovas, Miguel Ángel Sola or Carmelo Gómez.
All in all, The Midas Favorites constitutes Gil's television debut, winner of four Goya awards -three of them in the category of Best Screenplay for Sea Inside, The Method and Agora-, and which is finally a reality after a long year of filming in Madrid and a post-production confined to the house that he keeps on his native island. In the image above, the actor Luis Tosar and the actress Marta Belmonte, in the shoes of businessman Víctor Genovés and the journalist Mónica Báez, respectively, who they make up the leading couple of 'Midas's Favorites'. In the lower image, the Gran Canaria filmmaker Mateo Gil with the actor Guillermo Toledo, who plays the researcher Conte, in the middle of filming the miniseries, in Madrid, and which can now be enjoyed on the Netflix platform. |