The millionaire NFT fever convulses collecting and digital art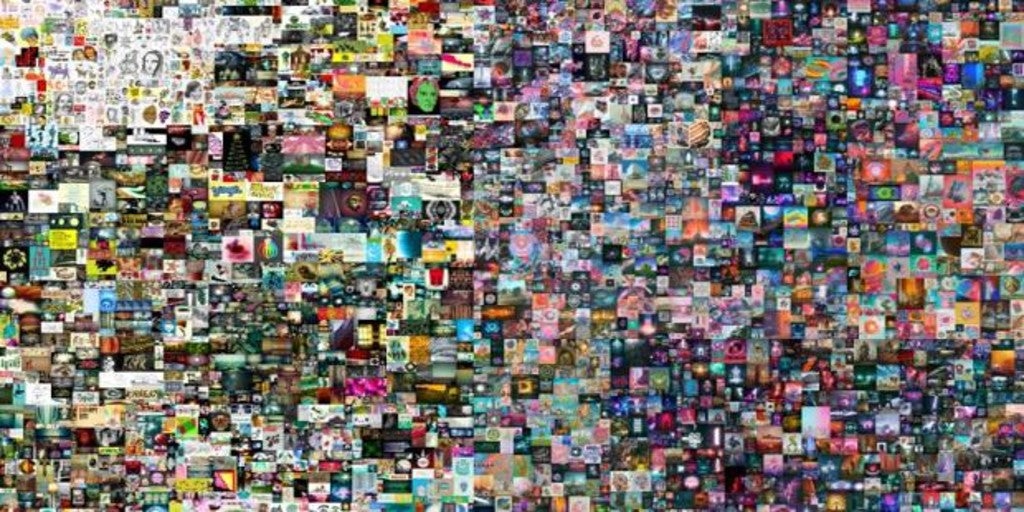 MADRID
Updated:
Keep

In March a digital painting was sold for 69 million dollars, a virtual Cristiano Ronaldo sticker for $ 289,920 and a bid has been made to buy the first tweet in history for $ 2.5 million. These are some of the news that have emerged in relation to a technology called NFT that is revolutionizing the world of art and collecting. It is a blockchain system, or blockchain, that has unleashed the craze for acquiring digital files as if they were tangible objects such as paintings, stickers or other collectibles.
«An NFT allows to verify the authenticity and originality of a digital content, something that had been lost with the internet and its ability to reproduce copies to infinity ", he explains Covadonga Fernández, Director of the Blockchain Observatory, a platform that promotes the development of blockchain technology. In other words, an NFT records the entire history of a digital file, including who created it, who owns it, and how many hands it has passed through.
The acronym NFT is formed by the English words 'non-fungible tokens', which in Spanish would be 'non-fungible tokens'. Being 'non-fungible' means that it is a digital file that cannot be replaced by something similar. There is only one first Twitter tweet, not two.
A Cristiano Ronaldo digital chrome NFT was recently sold for $ 289,920 on Sorare, a fantasy league platform like Comunio. This virtual chrome is not fungible, that is, it cannot be exchanged for another like it but for something different. That is a big difference that the NFT has with other blockchain technologies such as bitcoin, since one bitcoin can be exchanged for another. But there is only one digital chrome of Cristiano Ronaldo in Sorare, which adds an element of scarcity that increases the value of the file.
The NTFs allow to demonstrate the ownership of the file through the transparency and decentralization that the blockchain guarantees, as proclaimed by blockchain advocates. "We have traceability and transparency in a public network that allows us to identify the creator of a content and its current owner," says Luis Martínez, founder of Staxe, a platform that uses the blockchain to support creative productions.
The Internet is a huge channel for distributing digital creations that can be copied and reproduced infinitely many times. This characteristic of La Red makes it difficult to identify the creator of the content who owns the rights to an image, song, video or meme. "Technologies like NFTs empower the creator because they now have the full story of their creation. The artist is given more value, "says Martínez.
Promising future
The market capitalization of NFTs could reach $ 1.3 billion in 2021, 284% more than the 338 million in 2020, according to data from the Messari consultancy and the Canadian company NonFungible, shared by Covadonga Fernández, from the Blockchain Observatory. "According to NonFungible, the NFT industry currently has more than $ 43 million in weekly transactions," says Fernández.
Archives focused on art and sports collecting are the ones that have experienced the greatest growth so far. In sports, the NBA has a collectible archive platform called Top Shot with which it has generated more than 150 million dollars selling digital versions of some of the best plays of the basketball stars. In Top Shot you can buy digital envelopes, Panini style, where stickers of some plays with an NFT appear. This month an NFT of a Lebron James dunk sold for $ 200,000.
Among other eccentricities, digital artist Beeple has sold a monumental digital collage titled 'Every Day: The First 5,000 Days' for $ 69 million. at auction by Christie's. The virtual painting, with an NFT, compiles hundreds of works that Beeple had created during 13 and a half years. It is the third highest price for a live artist at auction, a world record for a digital artwork, and the highest price ever achieved for an online auction.
Elon Musk signs up
Elon Musk has also joined this trend. The Tesla founder shared a creation of his on social media that he was selling with an NFT. It is a video with a techno song about NFT that said: "NFT for your vanity. Computers never sleep. It is verified. It's guaranteed". A bidder gave him $ 1 million for the tweet with the song, an offer that Musk rejected and after which he decided to withdraw his video from the sale.
Is there a bubble with NFTs? "It may be, from my point of view, I think that at this moment there is an excessive boom, but the important thing is that a new model of consuming cultural and creative products is beginning," says Fernández, who insists on the benefits that technology brings for artists. "Until now, creators of digital work had no way to authenticate their work and the blockchain has allowed them to authenticate it," he adds.
"My very personal view is that these prices of 69 million are not a bubble, we are facing the genesis of a new technology," says Martínez, from Staxe.
The Asian and North American NFT markets are currently the main ones globally. So far, Spain has very well positioned crypto artists in this segment, such as Javier Arrés.