The Mexican artist Gloria Godínez performs the performance 'Sacred Bodies and Territories in Gran Canaria'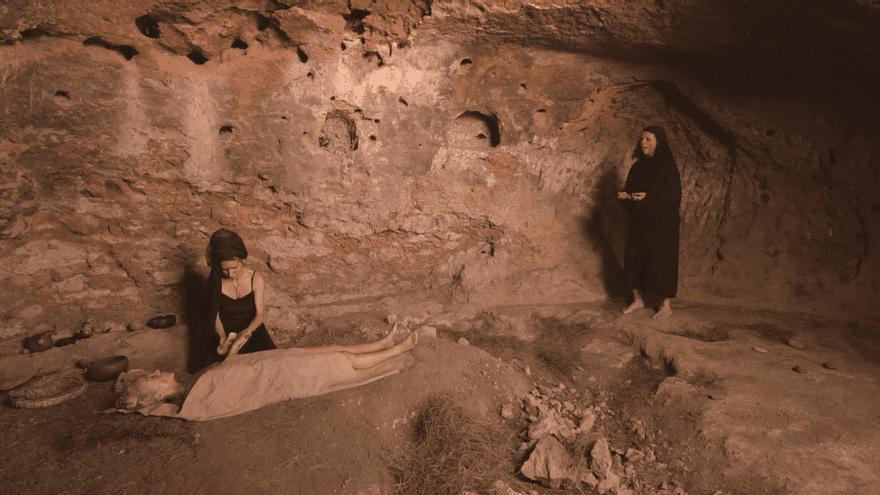 The Mexican researcher and artist based in Gran Canaria, Gloria Godinez, performs in the Columbus House on November 4, at 7:30 p.m., the performance Sacred bodies and territories in Gran Canaria, a show that promotes dialogue between the living arts and the aboriginal tradition of mummification of the dead.
The activity is free, with limited capacity, and is framed in the celebration Day of the Dead 2021. Long live Mexico! organized by this Americanist center to bring this Mexican tradition closer to the Canary Islands. The squares on-line They are already sold out although a percentage of places has been reserved for face-to-face registration at the entrance of the activity, which will be awarded in strict order of arrival.
In the aboriginal history of the Canary Islands, mummification is the strongest expression of differentiation and social stratification, as well as a symbol of love and respect, almost of veneration of the loved one. This loving ritual of farewell and embalming can be seen in this performance included in a collaboration project between art and archeology carried out last year in Cuevas Caballero with the support of the Risco Caído Cultural Landscape and the Sacred Mountains of Gran Canaria in collaboration with Casa de Colón and FONCA (Mexico).
In works of art the imaginary and the real are constantly juxtaposed, they are two sides of the same coin that are incessantly interchanged. This coming and going between fantasy and reality also surrounds the figure of the mummy: a body between life and death, adding, on this occasion, the belief system of the ancient canaries and their attitude towards death and death. ancestor.
It is a dialogue between contemporary art and the aboriginal tradition of mummification of the dead, which is currently a hallmark of Canarian identity.
Gloria Godínez's career
Gloria Godínez is a researcher and performing arts artist. He has a Bachelor's and Master's degree in Philosophy from the National Autonomous University of Mexico, UNAM, and a Cum Laude doctorate in Literature and Literature Theory from the University of Las Palmas de Gran Canaria, ULPGC.
He has worked at the Center for Studies, Creation and Documentation of the Arts of the Veracruzana University and belongs to the National System of Researchers. Both in his artistic creations and in research work, he reviews notions that concern Dance and Body Studies.
His most recent publication is the book Pina Bausch. Body and dance-theater at the Paso de Gato publishing house, Mexico City. He has received scholarships and support for artistic projects in Mexico (FONCA), Chile-Mexico (FONDART-FONCA) and Spain (AECID, Casa África, CAAM, La Regenta and Casa de Colón). He is currently carrying out the Community Dance project at the Municipal Library of Arucas.