The Metropole, headquarters of the memory of the centenary of the Spanish Federation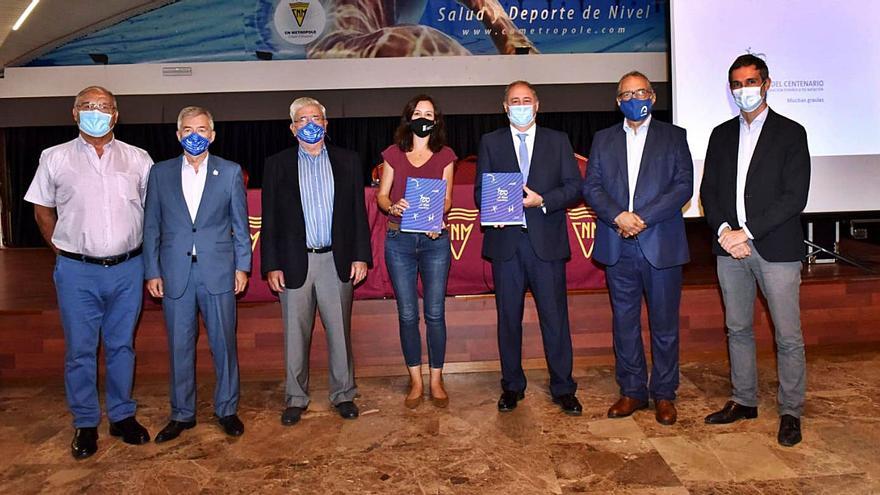 Yesterday, the auditorium of the Metropole Swimming Club was the setting chosen for the presentation of the Centennial Book of the Royal Spanish Swimming Federation, a work that has been prepared on the occasion of this anniversary that is celebrated this year .
The book is a compendium that has 512 pages, with more than 1,500 images that have had more than 60 collaborators from all over Spain for its preparation, led by the coordinator of the work Ramiro Cerda and that tries to cover the activities and the most relevant characters who has had that sport throughout all these years, almost more than 400.
The event was chaired by the top leader of the Royal Spanish Swimming Federation, Fernando Carpena, who was accompanied by the president of the Metropole Swimming Club, Eduardo Araujo, the president of the Canarian Swimming Federation, José Maroto, the councilor for sports of the Las Palmas de Gran Canaria City Council, Aridany Rodríguez and by Francisco Castellano, sports advisor of the Island Council of Gran Canaria, and was presented by Rafael Reyes, dean of the ULPGC's Faculty of Physical Activity and Sports Sciences.
The coordinator of the work, Ramiro Cerda, gave an interesting talk where he made reference to various anecdotes and historical situations in which Canarian swimming was the protagonist The event was very well attended within the security regulations for the pandemic of the Covid-19 and there you could see familiar faces of a sport in which the Canary Islands have shone so much, such as Nazario Padrón, Toni Quevedo, José Blanco, Carlos Bremo or former councilman Roque Díaz.