The members of Gran Canaria Sabroso and Raluy, in the decisive rounds of the tournament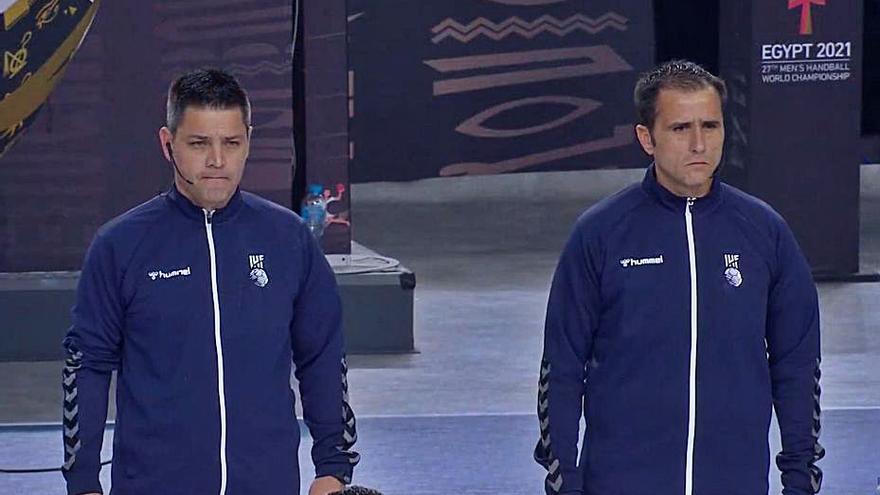 If the presence of the Spanish men's handball team in the decisive stretch of a top-level international competition it is not surprising, given the successful Hispanic trajectory In recent times, it is even less so that two referees from Gran Canaria, Ángel Sabroso and Óscar Raluy – make up the considered best refereeing couple in the world – appear among those chosen to direct the most decisive matches of a great championship, such as the World Cup in Egypt that today lives the semifinal round.
In the final stretch of the World Cup there will therefore be atriple representation of the island of Gran Canaria, with the aforementioned referees and the national team player Dani Sarmiento.
And as has been happening in recent times in the most relevant national team events, both Sabroso Angel as Óscar Raluy they must look askance at the trajectory of Jordi Ribera's team to know their goals in the tournament.
For now, and although the Hispanics are in the semifinals -they are playing today against Denmark-, the refereeing officials of the International Handball Federation keep the island referees active.
This morning the names of the referees in charge of directing the two semis matches would be known – as is customary, the appointments are made on the same day of the match to avoid suspicions. And Ángel Sabroso and Óscar Raluy could choose to whistle the clash between the national teams of France and Sweden, which takes place before the Spain-Denmark clash.
And depending on the result of these two encounters, the options of the Gran Canaria collegiate will be known to be in the clashes in which the Egypt World Cup medals are played, the sixth in a row for the island braids in terms of the male category because in their A large and successful track record also includes participation in a Women's World Championship. If the Hispanics get into the grand final, they point to the duel for the bronze; and if they lose, they are candidates to whistle the decisive clash.