The Mediterranean Arc builds its own Silicon Valley
Updated:
Keep

The Mediterranean Arc is a powerful incubator for startups, but, until now, it has not been able to operate as a common, connected space. And that means that local initiatives abound, but they lack size and capacity for growth. And just that, converting the Mediterranean Arc into a great ecosystem of entrepreneurship and technology business, is what '1,040 km Hub' pursues, the platform on which technology nodes from Mallorca, Castellón, Valencia, Alicante, Murcia, Malaga and Ceuta have joined. The objective is to create, through cooperation, a kind of Silicon Valley of the Mediterranean. The platform is born from the hand of private entities that accumulate extensive and solvent experience in specific fields of technological entrepreneurship.
This network has been baptized with the name of '1,070 km Hub', which is the distance that separates the two furthest points in this space. The platform brings together the General Foundation of the University of the Balearic Islands, closely linked to the business associations of the archipelago; the startup incubator and accelerator Innsomnia, from Valencia; in the province of Alicante, the technological hub Torre Juana OST, dedicated to hosting entrepreneurship projects, the firm LUA Fund and the company Dinapsis-Hidraqua; the company Aerocas, manager of Castellón Airport; the Murcian employers' association of information technology companies, Timur; the DIH Málaga business technology park; and several public-private institutions in Ceuta that are about to join the '1,024 km Hub'. The list of partners can continue to grow with more territories.
The promoters of this platform explain that Spain, and the Mediterranean Arc in particular, has entrepreneurial power and talent in the technology sector, but the companies that prosper end up being bought by larger companies, usually with foreign capital, instead of reaching size and become powerful technology companies themselves. And this is so, they indicate, because there is a lack of an ecosystem that helps this growth. They are convinced that it can be achieved with a interconnected space in which specialized entities, consolidated companies and new entrepreneurs support, cooperate, provide feedback, share business and activity. And the greater the regional power, the more capacity attract investors, another key piece to grow.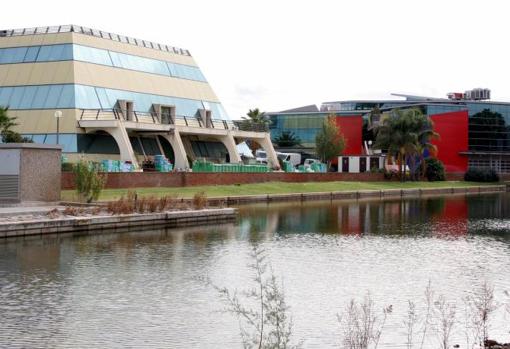 In addition, it is intended that this large community of technological entrepreneurship ('hub') serve as a locomotive for endogenous economic development, to promote key productive sectors in the Mediterranean Arc, in the case of tourism and agriculture. Uniting technological entrepreneurship with the tourism industry and regional agribusiness "is a great opportunity," explains the CEO of the Valencian accelerator Innsomnia, Francisco Estevan, which also highlights the importance of getting more and better use of the work carried out in this field by university research centers.
The world board
"Interregional cooperation must prevail, because the great objective is to gain scale", in a sector that is played on the great world board, affirms to ABC the President of Torre Juana OST and spokesperson for '1,024 km Hub', Andrés Pedreño. "Spain does not have technological giants, 'unicorns'," he laments. And, in large part, he attributes it to the technological smallholding that exists in Europe, where there have been successful local bets, but a large interconnected space is lacking. "Here we are very given to each one doing their own small project, very good initiatives are developed, but it is difficult for us to get together, and '1,024 km Hub' is called to be the glue to unite and gain size," says Fernando in this regard Estevan.
That 'Minifundismo' is' a weakness that European technological ecosystems suffer from, compared to what happens in China and the United States ", says Andrés Pedreño. In the absence of a large local focus such as California's Silicon Valley, the alternative is through a regional cooperative structure, a formula that China has successfully applied.
Spain has raw materials in this sector: the entrepreneurial power is reflected in figures such as the 250 technology companies that are part of the Alicantec association; the hundreds of startups that currently host the five incubator-accelerators in Valencia; or the powerful Malaga technology park, on whose companies 20,000 jobs depend, and on the rise.
Business and capital
"It is clear that there is a critical mass of entrepreneurs and success stories. The step we need to take is scalability, "insists Andrés Pedreño. He is convinced, like the rest of the promoters of '1,024 km Hub', that this is achieved with this type of platform: "an ecosystem that works collaboratively enriches any startup, because it inspires and allows collaborative networks" that, in addition, attracts interest growing number of decisive investment funds that move internationally.
Currently, the Spanish technology sector does not have plenty of investors, and they know that well in the Mediterranean Arc. "We lack the ability to grow our companies and keep them here, instead of being bought by large international companies or leaving" to large cities where large-scale businesses operate, indicates Francisco Estevan, CEO and co-founder of the Valencian accelerator Innsomnia.
Madrid and London are two main destinations for startups that, after being born and growing in Valencia, decided to go in search of more investment and greater business or growth opportunities. "They go to large cities where the main investment funds and large potential clients are located", but the same can - and should - be achieved where these companies are born, explains Fernando Estevan. For this reason, he is convinced that the Mediterranean Arc can grow and consolidate itself as a powerful startup "factory" that also offers a large business space that attracts international investors and where business opportunities in this field proliferate.
"We cannot keep thinking about creating a startup with a vocation to sell it when it is successful. Among other things, because if you sell when you are still very small, you sell very cheaply »says the CEO and co-founder of Innsomnia, an accelerator that currently welcomes some 40 startups that operate in fields such as banking, insurance or the management of large infrastructures.