The medical car team believes that Grosjean was saved by a "knee-jerk" reaction.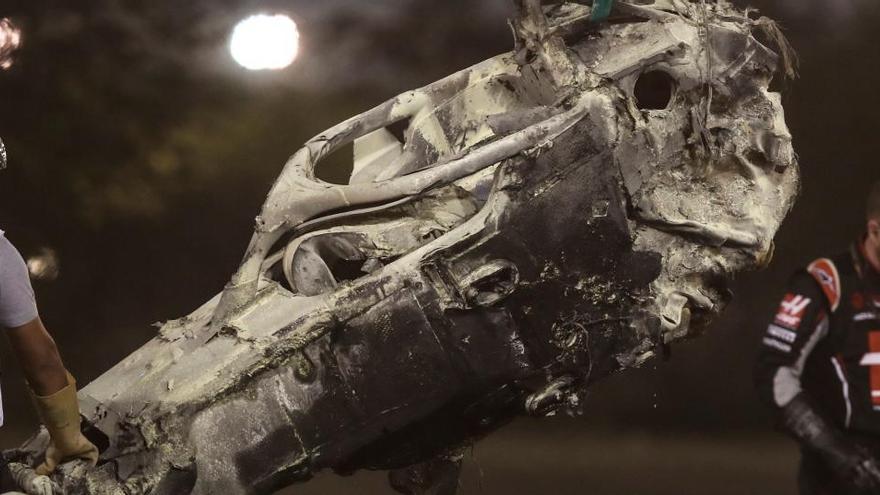 The driver of the medical car of the Formula 1, Alan van der Merwe, and Dr. Ian Roberts, the first to assist the French pilot Romain Grosjean (Haas) after his brutal accident this Sunday at the Bahrain Grand Prix, have recognized that "never" had seen "a fire like this", and that much of the success that a mishap has not occurred is due to the Everyone's "quick and instinctive" reaction, beyond the "preparation" for this type of event.
"A lot of this is preparation, but we have never seen anything like this before. I have never seen a fire like this in my time as a medical car driver, it was new and unknown territory, and we can only be so prepared with our own ideas"Van der Merwe noted.
In addition, he recognized that this escapes all the hypothetical scenarios that they rehearse before the big dates. "We do a lot of setting prep, but this was crazy. Honestly, to get there and after see half of the car, while the other half is nowhere to be seen and you only see a huge ball of fire, you have literally seconds. Preparation only takes you so far, and after that it's just quick, instinctive thinking, "he said.
This Sunday, at the exit of turn 3 of the Sakhir circuit, the car of the Gallic pilot touched with the one of the Russian Daniil Kvyat (AlphaTauri) and went out of his way to leave straight at high speed to the guardrail located on your right. On impact, the car was split in two and engulfed in a great ball of fire. After 27 seconds of anguish, Grosjean managed to get out of the flames on his own foot thanks to the work of the Halo and the vital gap it had formed between the car and the guardrail.
Roberts and Van der Merwe made a notable contribution to this unfortunate end, rushing to the scene of the accident. "The first round, as usual, we follow them and I only saw a massive flame and when we arrived a very strange scene where you have half a car pointing in the wrong direction and right on the other side of the barrier, huge heat, "Roberts described.
"I could see Romain trying to get up. We needed some way to get to him. We have the track commissioner there with a fire extinguisher, and that extinguisher was enough to keep the flame away as Romain rose high enough to then reach out and pull himself over the barrier, "he said.
Dr. Roberts explained how Grosjean was found once he was out of danger. "I could see, obviously, that he was very shaky and his visor was completely black and melted. It was a matter of removing the helmet to check that everything else was okay. Had some pain in the foot and hands, so from that point on, we knew it was safe enough to move him to the medical car to apply a little gel on his burns, "he said.
"Looking at him clinically, we are quite happy with him from the point of view of injuries that could have threatened your life. Then we just tried to make him feel comfortable with the injuries that we could see, "continued Roberts, who he joked that he had gotten "a nice tan" approaching the flames trying to help Grosjean.
Finally, Van der Merwe highlighted Roberts' "courage". "It is a teamwork and ultimately sometimes Ian has to trust me and vice versa, and today everyone has done their part. Romain did a lot. The fact that he could get out on his own foot, even without the boot, is important. A change in one of those things could give a very different result. All the teamwork, all the preparation, it seems to be worth it, "he concluded.