The map of the income of the Spaniards, street by street | Economy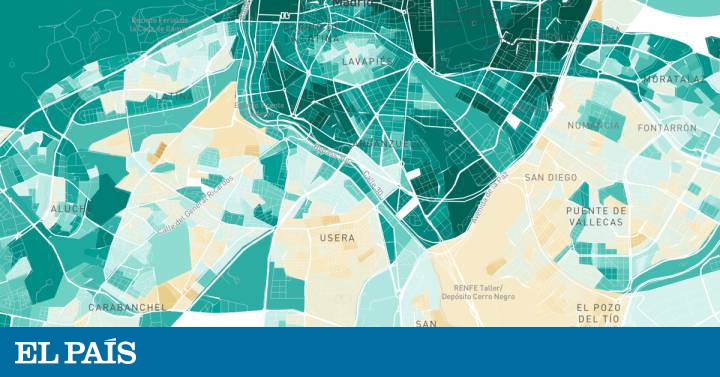 In Spain there are 150 neighborhoods with average incomes exceeding 29,000 euros and another 150 that do not reach 3,000. Between them, there are the more than 35,000 census sections (areas where some 1,500 neighbors reside) of the national territory. The National Statistics Institute (INE) has made public for the first time the average income data per person and per household at the smallest geographic level possible. It is the result of combining census data with the information of the Tax Agency.
We have created a map to highlight the differences between regions and within the same city. We have also calculated the percentile of each section (within Spain and within its Autonomous Community) to know where it is located: among the richest, among the poorest or near the median value. Thus it is possible to see, for example, that areas not especially rich in Madrid or Barcelona belong to the wealthiest 20% of Spain. (If you don't see the map, access here.)
On the map we do not reflect any income below 2,897 euros or above 29,364 euros. This is because, to respect statistical secrecy, the INE does not offer information that exceeds these thresholds. Nor does it publish data from areas where less than 100 people live or data from the province of Alava, since there is no information available by sections of that area. Here the INE explains the detail of the methodology used.
M-30 border in Madrid
In the center of Madrid, areas such as Lavapiés and Tetuán stand out. This last neighborhood is a good example of how some sections are in the poorest 30% of the Autonomous Community, but in the richest 30% of Spain. In the capital, the great gap is opened by the M-30.
Inequality in Alicante
The neighborhood of Las Mil Viviendas It stands out near the center of the city because its income is in the poorest 1% of Spain. But they play with a census section of the richest 4% of the country.
High income in San Sebastián and A Coruña
In these two northern cities there are no large income inequalities. In the case of San Sebastián, all the census sections are in the richest 30% of Spain.
Concentration in the Canary Islands
In the Canary Islands, the highest incomes are concentrated in the cities. In the picture, the case of Santa Cruz de Tenerife.
Low income in Almeria
In Almería and its surroundings there is one of the most striking concentrations of low incomes.
Diversity in Seville
In the Andalusian capital, the passage of the Guadalquivir marks the shape of the city and also the distribution of its population by income.
. (tagsToTranslate) map (t) income (t) Spanish (t) street (t) consult (t) rich (t) poor (t) be (t) neighborhood (t) compare (t) rest (t) country ( t) autonomous community



Source link