The main fair of contemporary art in Latin America claims feminism | Culture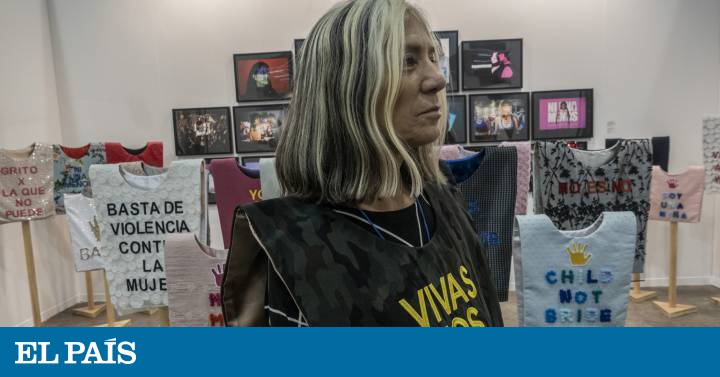 Peruvian artist Ana de Orbegoso proudly walks through the corridors of Maco Zone, the largest contemporary art fair in Latin America that brings together more than 210 exhibitors from 26 countries, wearing a vest with the legend: "Live we love each other". It is the commitment of this festival to vindicate the struggle of women against sexist violence, which in the case of Mexico throws horror figures: ten women killed a day.
The sample of Orbegoso, titled Feminist projections, is part of the Zonamaco Sur exhibition, curated by the Spanish Juan Canela, which brings together artists from developing countries who in their works express themes such as gender violence, feminism, black Caribbean culture, homosexuality, transsexual eroticism and even inclusive language. "My project is inspired by feminist marches, in all that energy that so many women have put into the world trying to demand the changes that are needed. I am bringing a feminist march to a space like this, "says de Orbegoso in an interview with EL PAÍS, among the vests with vindictive phrases and photographs that show women in demonstrations in which they express their repudiation of violence.
This art fair, that last year received criticism because only 25% of the catalog corresponded to creators, in its edition of this year, the number 17, wants to be more in line with the changes that the current society experiences. "I have invited different artists whose practices challenge the status quo of the official narratives. They are practices that demonstrate how some artists at some point in history have been excluded from the official narrative, whether for reasons of gender, race, geographic or how they work, what types of practices they perform or because they challenge the usual ways of creating ", Explains the Spanish curator Canela while accompanying this newspaper to the section of Zona Maco where he has had to cure. "It has been very difficult for many to enter the system and work with galleries. The idea of ​​the section is to open a conversation about all these new issues, "he adds. "We have tried to retake these practices that at some point have not been taken into account by historiography, the idea is to give more visibility to those who have been separated by gender, race or location. The participation of women is very important, "says Eloísa Hernández, institutional relations coordinator for Zona Maco.
One of the galleries that has opted for feminism is Rofa Projects, from the United States, in whose section the work of Orbegoso is exhibited. "We work with 11 artists from Latin America and handle issues of migration, sexuality, violence. One of the reasons to be here with Ana is to continue talking about these issues that affect Latin America so much, "explains the Venezuelan Gabriela Rosso, director of the gallery. The commitment of Rofa Projects occurs at times when the US live a wave of racism from the summit of power, with Donald Trump attacking migrants, mainly Hispanics. "It also attacks women directly, we who live in the United States attack us every day and if you are an immigrant it is worse. When receiving this attack all the time it is very important to handle these issues, although it is not simple, but at this historical moment it is very important to talk about this, "says Rosso, who points out that this year he will organize an exhibition that will bring together 10 female artists from Latin America that will talk about sexist violence, at a university in Virginia. "It's a great statement, a declaration of intent, "he says.
A few steps from the Orbegoso exhibition, the Dominican Eliazar Ortiz exhibits. His works are a tribute to the black culture of the Caribbean and show great sensuality, inspired, he says, in body and language. Ortiz works with original materials from the Caribbean. "I speak of what our sample has been as a native culture, counting all that combination with colonization," he says. The artist presents pieces from two collections: the first is Yagua Ko, which shows naked parts of the male body, such as legs or arms, while the rest is covered with tropic materials. "I work a lot with the male bodies to later talk about the trans and the feminine, to give that part of ambiguity," he explains. His other collection is titled Elles, us and all, a bet "for inclusive language and new masculinity." "I wanted to break with the part of the language, which is also the colony." And he admits with laughter: "It's a bit of a fuck at the Academy."