The magic formula of 'Kids Rock History'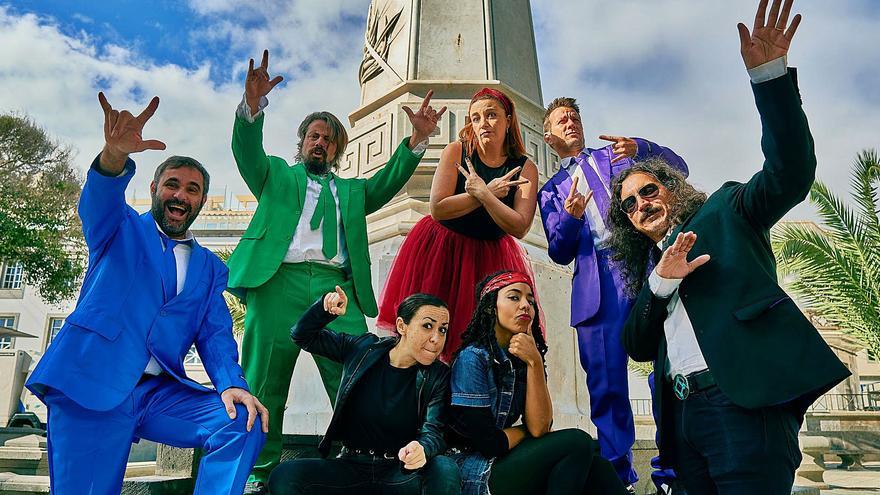 Kids Rock History: A journey of emotions for the whole family is a show that offers a journey through the history of rock in an educational way; with music, humor and human values ​​as cogs in a script that engages from beginning to end. Viewers enjoy a live performance of rock music classics from the 1950s to the present day.
The Víctor Jara de Vecindario Theater will be the next stop in this praised socio-educational and cultural project by Auve Producciones. This magnificent cast of Canarian musicians and actors will perform on Saturday, December 12 at 6:00 p.m. Tickets, which are selling at a good pace, can be purchased on the Entrees.es website.
"At Kids Rock History we feel obliged to promote musical didactics, knowledge of instruments, teamwork or gender equality, among other aspects", declares Fernando Santana, head of the project. "The 'little rockers' live a sensitive experience that takes them from the birth of rock & roll in the US to the present day with a proposal that leaves no one indifferent. A family adventure through music ".
In addition, the audience target is universal: grandparents enjoy remembering the birth and subsequent empowerment of rock. And they do it doubly, observing how their grandchildren react to the stimulus they received decades ago. Parents discover common interests to explore with their sons and daughters. And the children find that music is made by people and that they can also make it themselves if they wish.
"That a whole family can enjoy a live concert together, that they get moved by a story full of positive values ​​and that they congratulate us continuously for it, makes me feel very proud of this project. The joy of the spectators, during and after the show, rewards all our work. Enjoying the smile of children is priceless. It thrills ", describes Fernando Santana.
This initiative was born from the hands of professionals in music, theater and the world of culture and has already triumphed in places and formats as diverse as the Rock & Books Festival; The Paper Club; Carnival of Las Palmas de Gran Canaria; Mojo Music Festival; Zero Festival; Meridiano Shopping Center and the Juan Ramón Jiménez Theater, among others.
"The idea that we put forward is suitable for any type of scenario, exterior or interior. And it is based on three main vertices: Musical education; the broadening of the cultural base in the lower age ranges and the promotion of intergenerational communication in the family environment in which the excellence of art and values ​​is taught, through play and fun, through the gaze of the musician and actor ", he points out.
One of the protagonists of the musical is Laura, played by actress, singer and songwriter Raquel Amegashie. Her character is a young woman who yearns to compose a song that will bring her fame the shortest way: through a television contest. The host and the musicians warn her that without knowledge it is going to be a very complicated task, so she receives the visit of several "masters" of music who lead her through a magical world until she understands that creation is the goal itself. itself.
The rest of the artistic team is made up of the actresses Raquel Amegashie and Sara Álvarez, while the band brings together talented musicians with a lot of weight in the Canarian scene: Cristina Santana (voice); Juanma Barroso and Sergio Casquero (guitars); Marcial Bonilla (bass) and Alejandro de la Puente (drums).
"At Kids Rock History we do not try to distort or undervalue other musical styles that are currently taking over all the charts on radio, television or the Internet. These days, there is a glut of information that can be overwhelming. Music is just one click away and is practically disposable. Our intention is to give value to the creation of music. That the children know in situ the composition of a band, its instruments and enjoy a live concert, "he says. Kids Rock History
OF AUVE PRODUCTIONS
walk under the umbrella of Auve Producciones, which has more than 15 years of experience in the cultural scene of the islands. The Canarian production team has opted for this project because it firmly believes in educating the little ones for the survival of culture. "We try to do our bit to teach new generations a bit of rock history and what this musical style has meant, which has marked many generations and great bands and artists. A genre that is still present and influences many artists, and this is a great opportunity to listen to many of those songs that are part of our soundtrack of life ", says Víctor Sicilia, head of Auve Producciones .. | LP / DLP.